FanDuel Looks to Control Ontario Market, Becomes Official Sports Betting Partner of NFL in Canada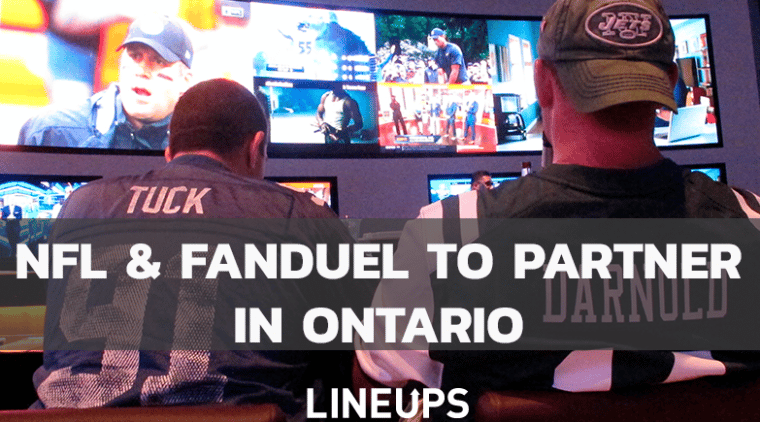 Details of The Partnership
In an effort to extend their North American footprint, FanDuel has become the official sports betting partner for the NFL in Canada. This comes just a few months after Ontario launched their sports betting market and subsequently awarded FanDuel with a license to operate in the province. 
"Ontario sports fans are passionate about American football, and this collaborative effort will bring them more ways to enjoy the sport with friends and family in a fun and responsible way," said Dale Hooper, General Manager of FanDuel Canada. 
Canadians will reap the benefits of FanDuel's new access to the NFL's brand and intellectual property through new fan engagement opportunities, NFL-themed free-to-play games, NFL-themed campaigns, and chances to win tickets to NFL games, and even to the Super Bowl. FanDuel will also build upon its partnership with the official broadcaster of the NFL in Canada, The Sports Network (TSN) to create further fan engagement opportunities for loyal sports fans across NFL and TSN platforms. This includes a seamless integration of FanDuel's sports betting experience and TSN's storytelling. 
"With the FanDuel partnership in Canada we are able to provide fans with unique and entertaining experiences that will continue to drive high engagement for both organizations," said Gavin Kemp, Director of Corporate Partnerships at NFL Canada. "FanDuel is an established global leader in the gaming space and we are excited to bring Canadian NFL fans even closer to the game."
FanDuel's Partnership Portfolio
This partnership with the NFL is just the most recent of additions that FanDuel has made to its list of partners, in Canada alone. 
Just after FanDuel's launch in Ontario, they announced their partnership with TSN, which was most likely preparing for the partnership with the NFL that came this week. A few days after that they announced a partnership with Maple Leaf Sports & Entertainment which gave FanDuel access to several major sports teams in Ontario including the Toronto Maple Leafs, Toronto FC, Toronto Raptors, and Toronto Argonauts. 
But their long list of partnerships and collaborations doesn't end there – as sports betting legalization circulates throughout the country, FanDuel has stayed ahead of the curve, by way of partnerships with teams, leagues, athletes, media outlets, and legends. Some notable names include the Buffalo Bills, New York Yankees, Chicago Bulls, Detroit Pistons, Denver Broncos, Hulu, Associated Press, Charles Barkley, Jordan Spieth, and all of the big-four sports leagues in the U.S. 
Ontario Sports Betting Market
Ontario launched their iGaming market in the province on April 4, and since, it has proved to be an extremely lucrative sports betting market, backed by operators' desire to tap into the market from the get go. All of North America's biggest operators from FanDuel, DraftKings, BetMGM, and Caesars have licenses, as well as smaller operators like UniBet, BetRivers, TheScore, and the provincial lottery, Proline+. Since launching, the Alcohol and Gaming Commission of Ontario has licensed dozens of operators, and counting. 
While the market is heard and said to be running successfully and smoothly, Ontario has yet to post an revenue reports either in total or by operators. Ontario iGaming's Chief of Staff Mitchell Davidson, promised results after the election on June 2, but has yet to provide any. This has given stakeholders concern about the province's financial transparency, but nonetheless the wait to hear the long-awaited results, continues.