FanDuel Kentucky Promo Code & Launch News (2023)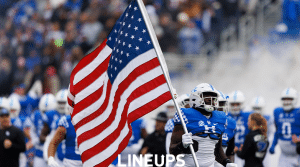 Kentucky sports betting officially became legal on March 31 of this year. Gov. Andy Beshear signed HB551 into law shortly after the bill received final approval in the Senate. Now, Kentucky joins its southern neighbor, Tennessee, and 35 other states with legal sports betting.
Once Kentucky regulators discuss and solidify the specifics of its new industry, they'll announce an official launch date. If all goes according to plan, Kentucky sports betting could debut before the end of 2023.
As with any other sports betting state launch, FanDuel Sportsbook is expected to be one of the first operators off the launch line in Kentucky.
Let's take a look at FanDuel Kentucky and what you can expect from the sportsbook as soon as lFandegal wagering launches.
FanDuel Kentucky Promo Code
Kentucky recently joined the ever-growing list of states to legalize sports betting. This means eager sports fans can soon take advantage of all the new wagering opportunities this entails. From betting on the Kentucky Wildcats and Louisville Cardinals to wagering on the Cincinnati Bengals and Cincinnati Reds, sports fans will soon have plenty of hometown wagering options to select from.
This also means sportsbooks will be rolling out the red carpet for Kentucky bettors. Keep reading for everything you need to know about a special FanDuel Kentucky promo code.
FanDuel Sportsbook: Expected New-User Bonus
FanDuel Sportsbook is coming to Kentucky, and bettors can expect plenty of new user promos with it. As soon as FanDuel Kentucky launches, expect to snag a welcome bonus in the form of a no-sweat first bet up to $1,000.
To lock in this FanDuel Kentucky promo, simply click any banner on this page. Once you register for an account and make your first deposit, you're ready to start betting. If your first bet isn't a winner, FanDuel will deposit a bonus bet in your account equal to the amount of your first wager (up to $1,000).
| FanDuel Kentucky Promo Code | Kentucky Promo Code Details |
| --- | --- |
| Kentucky Promo Code | Not Live Yet |
| Kentucky Projected Bonus Amount | $1,000 |
| Current Bonus Type In Other States | First Bet Bonus on Sportsbook |
| Eligibility | Must be a new user to FanDuel, to make an account you must be 21 years of age or older |
| Promo Verification Date | May 17, 2023 |
Steps to Start Betting on FanDuel Sportsbook
1
Download the FanDuel App
As soon as FanDuel Kentucky launches, you can sign up and start betting. To make the process even easier, you can access the sportsbook using any type of computer, tablet or mobile device.
If using your mobile device, you'll need to download the FanDuel Sportsbook app first to use it on your iOS or Android. Simply locate the app via a link on the FanDuel website or directly from the Play store. Then, complete the registration process if you haven't done so already.
2
Create an Account
Oncce you've accessed the app, it's time to register for an account at the sportsbook. FanDuel makes this a quick, straightforward process. You'll need to provide some personal information, such as:
• First and Last Name
• Date of Birth
• Username
• Password
• 2 Security Questions with Answers
Then, FanDuel will ask you to fill out your contact information. This section is required by law in order to verify your age and your identity. Typical information includes:
• Home Address
• State and Zip Code
• Phone Number
• Last Four Digits of Your Social Security Number
3
Deposit and Withdrawal Options
Finally, you'll want to set up your deposit and withdrawal methods. In most states, typical deposit methods include:
• Debit Card
• PrePaid Card+
• PayPal
• PayNearMe
• Online Banking
• Check
• Wire Transfer
Typical withdrawal methods in most states include:
• PayPal
• Prepaid card
• Cash at Counter
• Check
• Online Banking

4
How to Place a Bet
After setting up your banking information and making your first deposit, there's only one thing left to do. Browse the FanDuel catalog to find a sporting event that interests you. Once you click on the event, you'll be redirected to a new page featuring all the available wagering options.
Decide on the bet you want to place, enter your wager amount, then review your bet. After you've double-checked everything, click on the Place Bet button to lock in your wager.
To check back in on your bets, visit the Active Bets tab. You'll be able to locate all your current wagers here, as well as any bets you've created that have yet to be completed.
FanDuel Kentucky App Review
When it comes to betting options, FanDuel Sportsbook has one of the widest ranges of any sportsbook. It features an easy-to-use interface and a user-friendly design. FanDuel's account management options even allow you to set various responsible gambling safeguards, such as deposit and betting limits and self-exclusion.
FanDuel Sportsbook KY Betting Options
Available Sports
Depending on the season, FanDuel features betting on a variety of sports including:
• Australian Rules
• Baseball
• Basketball
• Boxing
• College Basketball
• College Football
• Cricket
• Cycling
• Darts
• Football
• Golf
• Hockey
• MMA
• NASCAR
• Rugby
• Soccer
• Table Tennis
• Tennis
Available Betting Options
Regardless of what you're looking to bet on, FanDuel Sportsbook has wagering markets available for betting on:
Moneyline
Spread
Over/Under
Props
Futures
Parlays
Teasers
Round Robins
In addition to the traditional no-sweat first bet FanDuel offers new users, bettors can take advantage of several special promos throughout the year. For instance, those that refer a friend to sign up at FanDuel can get a credit for both themselves and the friend.
What To Know About FanDuel Sportsbook Kentucky
Before registering with a sportsbook, it's important to learn about the brand you're entrusting your hard-earned money to. Fortunately, FanDuel is a reliable company deeply rooted in the betting industry.
Brand History
For those unfamiliar with the name, FanDuel's brand extends far beyond its sportsbook. FanDuel also features FanDuel Casino and FanDuel DFS in states where each is permitted.
Before even that, however, FanDuel got its start overseas.
FanDuel's parent company, Flutter Entertainment, debuted in 2016, quickly becoming one of the most competitive brands in the UK sports betting industry.
Flutter expanded further in 2019, acquiring The Stars Group. And with that acquisition came majority ownership of FoxBet.
Then come December 2020, Flutter invested another $4 billion into FanDuel, acquiring an additional 37% stake. Flutter now holds 95% controlling interest in FanDuel.
With such consistent growth, FanDuel now stands alongside DraftKings and BetMGM as one of the top sportsbook operators in the U.S.
FanDuel's Prior Presence in Kentucky
FanDuel's footprint in Kentucky, on the other hand, is not yet as profound. Horse race enthusiasts, however, may be familiar with another element of the FanDuel name. The brand offers horse race betting via FanDuel Racing, as well as on its sister Churchill Downs site, TVG Racing.
FanDuel Kentucky FAQ
Is FanDuel legal in Kentucky?
Is online betting allowed in Kentucky?
Is FanDuel safe to bet with in Kentucky?
Where to download FanDuel Sportsbook App?
Where can I bet with FanDuel Sportsbook?
Is there live-game betting on FanDuel Sportsbook?
Can I make parlays and teasers with FanDuel Sportsbook?
What are the requirements to bet in Kentucky on FanDuel?
Why is there a processing time on my withdrawal with FanDuel?
Is FanDuel legal in Kentucky?
Although sports betting is technically now legal in the state of Kentucky, you can't place a bet on sports just yet. In the meantime, Kentucky residents can register for a FanDuel Sportsbook account and take advantage of the special FanDuel Sportsbook Promo Code offer provided on this page.
Is online betting allowed in Kentucky?
Sports betting could go live in Kentucky before the end of the year. A bill to legalize Kentucky sportsbooks was approved in the House and Senate in early 2023, and Gov. Andy Beshear quickly signed the bill into law. Kentucky regulators must now establish rules and award licenses before sports betting can launch in the state.
Is FanDuel safe to bet with in Kentucky?
As one of the major names in the sports betting industry, you can rest assured that FanDuel is a safe bet for all your Kentucky wagering. FanDuel entered the U.S. sports betting market as soon as the federal PASPA ban was lifted.
Where to download FanDuel Sportsbook App?
The FanDuel Sportsbook app is available to download on both iOS and Android devices. Simply locate the app from the Play store or follow the button on the FanDuel website to get started.
Where can I bet with FanDuel Sportsbook?
Sports bettors can now access the FanDuel Sportsbook to wager on games in ___ states. FanDuel even features in-person betting at retail locations in several states. Users can currently find the FanDuel Sportsbook app in New Jersey, Tennessee, Colorado, West Virginia, Indiana, Pennsylvania, Illinois and Iowa.
Is there live-game betting on FanDuel Sportsbook?
Yes. Otherwise known as micro betting or in-game betting, FanDuel offers live betting options for most major events. Live-game betting is a type of fast-paced betting that occurs while a game is taking place. Available odds and bet types change with every play of the game, so it's important to be fast on the button to snag your preferred bet.
Can I make parlays and teasers with FanDuel Sportsbook?
Parlays are widely regarded as one of the most popular types of wagers available at most sportsbooks. Not only does FanDuel offer parlay betting, but it even offers the ability to create multi-leg parlays from multiple wagers on the same game. Teasers are also often available, allowing you to adjust the spread and totals lines on your parlay.
What are the requirements to bet in Kentucky on FanDuel?
We won't know the official requirements for Kentucky sports betting until the launch process finds its way closer to completion. Once sports betting launches, bettors will likely be required to be 21 or older, and all sportsbooks will have to have a license in order to legally operate in the state.
Why is there a processing time on my withdrawal with FanDuel?
FanDuel's withdrawal processing times will vary slightly depending on your selected method of payment. A short processing time delay is applied in order to authenticate the requests. Withdrawals can then take anywhere from a few hours to seven business days on paper checks
FanDuel Sportsbook State Reviews
FanDuel Arizona
FanDuel Virginia
FanDuel Michigan
FanDuel Pennsylvania
FanDuel Tennessee
FanDuel Colorado
FanDuel New Jersey
FanDuel New York
FanDuel Indiana
FanDuel Ohio
FanDuel California
FanDuel Maryland
FanDuel Iowa
FanDuel Georgia
FanDuel North Carolina
FanDuel Louisiana
FanDuel Massachusetts
FanDuel Ontario
FanDuel Wyoming
FanDuel Sportsbook Kentucky Review
Name: FanDuel Sportsbook Kentucky
Description: FanDuel Sportsbook is one of the most popular mobile betting apps in the U.S., and should be a big hit when it launches in Kentucky. The FanDuel Promo Code is a big reason for this, giving users a major bonus when they sign up for the platform. Plus, FanDuel Sportsbook has excellent options for parlay and same-game parlay bettors. The FanDuel Sportsbook mobile app also showcases one of the best designs in the industry.
Operating System: iOS, Android
Application Category: Game
Mobile App
Promos
Experience
4.5
Summary
There are plenty of Fanduel Sportsbook fans across the U.S., and it's easy to see why. The online betting app has one of the best-designed mobile apps out there, which makes placing wagers on the go simple. The online sportsbook also offers the FanDuel Promo Code to new users looking for a bonus. Users can place a wide variety of bets from moneyline bets and point totals to futures bets and same-game parlays. FanDuel Sportsbook Kentucky will likely be one of the first online sportsbooks available in the state, and users will find a lot to like about the platform.
Well Done
In-app horse racing bets
Great signup bonus
Intuitive interface
Competitive odds
Needs Help
Needs more existing user promotions
Often difficult to track previously placed bets