FanDuel Casino Adds Studios For Live Dealers In Two States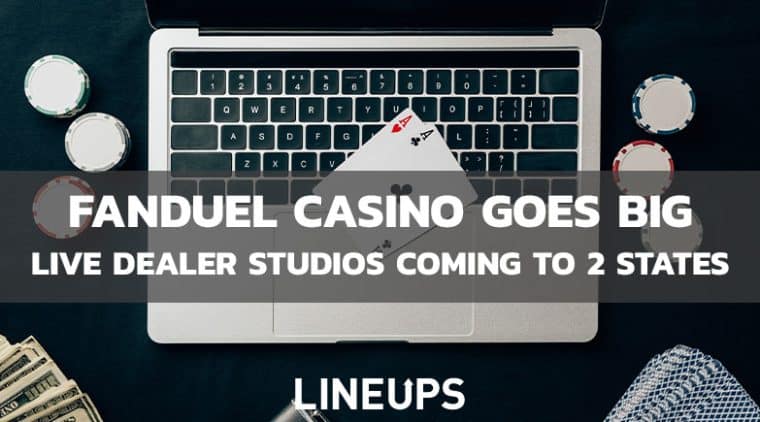 As is the case with mobile sports betting, online casino gaming has definitely grown in recent years. Six different U.S. states offer online casinos, meaning anyone that's of legal betting age can play games like roulette and video poker on their smartphone or tablet for real money. Additionally, Ontario just fully launched its online betting market this year, leading to the launch of mobile casino platforms such as BetMGM Casino Online, BetRivers Casino Online, and Caesars Casino Online. Well, as the online casino market continues to expand, so do the different features of individual platforms. While most of the top casino sites offer the basics such as table games, slot machines, and some live dealer games, some are trying to shake up the formula to stay ahead of the competition. Let's check out how FanDuel is adding an interesting improvement to some of its online casino offerings.
FanDuel Casino Adds Live Dealer Studios In PA and MI
While FanDuel Casino is available in a number of different areas, some of the most popular spots are in Pennsylvania and Michigan. This likely explains why FanDuel Group has partnered up with Evolution to launch studios focused on live dealer games in both markets. These studios will allow for livestreamed dealer games with real people, bringing a participative experience similar to a brick-and-mortar casino. This new format will allow for a number of different innovations in classic casino games, flashing statistics for players as well as adding additional promos. The overall aim is to be accessible to both experienced casino goers and complete newcomers.
A Deeper Look at FanDuel Casino
FanDuel may have originated in the world of daily fantasy sports, but much has changed since then. FanDuel Sportsbook has become one of the most popular online sportsbooks since it launched, with players praising its numerous promotions and well-designed mobile sportsbook app. Additionally, the platform was the first to showcase the now-popular same-game parlay option. And, with FanDuel Casino, the name is continuing to grow in the online gambling world letting users play blackjack, online slots, baccarat, and more on the go. It's not surprising that FanDuel is looking to boost its online casino offerings with the live dealer studios, as the platform looks to stay ahead of the competition. After all, FanDuel's biggest rival, DraftKings, also started in DFS contests and now offers a popular online sportsbook and online casino as well.
Online Casino Gaming Brings In Major Revenue
While online casino gaming hasn't reached the widespread appeal of sports betting quite yet, it still brings in some major revenue for different states where it is available. Just this past May, New Jersey saw a total of over $136 million in revenue from online casinos. Both Pennsylvania and Michigan also saw some pretty impressive numbers in May 2022 before the announcement of the FanDuel live dealer studios. Like NJ, Pennsylvania saw over $136 million that month, with Michigan slightly behind at approximately $127 million. Both states have seen lifetime revenues of over $1 billion from online casinos, and those numbers should only go up with the introduction of FanDuel's new live dealer options.