FanDuel Arizona Promo Code: Bet $5 Get $150 (NFL & NBA)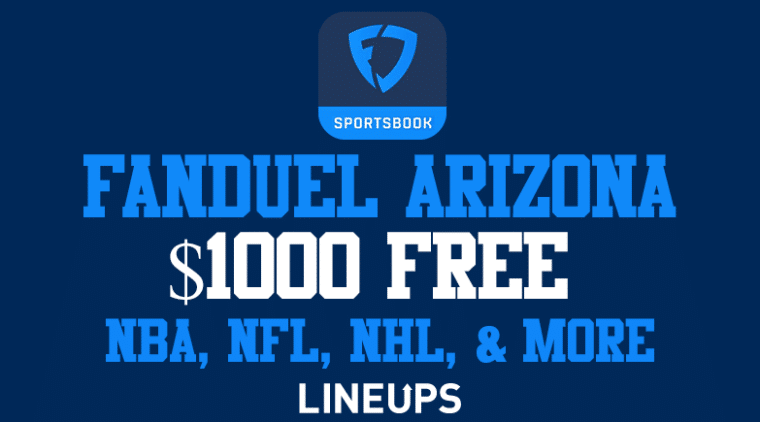 To find more about the sportsbook or promos check out our FanDuel Arizona promo code page. You can find the latest and greatest offers and promos from FanDuel Arizona, in addition to a guide and review.
FanDuel Arizona Promo Code
Sports betting in Arizona has now been legal since September and if you are not a member of FanDuel sportsbook yet, you can get a FanDuel promo code to get you started on the right foot with a $1,000 risk-free bet. All you need to be is a new user, within the state of Arizona, and be 21 years of age or older. You can click through any of the banners on this page to get your FanDuel Arizona bonus. It is that simple. With the NFL playoffs in full swing now is a good time to get in on the action.
FanDuel Arizona Promo: Wager $5+ On Any NBA, NFL Moneyline And Win $150 In Free Bets
With the NFL playoffs underway in addition to NHL and NBA, FanDuel is offering a great bonus for new users in Arizona. In addition to the FanDuel Promo Code AZ bonus, you can also bet $5 on any NFL and NBA moneyline and if that bet wins, you get $150 in free bets. This FanDuel AZ bonus is only available for new users and can be paired with your $1,000 risk-free bet, so you don't need to worry about missing out on that. Just make sure you are within the rules and are currently within Arizona and are a new user. Even if you have a daily fantasy account, if you are not signed up for the sportsbook, you will qualify as a new user. The $150 upon your win will be inserted into your account within the next 24-48 hours.
Divisional Round Best Bet: San Francisco 49ers +6
After using your FanDuel promo code AZ you might be looking for a bet to make this weekend. We have four football games front and center and all are projected to be rather close games. The favorites took care of business for the most part in the Wild Card round, outside of the Cowboys who lost to this 49ers team. They will now face a tough task in going to Lambeau on a cold night but they are equipped to win a game like this. Green Bay ranks bottom-five in rush DVOA and are also bottom five in yards per carry allowed. Facing Elijah Mitchell and Deebo Samuel is going to be a tough day for this offense. The 49ers have plenty of weapons and can attack this defense while keeping Aaron Rodgers off the field. This spread is a bit larger than anticipated and the 49ers defense can make a stronghold against the Packers run game but can be exploited via the pass. However, that mismatch is more for Adams to take advantage of and shouldn't be a reason why the Packers run away with this game. Look for Kittle, Samuel, and Mitchell to have strong offensive days and the defense to do enough to keep this game close. If you are using the risk-free bet, the 49ers ML is very intriguing at +200.