Fanatics Files for Sports Betting Trademark as "BetFanatics" Ahead of Expected California Push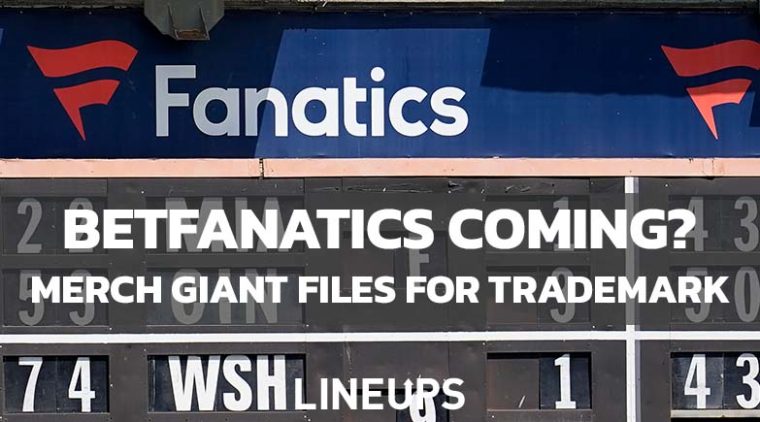 On Monday, Fanatics filed to trademark the brand "BetFanatics" at the United States Patent and Trademark Office, as first reported by patent attorney Josh Gerben. Fanatics is the largest sports-only licensed retailer globally and has been rumored to be preparing a significant play in the sports betting space for a while now. Fanatics chief commercial officer Ari Borod told Action Network that "you can expect we would want to leverage the Fanatics name" in the branding.
Trademark Elements for BetFanatics
As included in the patent filing, Fanatics will use the "BetFanatics" trademark to apply for all online and retail sports betting applications. The company will use the name for "downloadable mobile applications for betting and gaming; downloadable mobile applications for use in fantasy sports league, namely, mobile applications for managing and participating in fantasy sports league."
Fanatics has filed a new trademark application for:

"BetFanatics"

The filing indicates that @Fanatics plans to launch a sports betting service using the "BetFanatics" brand. #sportsbetting #fanatics #betting pic.twitter.com/Bk7qzeHE7O

— Josh Gerben (@JoshGerben) May 23, 2022
Fanatics Valuation
Listed at #21 on the CNBC Disruptor 50, Fanatics was last valued at #27 billion as the leader in sports merchandise and commerce, up from $18 billion less than a year ago. Fanatics is projecting $4.5 billion in revenue for its e-commerce business in 2022, up from $2.3 billion before the pandemic.
Fanatics is also expanding into other areas beyond merchandise such as digital collectibles – it recently launched its NFT company, Candy Digital, and received exclusive rights with the MLB and MLBPA for digital products around baseball. Candy Digital raised $100 million in funding from investors like former NFL quarterback Peyton Manning, valuing it at $1.5 billion.
Fanatics Preparing Sports Betting Push
Almost a year ago, Fanatics hired FanDuel CEO Matt King in a move that was shocking for many, and King is presumably the leader of their sports betting plan. Sports Business Journal reported that a LinkedIn search last month found 38 employees of Fanatics in betting operations and an additional 40 jobs posted. Fanatics has been linked to sportsbooks such as PointsBet and Rush Street in potential acquisitions.
Failed New York Plan
Fanatics had pushed for a license in the New York market in 2021 and it submitted a bid to the New York State Gaming Commission alongside Penn National Gaming and Kambi. Jay-Z was officially listed as the Vice Chairman of Fanatics Sportsbook in that bid in a move to appeal to the New York market. However, the bid failed, and the group didn't make it to the final round of bid packages.
California on the Horizon?
California, which would be the world's fifth-largest economy by GDP if it were its own country, will have at least one online sports betting ballot measure up for a vote in November. The California Solutions for Homelessness and Mental Health Support Act is backed by six major U.S. sportsbooks along with Fanatics, which has given $12.5 million to the California campaign so far.
The California Solutions initiative says licensees must already be licensed in ten or more states or operating in five states and running twelve casinos. However, Fanatics doesn't meet those thresholds, so acquisitions appear the most likely course of action. If the measure passes in November, operators could begin taking bets in 2023 according to DraftKings.
According to BetMGM reports, the California legal sports betting market could generate as much as $3 billion in annual revenue. However, California tribes are vying to block the online measure on the ballot with hopes of establishing their own measure in 2024, and polls have shown varying levels of support for both sides.