Fanatics Acquires Code to Launch Online Sportsbook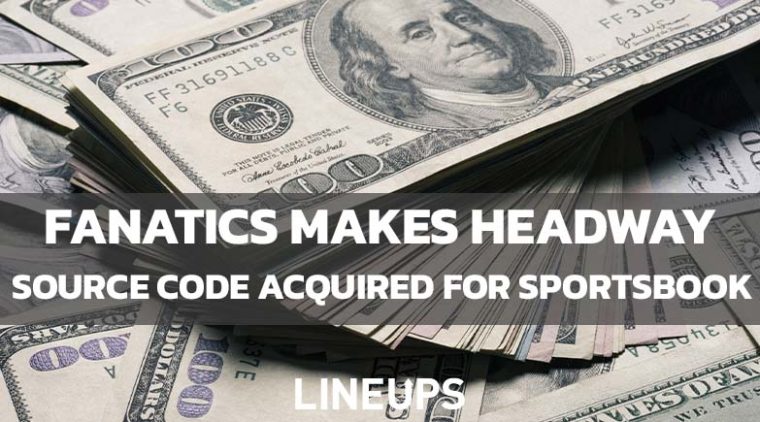 Fanatics has finally made headway on its plans to enter the lucrative sports betting space. Recently valued at $27 billion in some private markets, Fanatics is one of the leaders in the sports merchandise industry, which was previously in the running to purchase PointsBet, an Australian online sports betting company. Instead, Fanatics dove head-first into sports betting with plans to launch its sportsbook. This week, those plans became more reality by purchasing the necessary source code to build their online sportsbook.
Fanatics Failed New York Bid
What do Jay-Z and Dave Portnoy have in common? Besides being millionaires in the entertainment industry, they were a part of the Fanatics bid to be the sole proprietor of sports betting in New York. Some Fanatics executives believed the company was a lock to win with Jay-Z on board. Still, state regulators ultimately awarded licenses to two other groups led by FanDuel, DraftKings, and more.
Fanatics Acquires Code
According to several industry sources and first reported by Eilers and Krejcik Gaming, Fanatics has acquired a copy of platform source code from business-to-business supplier Amelco. The financial terms of the deal have yet to be disclosed, but the expectation is the acquisition will be worth over $100 million, making it Amelco's most significant sale ever. Amelco is based in the United Kingdom and offers technology services to financial trading, lottery, online casino, and sports betting companies.
The acquisition reportedly covers the full tech stack for sports betting, including player account management (PAM) and the engine that drives the sportsbook. Fanatics will reportedly pay Amelco an upfront fee for the code and a continuing share of the company's revenue. Fanatics is expected to gradually take control of the management of trading and operations from Amelco as it builds its operations team.
Fanatics is on its way to being the number ONE brand / operator / entity / deity in the world of online & mobile sports betting – by following in the footsteps of those other global #iGaming pioneers & barons: Fox Bet, Hard Rock & Fubo.#GamblingTwitter https://t.co/lF4SvwkvQ6 pic.twitter.com/uIC3Z5dztX

— SNBET (@SNBET_ca) April 14, 2022
Amelco's Other Clients
Amelco has taken advantage of the fact that technology is one of the most significant expenses for sportsbook operators as it has a product that streamlines the process. Amelco has sold copies of its source code to several US sportsbooks, including Hard Rock, Fox Bet, Fubo Sportsbook, and PlayUp. Intralot and Hong Kong Jockey Club also utilize Amelco source code outside of the US.
Fanatics' Sports Betting Ambitions
Fanatics had the opportunity to explore partnerships with existing sportsbook operators with links to PointsBet and WynnBet in the past. The company could have also explored B2B partnerships with Kambi and Strive Gaming, its partners in the New York bid. However, Fanatics has remained emphatic that it can pave its own path forward in sports betting.
Fanatics CEO Michael Rubin was recently quoted as saying his company "can be the number one player in the world in [sports betting] in 10 years." It's hard to fault him for thinking so with the privately-owned company recently raising $1.5 billion in funding, including $320 million from the NFL, at a $27 billion valuation.
Market-access deals will be a significant point of focus for Fanatics as it attempts to enter new states, especially as many states only allow for a certain number of licenses. However, Fanatics won't have to spend nearly as much on customer acquisition as some up-and-coming sportsbooks – it already has a customer base of 80 million. Former CEO Matt King leads the Fanatics betting and gaming division, and 2022 should be a massive year of further development for the company in those respects.
Fanatics is hiring s Senior Director of Engineering to "build a world class iCasino Experiences teams," according to the job listing, the latest move for the company as it gears up to enter the online casino gaming and sports betting market

— Ryan Butler (@ButlerBets) April 15, 2022