Extra! Extra! PointsBet Sportsbook Launching Newsletter for Bettors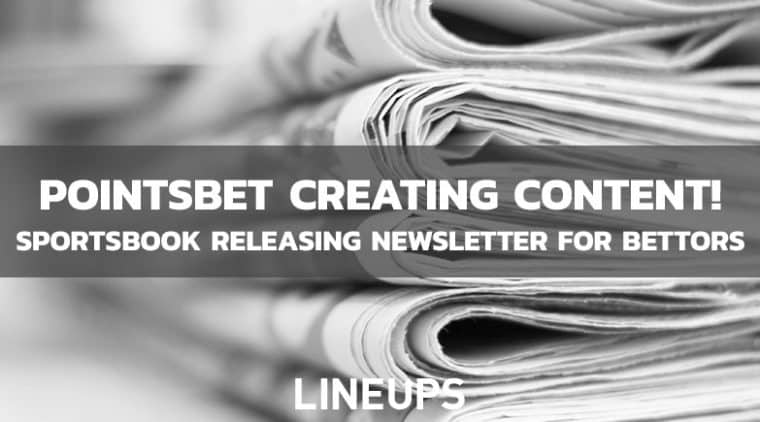 In the years since PASPA was overturned by the Supreme Court, the sports betting industry has become increasingly competitive. The top sports betting platforms are consistently trying to stand out to users with new user bonuses and ongoing promotions.
However, as the stakes continue to raise in the world of wagering, different marketing tactics have been employed by sports betting operators. One of the most interesting examples has been different sportsbooks getting more into media production. Let's look at how one of the top sports betting sites in the U.S. is starting a new project to engage fans.
PointsBet Sportsbook Releasing a New Betting-Focused Newsletter
One of the top mobile sportsbooks in the U.S. is PointsBet, a wagering company with its headquarters in Melbourne, Australia. The sports betting site might be best known for its Pointsbetting feature, a unique style of betting that can increase or decrease your earning based on the outcome of a game.
Well, in addition to this unconventional type of betting, PointsBet is looking to try something new in the form of a brand new newsletter focused on sports wagering stories. The product will be an interesting tool for sports bettors, as it will include different educational features to help users develop wagering strategies.
The sports betting newsletter is the result of PointsBet Sportsbook teaming up with Front Office Sports, the multimedia company behind sports-focused newsletters, articles, podcasts, and videos. PointsBet editor Teddy Greenstein will collaborate with the Front Office Sports studio to create the newsletter. The release of this new venture will mark the end of the previous newsletter produced solely by PointsBet, which was only released once per week.
.@FOS 🤝 @PointsBetUSA

Incredibly excited to team up with the PointsBet team to launch a multi-day newsletter for their audience!

The newsletter, created by our in-house content studio, will launch three times a week (Sunday, Monday, and Thursday) starting on September 8th. pic.twitter.com/avSfFeFOcD

— Adam White (@FOSAdam) August 30, 2022
How Do You Subscribe to the PointsBet Newsletter?
While not all the details are available on the PointsBet newsletter project yet, it looks as though you'll have to have to be signed up with the online betting platform in order to receive the newsletter.
According to Axios, email subscribers of PointsBet Sportsbook will get access to the sports wagering newsletter completely free. While three editions will initially become available per week, that number is expected to increase to five weekly newsletters in the near future.
In September, FanDuel will launch a cable network focused on sports betting — FanDuelTV, per @Variety.

Leading one of its signature programs:

Former NFL Network host Kay Adams 📺 pic.twitter.com/j1Q1fOKJYP

— Front Office Sports (@FOS) August 25, 2022
Other Sportsbooks Increasing Media Presence
While the move by PointsBet to increase its newsletter presence is certainly interesting, it's hardly the only example of a sportsbook expanding its marketing through media channels. The recent announcement that FanDuel TV (formerly TVG Network) will be premiering in September means that the lines between sports betting operator and content creator will continue to blur. The network will provide content from podcast star Pat McAfee's network, ESPN's Lisa Kerney, the Ringer, and more.
Caesars Sportsbook has increased its content production over the past year with Trey Wingo's video content and a deal with Omaha Productions, the content company from Peyton Manning. And DraftKings Sportsbook is responsible for a wide range of different sports betting productions, such as The Pat Mayo Experience, Studying the Sharps, and the Props and Drops podcast.
With the massive sports betting industry growing into new markets such as Kansas and Ohio, expect sports wagering companies to continue producing unique content to market to new bettors and entertain existing users.