Expert NBA Player Prop Picks: Heat vs Celtics Game 1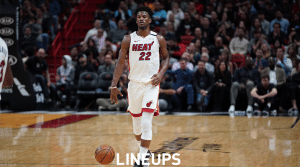 NBA Player Prop Prop Search Tool
Search any NBA player in the search box to bring up their
NBA player props
NBA Player Prop Picks (5/17/23)
After a wild start to the 2023 Playoffs that has seen two play-in teams make the Conference Finals, we now turn our attention to Game 1 of the ECF, featuring the Miami Heat and Boston Celtics, two teams that are very familiar with each other.
As a matter of fact, these teams met last season in the ECF, with Boston winning in seven games. Can Miami turn the tables on Boston this season, or will the C's make their second-straight NBA Finals? The odds are certainly in the favor of Boston; however, our focus is in on player props in this series-opening Game 1.
Check out our favorite player props from this game below and see why we believe they hold tremendous value!
Jimmy Butler Double-Double (+330)
It is surprising to see Butler's odds to record a double-double this long, especially after hitting it in two of his past five games and coming just one assist shy in another one of those bouts.
"This year is our year. We're going to go into this game 1 and do what we're supposed to do and be the first one to four."

– Jimmy Butler

(Via @flasportsbuzz ) pic.twitter.com/IfNG4nTrFS

— NBACentral (@TheNBACentral) May 16, 2023
Butler pushes the pedal all the way down in the postseason, evidenced by his massive averages of 31 points, seven rebounds, and five assists per game. Can Butler pull down ten rebounds or dish out ten assists in Game 1 against Boston?
We are betting on Butler getting to ten rebounds, as Boston does not crash the offensive glass. Butler's emphasis on the glass has been apparent throughout the playoffs, and we should continue to see that. Bam surrenders defensive rebounds to Butler quite a bit, and Butler's aggression should get us to double-digits much more often than the implied probability of just 23.3%.
Marcus Smart o22.5 PRA (-125)
Marcus Smart's recent playoff history against the Miami Heat certainly makes us feel good about his player props heading into this series. In last year's Eastern Conference Finals against Miami, Smart averaged roughly 17 points, six rebounds, and six assists per game, eclipsing this line in three of the five games.
Despite battling an ankle injury for numerous games, Smart still produced against the Heat. During the 2022-23 regular season, Smart played in two home games against Miami and hit this line both times. In short, we expect him to hit the over here.
Miami's defense has been solid this postseason, but it is nowhere near the level of intensity and effectiveness it was during last year's playoff run. Still, the Heat will do what they do best: neutralize opponents' best players. Miami will be focused on honing in on Jayson Tatum and Jaylen Brown, giving Smart plenty of opportunities to knock down open shots, particularly catch-and-shoot threes.
Lastly, Miami's defense has not been as effective in stopping opposing point guards as it has in previous seasons; Jalen Brunson (roughly 31 points, six rebounds, and six assists per game) went nuclear in multiple games against the Heat in the Eastern Conference Semi-Finals. While Brunson is a much better offensive player than Smart, this still proves there is an opportunity for Smart to rack up numbers.
Gabe Vincent o9.5 Points (-120)
While Vincent has always been a strong backup for the Miami Heat, he has blossomed quite a bit throughout the 2023 Playoffs, proving that he is the caliber of a low-end starting point guard in this league.
Interestingly enough, Vincent has been playing even better on the road, averaging roughly 17 points, five assists, and two rebounds in six road games on a 43/40/78 shooting split. Further, he has hit the over on this line in five of those six games, clearing it in all of them by five or more points.
Expect another strong game from Vincent, even though his last road game was a measly six-point outing. That game looks much more like an outlier, especially since he barely played more than 20 minutes when he had been playing much more.