Europa League Best Bets (5/11): Roma vs. Bayer, Juventus vs. Sevilla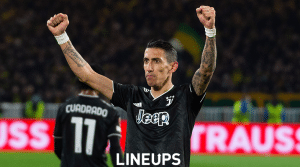 Europe has been dominated by Italian sides this season, and the Europa League is no exception; Juventus and Roma are in opposite semifinals, and thus have a chance to set up an all-Italian final. However, Bayer Leverkusen and of course Sevilla, masters of this competition, will have something to say about that. Let's take a look at the odds and make some picks for these fascinating semifinal matchups.
Juventus vs. Sevilla
Usually a mainstay in the Champions League, Juventus are making the most of their stint in Europe's next tier down. As all teams do at this point, they sit just three wins away from silverware, a trophy they haven't collected since 1993, and a solid ending to a season that once felt entirely lost.
If they're going to lift the trophy, they're going to have to get through a team with much more recent history in this competition- more than any other club, in fact, by quite a wide margin. That would be Sevilla, who strung together an unforgettable three-peat in this tournament running from the 2014 final through 2016. Just for good measure, they won again in 2020, securing thier place as the very best amongst the second-best.
Both teams find themselves here after dropping down from the UCL group stage. For Juve, it was an unmitigated disaster, where they were swept by both PSG and Benfica, won and lost once each against Maccabi Haifa of all teams, and only finished third over the Israeli side by virtue of goal differential after the head-to-head tiebreaker was a push.
Sevilla also only won a single match in a tough UCL group, against Copenhagen, as they were largely run off the pitch by Dortmund and Manchester City. But none of that matters now to these clubs, as they can see success on the horizon after rallying from those failures to tear through some tough opponents in Europa knockouts.
This first leg should be a pretty cagey one in Turin, where Max Allegri will look to play possession-based football and remain unscathed heading into Spain for the return fixture. The under is in play at -160, but I'd go for Sevilla's team total and bet u0.5 goals. The Bianconeri are plus-money to keep the home clean sheet, something they've made a habit of domestically and abroad this season, so there's value to be had with that prop.
As for the result, let's not overthink this; Sevilla are in slightly better form, but Juve have been the better team this year by far, and almost all of their somewhat-recent struggles have come away from home. They're in the minus, but not too favored, and I think their end of the moneyline provides solid value.
That being said, I'd shy away from their line to advance; they should win at home but I don't see them firing in enough goals to bury the tie. If they leave the door even a little bit open, don't be shocked if Sevilla's Europa League wizardry rears its head again.
Best Bets: Sevilla Team Total u0.5 (+115), Juventus ML -135
Roma vs. Bayer Leverkusen
With the other semifinal featuring prolific Continental powers, this clash will be fought between teams with emptier trophy cases. Leverkusen's only European silverware came in this competition in 1988, back when they hailed from West Germany.
Roma just picked up their first-ever major European title a year ago, as year 1 of the José Mourinho experience yielded the inaugural Europa Conference League title. This year, the Special One looks to keep climbing the European ladder in Italy's capital, and the way his side have played, it looks like they just might do it.
Leverkusen dropped out of the UCL after getting thoroughly whipped by Porto and Brugge in the group stage, and finishing ahead of Atletico Madrid just on tiebreakers. Roma came through the more traditional path, having come second in their Europa group and then advancing through knockouts.
Their most recent triumph was particularly dramatic, as a last-gasp strike from super sub Paulo Dybala lifted them to overtime and eventually qualification for the semifinal. It gave them the look of a team of destiny, and with the top-four race in Italy looking tougher and tougher, there's an extra bit of motivation to win this trophy and get back to the top tier of competition, where they haven't been since the 2018-19 campaign.
Leverkusen also need to win this tournament to qualify for the Champions League- even a return to this competition is looking unlikely, as they sit six points behind two squads tied for fourth place in the Bundesliga table.
They've stabilized after a dreadful start to the season, but recently snapped a 9-match (6 wins) unbeaten streak, and it's worth noting that they arrived here via a particularly soft route when it comes to their knockout draws.
Don't ask me how, but Mourinho's men are in plus-money to win at home, that's my favorite bet of the week and some value I cannot advise passing up. They haven't won a single knockout leg on the road in this competition, yet they keep advancing. This is of course because they've defended their home pitch fervently, winning their three matches at the Stadio Olimpico by an aggregate of 8-1.
Normally, when the under is favored in a Mourinho matchup, I say it's for good reason. But Roma alone have scored 2 or more goals in each home knockout match thus far, and Leverkusen definitely have some holes at the back, as well as Germany's fourth-most potent attack. I'm going to grab another plus-money wager and back the over- get ready for a fun one this Thursday.
Lastly, looking ahead, I love Roma -105 to advance. This team is my pick to win the competition, and they are masters of finding a way. Grabbing them at essentially even money to get past a team that has done the minimum in Europe against less than top-tier competition is a major win, and another great way to invest in this side.
Best Bets: Roma ML (+115), o2.5 goals (+130), Roma to advance (-105)