Dunk Contest Odds: Format, Best Bet, Worst Bet & Analysis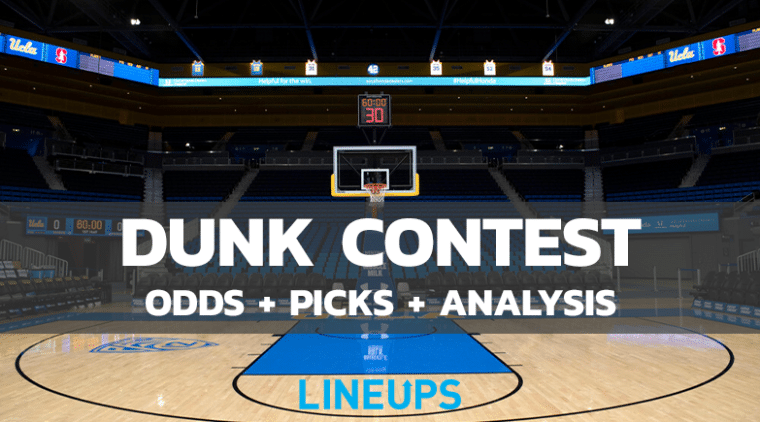 Format
The format for the Dunk Contest is simple: four participants get two dunks each in the first round. Each dunk earns up to 50 points, and the two participants with the highest scores move on to the finals. In the finals, the two players get two dunks each once again to try and earn the highest score. This year, the participants are Jalen Green, Obi Toppin, Cole Anthony, and Juan Toscano-Anderson. Everyone except for Toppin is competing for the first time. Toppin finished 2nd last year to Anfernee Simons.
Best Bet
With the odds for all players in a close range, I am going with the narrow favorite Jalen Green. The Rockets rookie explodes off the floor and looks like he has trampolines in his shoes. His vertical is unknown, but it seems like he clears 40" with ease. Green also has history on his side here. The last seven Dunk Contest winners are Anfernee Simons, Derrick Jones Jr, Hamidou Diallo, Donovan Mitchell, Glenn Robinson III, Zach LaVine, and John Wall. Notice a trend? Except for Jones Jr, all of the winners were incredible athletes at the guard position. Additionally, Toppin will have to improve upon his performance from last year, a tough feat since he performed his best dunks last time. Green is the best bet here because of his surprisingly valuable odds, as well as being the most explosive athlete in the competition. The rookie has been pushed aside in Rookie of the Year talks, so Green will want to make a name for himself and remind the NBA why he was drafted 2nd overall. 
Worst Bet
I do not like Juan Tosacno-Anderson here. He seems like a slightly worse version of Obi Toppin in regards to dunking and athleticism. Why would I gamble on Toscano-Anderson when Toppin is there at barely worse odds? He is also a forward, which does not bode well for him due to recent history. Tosacno-Anderson is the clear underdog in this contest to me, but they did not price it that way. I would take any of the other three options instead of Toscano-Anderson. Does he have the ability and talent to win the contest? Of course, but I don't like his odds compared to his probability of winning. If he was sitting at +500, then it would be worth a longer look.