Draymond Green's Sunday Start Caused Prop Bet Mayhem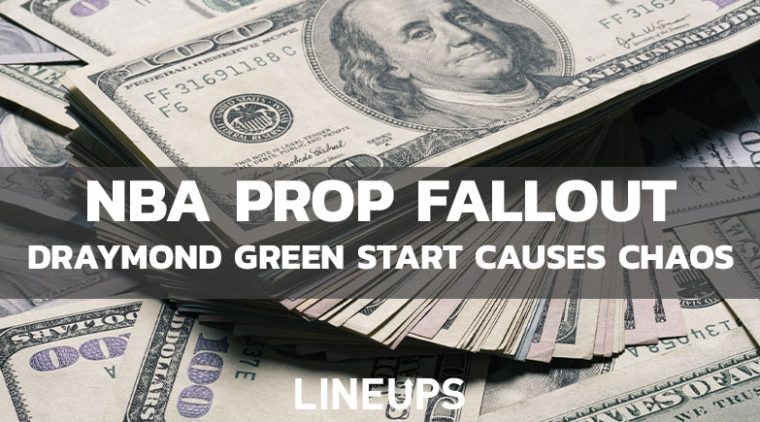 Prop bettors have plenty to keep an eye on when analyzing who will go over and under their totals. Injuries, opposing teams, and lineups all contribute to the thinking behind certain props, which isn't always easy. Any fantasy sports player will tell you about the headache of watching daily injury reports and game-time decisions. Well, one recent injury-related decision had many bettors fuming and ripping up tickets while others ended up with big paydays. Let's look at the fallout behind Draymond Green's recent decision to be in the starting lineup for the Golden State Warriors.
Draymond Green Technically Starts Against the Cavaliers
The biggest storyline for Sunday's NBA matchup between the Golden State Warriors and Cleveland Cavaliers was undoubtedly the return of star shooting guard Klay Thompson. The Golden State shooter hadn't played since the 2019 NBA Finals against the Toronto Raptors. Due to an Achilles injury and a torn ACL, Thompson almost went an entire 1,000 days without seeing the court. Thompson's return was celebrated by Golden State, as the team went on to beat the Cavaliers 96-82 at the Chase Center in San Francisco. Thompson finished with 17 points in his return, trailing only Steph Curry in scoring for Golden State.
Thompson's teammates welcomed him back into the lineup, especially Draymond Green. The power forward, who has been dealing with a calf injury, technically started the game alongside Thompson, although he quickly fouled and exited the game after tipoff. In the eyes of many, this was a major symbolic action to support the return of Green's teammate. But, when looking through this with a betting lens, things get a bit more complicated.
Green's Symbolic Start Shakes Up Betting Props
So, with Green starting but only playing in Sunday's game for a few seconds, how did the betting world react? Well, it depends on how you bet Green's props. Some bettors were quick to react to the news before props were pulled, hammering the under for Green's stats. The sportsbooks, as you'd imagine, answered quickly after that, with FanDuel and DraftKings rapidly scrubbing any Green props. As Green did start the game and record a foul, bettors were still able to cash their under prop tickets. Major sportsbooks such as FanDuel, BetMGM, and DraftKings all ultimately decided to honor the bets. However, the Action Network reported that this wasn't immediate by any means, with many bettors waiting over a day for a decision to be made before being paid out.
Will This Affect Future Props?
With such a unique situation that undoubtedly lost sportsbooks money, you've got to wonder how DraftKings, FanDuel, and the rest of the pack will respond in the future. Considering it took them a while to make a decision on the Green prop, the platforms were likely unprepared for swift bettors to take advantage of the news. Considering the continued upward trajectory of legal betting, with New York state just launching on Saturday, these sportsbooks will need to have a contingency plan in place just in case they run into a similar situation in the future.