DraftKings Super Bowl Showdown Picks + Strategy For Rams Vs. Bengals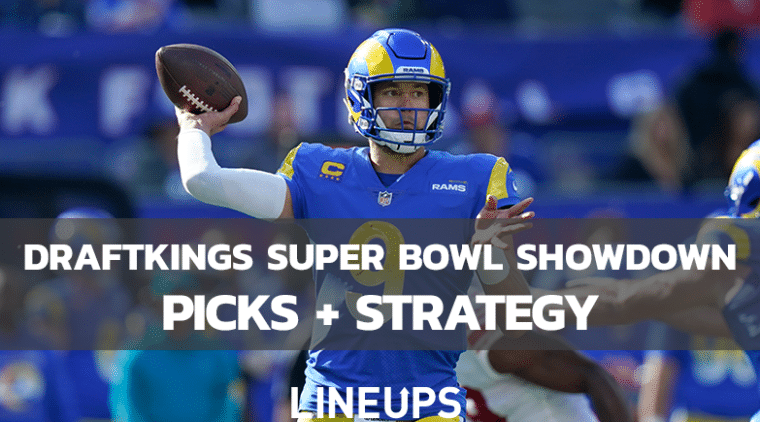 Sports betting is booming in recent months and Super Bowl LVI is going to see more wagers placed on it than any Super Bowl in American history. However, don't forget Daily Fantasy Sports (DFS) as an exciting way to get some action on the big game. In this article, I'll take a look at my favorite DFS values in the upcoming Super Bowl game, emphasizing building a lineup for the Super Bowl Showdown tournament. Feel free to hit me up on Twitter if you have any questions about these picks. Let's dive in.
Introduction to Daily Fantasy Sports
In the DFS format, you are given a base salary amount and allowed to choose from several players in the game or games you have selected. In this case, we're focused only on the Super Bowl, which limits our options somewhat. However, in the single-game format, we're playing on the DraftKings NFL Showdown format. In this format, you build out a roster with one captain and five flex players.
As always, we want to focus on value while also keeping in mind the importance of correlation – we want players who are likely to have strong output in conjunction to one another. Typically, there is a strong correlation between QBs and WRs/TEs and RBs and DSTs. Finally, we'll pay attention to ownership percentage with the understanding that winning a large-field tournament often requires taking a couple of chances on lesser-owned players.
From a general strategy standpoint, I'll add that don't be afraid to have a significant amount of remaining salary once your lineup is built. I'm not bullish on Cam Akers with his current inefficiency and injury concerns, and I won't be playing him over Van Jefferson just to cover up the salary gap. In a similar light, don't choose a player who correlates poorly to the rest of your lineup for the sole purpose of using all of your salary.
Captain Position
The most important part of your lineup is your captain, as you earn 1.5x fantasy points for the player you draft as your captain. The most popular option for the captain spot will be Cooper Kupp, and for a good reason – he averaged 25.8 PPR points per game during the regular season and is averaging 29.2 PPR points per game in the playoffs. It's hard to imagine building a DFS lineup this week without Kupp in it, but if you plan on entering multiple lineups, you should try one or two at least with Kupp in a flex spot and not in a captain spot.
If you're looking for a contrarian captaincy play, I love Tee Higgins in this game. He's averaging 16.5 fantasy points per game over his past two games despite not scoring a touchdown over that stretch, and if he can find the end zone in this game, it wouldn't be shocking to see him end up as the highest-scoring skill player in fantasy. Ja'Marr Chase will be much more popular, but he's performed much worse against zone defense than man defense this year, and the Rams run a lot of zone coverage.
Quarterbacks:
Matthew Stafford ($10,800): The Rams haven't been able to run the ball in their last two games, but it hasn't mattered as Stafford has thrown for over 330 yards and two touchdowns in each of them. The correlation between him and Kupp is obviously an awesome part of his value in this game, as is the fact that he sees a much easier matchup with a less overwhelming pass rush behind the Rams' quality offensive line. I like the Rams to put up more points in this game, so I definitely lean Stafford over Joe Burrow. If you're building a larger lineup set, put in a couple with Stafford as your captain and Kupp in a flex spot.
Joe Burrow ($10,600): As I alluded to in the Stafford breakdown, I have some serious concerns about Burrow's ability to handle the pressure the Rams' defense will present in this game. You may argue that he's done well against pressure in recent games, but several metrics indicate he's performed well over expectation, even for him, and is due for regression. In a couple of lineups where I have Higgins as my captain, I'll be including Burrow, and I'll play at least one lineup with Burrow, Higgins, and Chase just in case to cover my bases. However, more likely than not, this game will be a struggle for the Bengals' offense.
Other Selections
Joe Mixon ($9,600): With Burrow likely having a tough time under pressure, I like the over on Mixon's receptions props. The Rams are tough against the run, but that doesn't mean Mixon won't still have a good amount of volume in this game. With lots of players targeting Burrow and his wideouts, Mixon becomes a nice contrarian play. If he can find the end-zone on a run and come up with some short-area receptions to help take some pressure off Burrow, he'll become a very nice target for DFS value.
Odell Beckham Jr. ($8,400): I think OBJ has breakout potential in this game, and I love the over on his player props. I also have a bet on him to score a touchdown. Naturally, I'm putting him in some of my DFS lineups, but don't go crazy here. I have Tee Higgins projected for more receptions and yards, and while I think Beckham has a better chance to reach the end zone, that doesn't fully warrant the $800 gap in price.
Van Jefferson ($5,200): Van Jefferson has been quiet lately with only five combined catches for 79 yards through three playoff games. However, Jefferson saw three deep targets, including one in the end zone, and a whopping 126 air yards in the NFC Championship game against the 49ers. All it takes is one play for him to more than return value on his price, and that makes him one of my favorite large-field DFS players in this game.
Kendall Blanton ($4,600): If you've been reading my work this week, you'll know I'm very bullish on Blanton with Tyler Higbee sidelined for this game. Blanton finished with five catches for 57 yards against the 49ers after scoring a touchdown against the Buccaneers, and he has intriguing upside at this price, especially with the Rams likely favoring the short-area passing game over the run game again this week.
Evan McPhearson ($4,000): The rookie kicker has been electric in the playoffs, and he's seen plenty of opportunities resulting from the Bengals' offense failing to convert red-zone attempts with just a 36% touchdown rate in the playoffs. McPhearson has scored 13.5 fantasy points per game since Week 14, which is more than Odell Beckham Jr.
Los Angeles Rams DST ($3,400): Defenses and kickers are often overlooked in the DFS format, but I love the Rams DST in this game. The Bengals' offensive line has allowed 4.6 sacks per game in the playoffs, and the Rams have the best pass-rush in the NFL. A defensive touchdown isn't out of the question, and with everyone focused on the skill position players, I love the value in the Rams here.
Darrell Henderson Jr. ($1,600): The Rams haven't had Henderson available for several weeks, but it wouldn't be shocking to see him get some extensive work as he returns to the lineup in this game. Cam Akers hasn't practiced this week and hasn't been efficient in his games in the playoffs, nor has Sony Michel. With Sean McVay talking about a hot-hand approach at running back, why not take a flier on Henderson at this price?
Ben Skowronek ($600): While Skowronek will be remembered for dropping the long touchdown against the 49ers in the NFC Championship, he should be remember in this context for getting that target in the first place. At $600, he's absolutely worth a flier if you're building out a larger set of rosters.
Sample Lineups
Captain: Cooper Kupp ($17,400)
Flex: Matthew Stafford ($10,800
Flex: Tee Higgins ($7,600)
Flex: Van Jefferson ($5,200)
Flex: Evan McPhearson ($4,000)
Flex: Rams DST ($3,400)
Captain: Tee Higgins ($11,400)
Flex: Cooper Kupp ($11,600)
Flex: Joe Mixon ($9,600)
Flex: Odell Beckham Jr. ($8,400)
Flex: Sony Michel ($5,000)
Flex: Evan McPhearson ($4,000)
Captain: Matthew Stafford ($16,200)
Flex: Cooper Kupp ($11,600)
Flex: Odell Beckham Jr. ($8,400)
Flex: Tee Higgins ($7,600)
Flex: Evan McPhearson ($4,000)
Flex: Darrell Henderson Jr. ($1,600)