DraftKings Stock Drops 21% Friday Following Q4 Earnings Call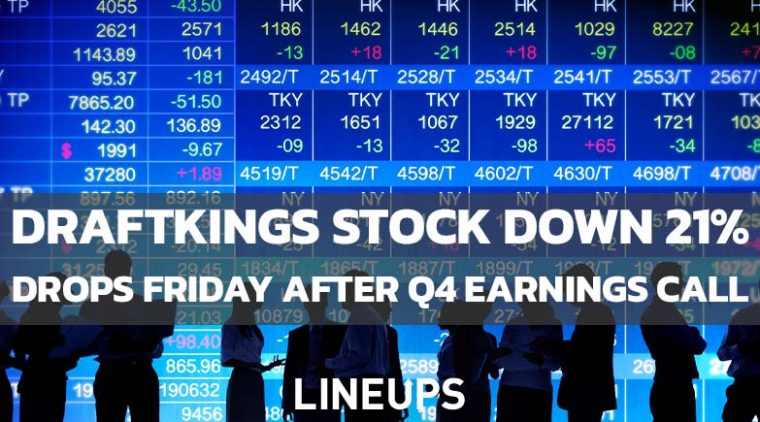 DraftKings was in the news for the wrong reasons on Friday as the company's fourth-quarter earnings call left many investors disappointed about its future. DraftKings (DKNG) stock fell over 21% when the market closed on Friday, and the per-share price of $17.29 nearly hit the 52-week low of $17.22. With the stock underperforming, let's look at the earnings call results and what the future might hold for DraftKings.
Stock Sees Precipitous Drop
Over the last six months, DraftKings stock has dropped over $34.25 per share, a decrease of 66.45%. Year-to-date, DraftKings has decreased by 19.7%, while the S&P 500 is down 8.1% over the same span. DraftKings isn't the only company whose growth-oriented stock has fallen in recent months with the way the economy is trending, but these results are certainly not encouraging.
DraftKings Exceeds Expectations in Several Areas
When you see the sharp decline in stock price following the earnings call, you might expect it to all be doom and gloom for DraftKings. The revenue of $473 million reported in Q4 beat the Wall Street consensus of $447 million and was a 47% year-over-year increase. The adjusted EBITDA loss of $128 million beat the forecast of a loss of $157 million, as well. However, DraftKings said that if the New York and Louisiana launches were not planned for January 2022, Q4 2021 would have been EBITA-positive.
In Q4, DraftKings also increased its monthly unique players (MUP) by 32%. In addition, the average revenue per MUP increased by 19%. On average, DraftKings had two million MUPs engaged with the platform during each month of Q4, and the average revenue per MUP was $77. CEO Jason Robins said that these results were part of a fourth-quarter performance that "exceeded our expectations on the top and bottom line."
Cash Burn Continues for DraftKings
Investors' major issue with DraftKings is the company's continued cash burn as it pours money into customer acquisition, particularly in states with newly launched online sports betting markets. In 2021, DraftKings had sales and marketing expenses totaling $981.5 million, almost twice as much as $495.1 million in 2020. Robins has said that DraftKings' promotional spending in new states and with new customers will lead to profitability two to three years after launching the new market or acquiring the new customer, but this is a lengthy timetable for investors expecting instant gratification.
2022 Projections Laid Forth
During the earnings call, Robins stated that DraftKings enters 2022 positioned to "grow our market share, further optimize our user experience, and continue to strengthen our multi-product suite of offerings." DraftKings has projected 2022 revenue between $1.85 billion and $2 billion, which is in line with the market consensus and would represent year-over-year growth between 43% and 54%. However, DraftKings also projected its EBITDA loss between $825 and $925 million, much more than the consensus projection of $572 million.
What Does the Future Hold for DraftKings?
Analysts at MoffetNathanson predict the online sports betting industry will increase to almost $11 billion in sales by 2025, up from $36 billion. However, Robert Fishman of MoffetNathanson also predicts that DraftKings won't have a positive cash flow until 2025 and won't be profitable until 2028 – that's a long time to wait in an industry that's constantly gaining more competition from new platforms.
Following New York and Louisiana's launch, DraftKings Sportsbook is now live in 17 states that collectively make up 36% of the United States population. Another 18 state legislatures are working through legislation for sports betting, and DraftKings has market access deals with Maryland, Ohio, and Puerto Rico. An Ontario market access deal is also expected.
Robins stated DraftKings expects to be "contribution profit positive for the fiscal year 2022" across all of the states where the platform is live. However, investors are bearish on the company's excessive marketing spending and lack of immediate profitability on that investment. It's possible that DraftKings could make everyone selling their stock today eat their words. Still, the consensus from big-time investors doesn't bode well for DraftKings as it enters another year where it expects to be EBITDA-negative.