DraftKings Promo Code: Game 6 NBA Finals $1,050 Bonus Today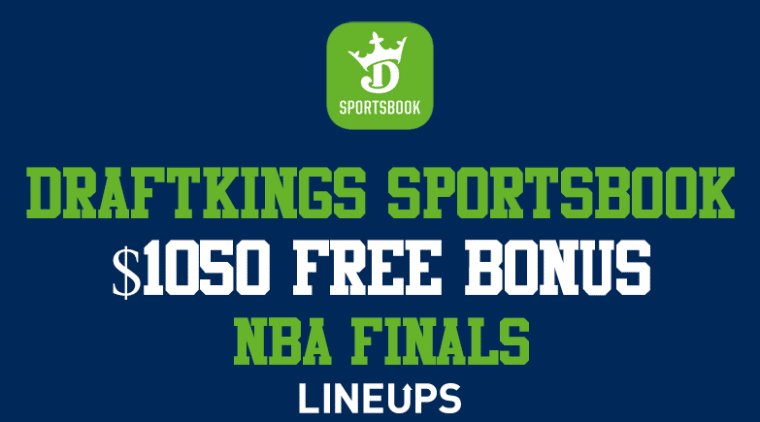 To sign up using the newest DraftKings Sportsbook promo code and redeem a new user bonus of up to $1,050, click on our exclusive . In addition to bonus access and signup instructions, you'll also find up-to-date legal information, sportsbook reviews, and answers to users' most frequently asked questions on our page.
DraftKings Promo Code For Game 6 of NBA Finals ($1,050 Bonus)
With the dark days of the sports calendar quickly approaching, DraftKings has gone all-in on providing its users with the most extensive set of betting options for both the NBA Finals and Stanley Cup Playoffs. Most notably, DraftKings is giving new users a chance to make thousands of different wagers for Thursday night's Game 6 between the Boston Celtics and Golden State Warriors. These bets include player and game props as well as alternative totals, spreads, and live bets.
In addition, new users of DraftKings Sportsbook will be able to place their first bets with little risk attached. All first-time users of legal age and location are able to redeem up to $1,050 in free bets and deposit match money upon signing up using the DraftKings Promo Code .
The maximum $1,050 bonus comes in the form of two separate installments — the first being a $50 free bet and the second being a 20 percent deposit match up-to $5,000.
The $50 free bet is doled out to all new users upon registration and can be easily accessed using this or any of the banners on the page.
To make oneself eligible for the 20 percent deposit match, all new users have to do is make a $5 deposit into their account. Once the $5 is in, the bonus will automatically be applied to your account. While $5,000 is the maximum amount that one can deposit into their account with the 20 percent match bonus, users are eligible to deposit anything between $5 and $5,000. Regardless of the amount, you'll receive 20 percent of the money back in free bets — so if you put in $100, you'll get $20 back in free bets and if you bet $500 you'll get back $100 and so on.
DraftKings NBA Finals Promo: Bet $5 on the Celtics/Warriors Moneyline and Win $150
Additionally, DraftKings has launched an inflated odds promo where users can bet $5 on either the Celtics or Warriors moneyline in Game 6 and win $150. This promo is exclusive to the NBA, and is opt-in only. Those who do opt-in will be able to get the Celtics, who are currently sitting at -160 odds to win Game 6, at +3000 odds.
To take advantage of either of the DraftKings new-user promos, the only requirements are that individuals be located in one of the 18 states where DraftKings operates and over the legal gambling age of 21. Any winnings made off of promo bets can be withdrawn for cash at any time, though users don't get the money back if the bet doesn't cash. Thus, your first couple bets with the DraftKings promo code are the most important. Thankfully, the staff at Lineups has you covered with an expert pick for your first bet.
DraftKings Promo Code Best Bet: NBA Finals Game 6
Celtics vs Warriors: Celtics -4
Until Monday night (6/13), the Celtics hadn't lost back-to-back games this entire postseason. Now, they face losing back-to-back-to-back games on Thursday as they return home for a do or die game against the Warriors in Game 6 of the NBA Finals. The Celtics, a team that's been erratic this entire postseason, have always responded in the face of adversity and have usually done so in a resounding fashion.
While Golden State poses different problems than both Milwaukee and Miami, they'll have the benefit of being at home in this do or die game and have some clear matchup advantages over this Golden State team. When Robert Williams plays, even in the last two losses, the Celtics have consistently outscored the Warriors.
Not only do I expect Williams to get more minutes in Game 6, I expect Boston's offense to rebound. In Game 5, Jalen Brown shot just 5-18 from the field and Al Horford got up just 6 shots. Their bench produced just 10 points with 6 of those coming from 2 threes in garbage time. At home, Jalen Brown has averaged 24 points this series while shooting over 50 percent from the field. Marcus Smart has averaged 18.5 points at home and the bench 20 points.
With Robert Williams on the floor more and Boston able to switch the Green/Curry pick and roll with Tatum and Horford, I like the Celtics defense to take control and their offense to gain some momentum at home. Hammer it with your DraftKings promo code best bet.