DraftKings Marketplace Becomes Exclusive Distributor of Metabilia NFTs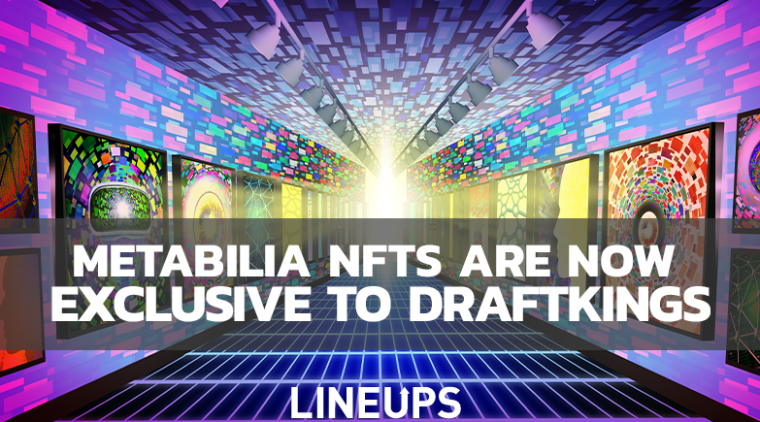 As the world becomes more tech-driven, sports fans are finding new ways to stay connected to their favorite teams and players. At the intersection of these two things are non-fungible tokens or one-of-a-kind digital pieces.
Metabilia, DraftKings Partner Up
On May 3, DraftKings announced that it has partnered with Metabilia to supply NFTs to the DraftKings Marketplace. These NFTs are meant to serve as an engagement experience for fans to channel and appreciate the careers of young players and major leaguers. It's expected that they will add more to the collection, but it will debut with NFTs for Vladimir Guerrero Jr., Ronald Acuña Jr., Shane Bieber, Wander Franco, Joe Musgrove, and Fernando Tatís Jr. 
The authentic Metabliia NFTs that will be available on DraftKings Marketplace vary from historical pieces, game-used collectibles, career achievements, and more. This marketplace is no stranger to NFTs as they currently feature items from Tom Brady-founded company, Autograph and have even included Derek Jeter's first-ever NFT ahead of his induction to the Hall of Fame in 2020. Now, as these two leaders in their respective fields come together, they are paving the way for fans and passionate communities to connect with the next generation of legends like Acuña and Guerrero like never before. 
"Similar to these early seasons of my baseball career, we're in the beginning stages of NFT technology, and fans can expect much more from us ahead as we power new kinds of fandom," said Acuña.
Metabilia has given some insight into what the NFTs for Acuña and Guerrero will look like. The membership NFTs will be issued in three rare forms: 1,380 green NFTs, 600 platinum NFTs, and 20 black NFTs, costing $75, $150, and $1,500 respectively. Membership NFTs allow the owner to continue receiving event-based NFTs all season long. What exactly these NFTs entail remains to be seen, but it will be some sort of player-specific memorabilia. 
These NFTs are expected to roll out starting May 4 and continue intermittently until May 13.
DraftKings Expanding Partnerships
Up until now, we have primarily seen DraftKings partner with athletes and teams almost exclusively to promote their sports betting platform. Just this year they have made partnerships of this kind with baseball personality Jared Carrabis and former NFL executive, Michael Lombardi. 
But in mid-March they introduced the Primetime NFT Series, acknowledging their support for the rise in NFT culture in sports. This marked the first fully in-house NFTs launched by DraftKings Marketplace that came in conjunction with the NCAA March Madness Tournament. Collectors that purchased these NFTs were eligible to receive "DK Dollars" which can be used as site credit for gameplay across all of DraftKings' platforms. 
About Metabilia
Metabilia primarily focuses on NFT collectible programs such as the Membership NFT program that allows fans to follow athletes all season long. They are partnered with some of sports' biggest athletes from Tyreek Hill, Aaron Donald, Derek Stingley, Monique Billings, and more, along with the NFL and NBA. Upon the launch of these collections on May 4, DraftKings Marketplace will become the exclusive distributor of Metabilia NFTs.