DraftKings Louisiana Promo Code: 56/1 Odds on NFL Playoffs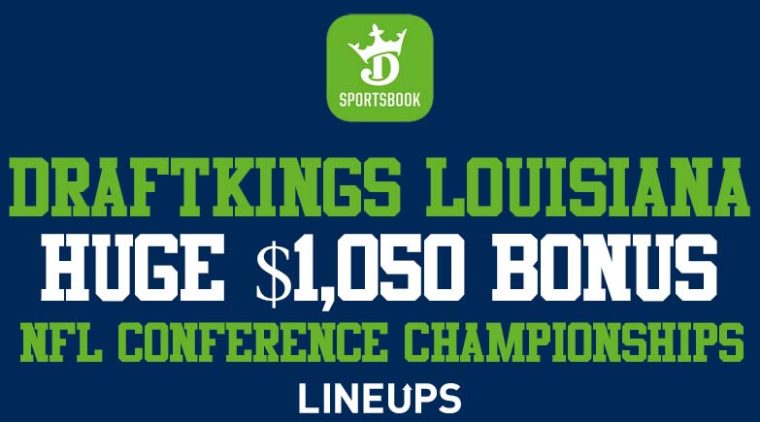 Be sure to check out our official DraftKings Louisiana page for the latest news and updates on the new sports betting platform. We have you covered with the latest ongoing promotions and a full step-by-step betting guide to help you get started.
DraftKings Louisiana is Here!
As of Friday, January 28, mobile sports betting has launched in Louisiana with a massive DraftKings Louisiana Promo Code, worth $1,050! DraftKings Sportsbook is one of the platforms now available for placing wagers from the comfort of your home, and we highly recommend it as one of the best sportsbooks in the country. DraftKings Louisiana combines excellent ongoing promotions with a seamless sports betting experience regardless of whether you are a seasoned pro or a casual bettor.
Both the mobile application and desktop site present excellent user interfaces with easy-to-navigate menus and a wide range of professional, collegiate, and international sports available. DraftKings Louisiana is also offering some incredible promotions for the NFL playoffs as we head into the conference championship games. Keep reading to find out how to get started with up to $1,050 in bonuses with DraftKings Louisiana!
DraftKings Promo Code Louisiana: $1,050 Bonus
In addition to the many great features that the DraftKings Louisiana platform offers, the sportsbook is also enticing new users with up to $1,050 in sign-up bonuses via the DraftKings Promo Code Louisiana. Once you sign up for a new DraftKings Louisiana account, you will immediately receive a $50 free bet to place on whatever you would like. Then, DraftKings will also match your initial deposit at a 20% rate up to $1,000. For example, if you deposit $100, DraftKings will gift you an additional $20! With the NBA and NHL regular seasons in full swing and the NFL Conference Championships this weekend, there are plenty of exciting sports to take advantage of these bonuses from DraftKings Louisana Promo Code.
DraftKings Louisiana Bonus: Bet $5 Win $280 on the NFL Playoffs
One of the promos that DraftKings Louisiana is running this week for the NFL playoffs provides excellent value to anyone looking to bet on a specific team to win their game. You can place a $5 bet on any team to win this week and win $280 if they do, with this DraftKings Promo Code LA! My picks in the conference championship games are the Chiefs and Rams, and you can check out my betting previews for further analysis on these games. Regardless of which teams you pick, this promo provides ridiculously good value – you wouldn't even get these types of odds if the Jaguars were facing the Colts this week.
Best Bet: Double Your Money if Joe Burrow Completes a Pass!
While there is plenty of enticing spread and Moneyline bets for this round of the NFL playoffs, my favorite bet on the board is another promo offered by DraftKings Louisiana. You can place up to $25 on Joe Burrow to complete one pass and win $25! No, this is not a joke – all he has to do is complete one pass. For reference, Burrow completed 30 passes in these teams' meetings a few weeks ago. You have to place this bet before the game begins, and you must be in Louisiana to access this exclusive offer.