DraftKings Looking to Cryptocurrency as the Future of Sports Betting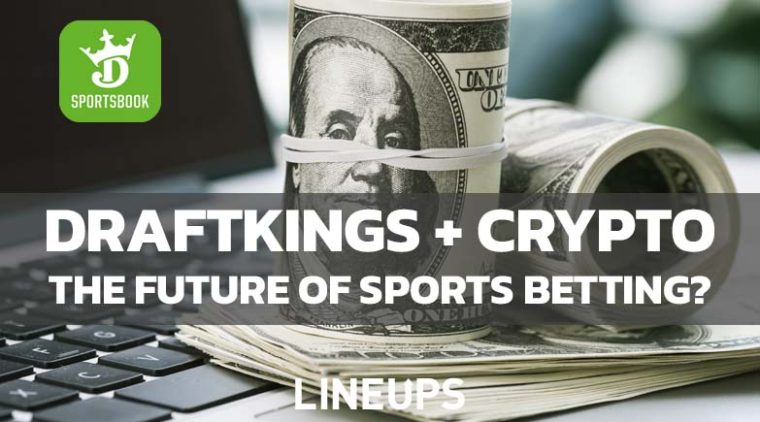 In the growing arms race between leading sports betting brands in the United States, innovation is critical to staying ahead of the competition. DraftKings is constantly exploring new opportunities in the online space, with non-fungible tokens (NFTs) now being solid through its DraftKings Marketplace. Now, DraftKings is looking to cryptocurrency as a critical part of its future.
Global Crypto Betting at an All-Time High
Sports betting through cryptocurrency continues to be more prevalent around the world. Cloudbet, a crypto betting pioneer, estimates that the upcoming 2022 Champions League Final will be the most significant Bitcoin sports betting event in history. The game between traditional European powerhouses Liverpool and Real Madrid on Saturday, May 28, is set to draw immense interest from sports fans.
Softswiss, a software developer, estimated that sports betting through cryptocurrency has grown by 116.7% year-over-year in the first quarter of 2022 compared to a 60% growth rate in sports betting. Even with the recent cryptocurrency slump, particularly in Bitcoin, global sports bettors are hungry to use crypto to fund their sports betting.
Cryptocurrency Betting in the United States
Cryptocurrency is a prevalent way to fund offshore sportsbooks such as Bovada, MyBookie, and BetOnline, and regulated sportsbooks hope to incorporate this option in the near future. For users of those offshore sportsbooks in legalized markets who have not yet moved over to regulated platforms, the opportunity to use cryptocurrency might be enough to get them to make the switch.
In Wyoming, the state legislature passed a law enabling bets to be placed through cryptocurrency, but no sportsbook has yet launched the option. Crypto-friendly bills have become very common in Wyoming's Senate, and Senator Jeff Wasserburger claimed there was "very little discussion" regarding the inclusion of cryptocurrency in the state's sports betting bill.
DraftKings CEO and co-founder Jason Robins noted that "different products in different states might be more likely to be done earlier, and some may be out of our control." The sports betting market in the United States is regulated on a state-by-state basis, with 30 states currently operating legal sports betting.
Centralization is Necessary
Robins also compared the cryptocurrency market to the early internet days, with the lack of familiarity and knowledge of how cryptocurrencies work being a significant obstacle. On a recent Decrypt podcast, Robins called for the centralization of cryptocurrency as a wide variety of cryptocurrency types makes the market very overwhelming to new investors.
"The types of things (we need) to become mainstream fly directly in the face of decentralization," Robins said. "If you don't have some sort of centralized control, it's hard to protect people from themselves."
Robins acknowledged that centralization opposes what "purists" want in the cryptocurrency industry, but removing barriers to entry will allow the product to grow exponentially to "make blockchain technology be more applicable to mainstream use cases."
Robins specifically noted that he envisions a future where strong voices such as Coinbase Global CEO Brian Armstrong and FTX CEO Sam Bankman-Fried could take the lead in crypto regulation, calling them "pioneers" and the "largest force in creating the industry in the United States."
Jason Robins, an avid crypto and NFT holder, shared his thoughts on how the industry might become accessible to more people on the new gm podcast. https://t.co/m7xnOUS8fh

— Strawberry NG News (@StrawberryNG) May 24, 2022