Divisional Round Player Props: Best Player Props For Each Game This Weekend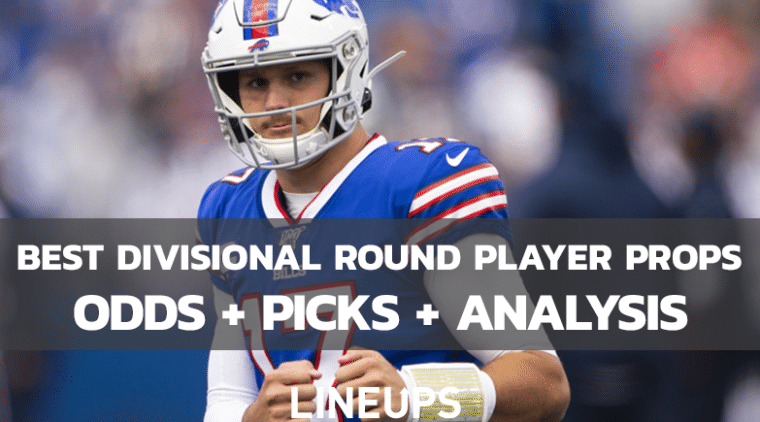 The NFL playoffs are underway, and you can find the best odds, lines, and predictions for the Divisional Round here. The race for the Super Bowl continues this weekend and here are the best player props for each game of the Divisional Round.
Divisional Round Player Props
Cincinnati Bengals vs Tennessee Titans: Ryan Tannehill Under 235.5 Passing Yards
Taking the under here is a bet on Mike Vrabel as much as it's a bet on Ryan Tannehill. After two seasons and 4 playoff games together, there's a mounting body of evidence to suggest Mike Vrabel consistently takes the ball out of Ryan Tannehill's hands in the playoffs and doubles down on the run game with Derrick Henry. Since joining the Titans in 2019, Tannehill is averaging just 21.5 pass attempts and 133.5 yards a game in the playoffs. In the regular season he averages 29 attempts and 229 yards a game. Cincinnati will be without their best run stopper in Larry Ogunjobi and could possibly be without DE Trey Hendrickson as well. With Derrick Henry coming back, Tennessee will be primed to exploit Cincinnati's weakness here and I fully expect Mike Vrabel to follow through with it schematically. Even if Henry is just 70 percent of what he was in week 8 when he got injured, he's going to have success early against this Bengals team. Unless Joe Burrow and the Cincinnati offense gets a solid lead, there's going to be no reason for Vrabel and this Titans team to look back. Look for Tannehill to throw the ball under 25 times for less than 220 yards.
San Francisco 49ers vs Green Bay Packers: Jimmy Garoppolo Under 20.5 Completions
The wind chill is supposed to be near 0 when Saturday night's game between the 49ers and Packers kicks off. Kyle Shanahan already favors running the ball on offense and I guarantee it's going to be reinforced this weekend — if not for the weather than for Green Bay's faltering run defense that has allowed over 120 yards on the ground in 3 of their last 5 games. Even if Jimmy G does get upwards of 28-29 attempts, I don't love his odds to complete over 65 percent of his passes. The last time these two teams met earlier this season, Garoppolo had his third worst performance of the season in terms of completion percentage. When the weather gets colder and the games become more physical late into the playoffs, coaches tend to keep the ball on the ground more. After last week's puzzling performance, there's no doubt Kyle Shanahan is at least partially jaded by putting the ball in Jimmy G's hands. I like Garoppolo to get under 30 pass attempts and I love him to get under 20.5 completions — especially if Jaire Alexander rejoins the Packers defensive backfield.
Los Angeles Rams vs Tampa Bay Buccaneers: Rob Gronkowski Over 5.5 Receptions
No Antonio Brown, no Chris Godwin, and likely no Tristan Wirfs. Leonard Fournette remains on the IR and the Bucs had to rely on Ke'Shawn Vaughn last weekend for production in the running game. This team is low on offensive weapons and Gronk remains one of the few consistent features. We know the rapport Gronk shares with Brady, and this connection seems magnified in the playoffs. Jalen Ramsey can make things difficult — to some extent — for Mike Evans, opening up the door for even more Gronk receptions. The theme for the Bucs all season has been a quick, aggressive passing scheme held up by strong protection on the offensive line and the subtle threat of a running game. It's quite possible two out of those three things will be operating at a lower level than usual, forcing Brady to fall back on his bread and butter. In his playoff career with Tom Brady, Gronk is averaging 7.1 receptions a game.
Buffalo Bills vs Kansas City Chiefs: Josh Allen Over 36.5 Pass Attempts
There's a clear trend for Allen and pass attempts this season. The closer the game, the more he throws the ball. Three of Allen's four biggest games for pass attempts this season have come in losses, while all three of his lowest games for pass attempts have come in blowout wins. Knowing this, it's hard to imagine he won't exceed his season average in attempts, 38, against a Kansas City team that is bound to keep things interesting. As great as this Bills defense is, they're going to have their hands full against the Chiefs. Regardless of what the numbers say, there's no way to prepare for the three pronged attack of Patrick Mahomes, Tyreek Hill, and Travis Kelce when the Chiefs are rolling in the run game like they are. Mahomes averages 300 yards a game in the playoffs and has never thrown for less than 255 yards in a playoff game. Even when the Chiefs lost to the Bills earlier this year, Mahomes put up 272 yards. The Bills are going to need to win in a shootout, and, whether or not they're able to, they're going to go down swinging. Bills OC Brian Daboll has supreme confidence in Josh Allen, and I can see him launching bombs until the very end.