Denver Nuggets NBA Championship Odds 2022-2023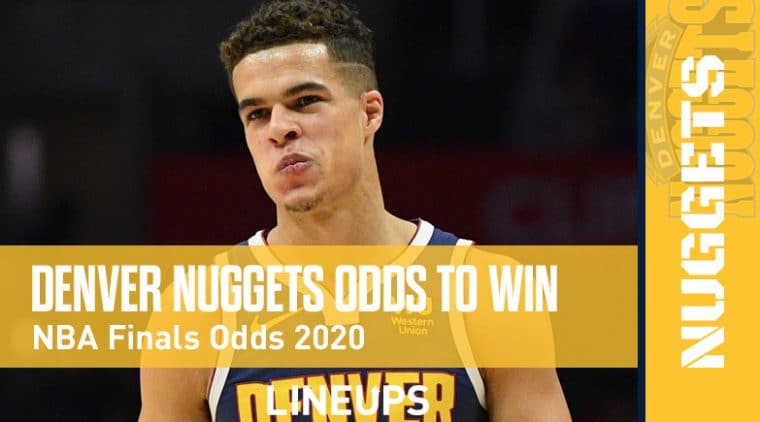 The current Denver Nuggets NBA championship odds are . The injury bug has hit the Nuggets hard over the past year and a half. First, it was Jamal Murray, who sustained an ACL tear in April of 2021 and could not make a return by the playoffs this past season. Likely, Murray was held out for precautionary reasons rather than an inability, but he did not see the floor in 2022. Then, Michael Porter Jr's nagging back injury resulted in him missing most of the 2021-22 campaign; he has struggled with various back issues since his freshman season at Missouri. Regardless, Nikola Jokic was able to land his second straight MVP and even helped propel the Nuggets to an impressive 48-34 record. Jokic had very little help without Murray and MPJ, and it showed. However, what cannot be ignored is how this Denver team could look with a fully healthy roster. Check out the odds for Denver to win the title below and see our reasoning why we believe it to be somewhat of a dark horse this season!
Denver Nuggets NBA Championship Odds & Futures 2022-23
The current odds for all available Denver futures are listed below. These futures include the Nuggets' championship/title, conference, and division odds, with their win total following shortly after!
| Denver Nuggets NBA Championship Odds & Futures | Odds (Updated July 2022) |
| --- | --- |
| 2023 NBA Championship Odds | |
| Western Conference Winner Odds | |
| Northwest Division Odds | |
Denver is one of my favorite dark horse teams this season; they are often overlooked because of previous injuries to key players like MPJ and Jamal Murray and the general strength of the Western Conference. Nikola Jokic, Michael Porter Jr, and Jamal Murray make up an intriguing trio of young talent that can score a whole bunch in a short period. These three have scarcely gotten to play together at full strength but have had solid success when healthy, even making the Western Conference Finals in 2020. If the Nuggets continue to improve and their added pieces contribute, especially in shooting and perimeter defense, they could compete with Phoenix, Memphis, and Golden State.
Reasons Why Denver Nuggets Can & Can't Win NBA 2022-23 Championship
Strengths
Nikola Jokic: While this strength is somewhat hilarious to list out, considering he is a single player in a league that almost always requires multiple superstars to win championships, Jokic still has an impossibly positive impact on the game. Jokic had a PER (Player Efficiency Rating) of nearly 33 last season, the highest rating ever achieved in the history of the NBA. Additionally, he has the third-highest career PER of all time behind only LeBron James and Michael Jordan. Denver has a mile-high ceiling if Jokic gets help from his supporting cast.
Shooting: Shooting numbers from last season are a bit misleading due to injuries to Jamal Murray and MPJ. Additionally, the Nuggets added Kentavious Caldwell-Pope., Christian Braun, and Bruce Brown Jr, who were all around 40% from deep last season (Braun was in college.) Bringing Murray and MPJ back and adding KCP, Braun, and Brown into the mix should quickly make Denver one of the better shooting teams in the NBA. This spacing potential will allow plenty of clean looks in the half-court and fewer doubles on Jokic.
Weaknesses
Injuries: If Jamal Murray, Nikola Jokic, or Michael Porter Jr suffers an injury that would be season-ending, the Nuggets can likely wave any shot of a championship goodbye. The health of Denver's three best players is imperative to competing in a blistering Western Conference where having three stars seems like the minimum to make a Conference Finals.
Guard Play/Depth: The biggest issue that Denver dealt with last season, which is partly a product of the weakness listed above, was guard play. Last season, Denver allowed the most points and second-highest field goal percentage to opposing point guards. With Jamal Murray returning, this should hopefully improve, but Denver could fall victim to this issue if he suffers another injury or isn't at 100%.
Boston Celtics Championship Odds 2020
Dallas Mavericks NBA Championship Odds
Denver Nuggets Championship Odds 2020
Houston Rockets Championship Odds 2020
Los Angeles Lakers Championship Odds 2020
Los Angeles Clippers Championship Odds 2020
Miami Heat NBA Championship Odds 2020
Philadelphia 76ers Championship Odds 2020
Toronto Raptors Championship Odds 2020
Utah Jazz Championship Odds 2020
Dallas Mavericks Championship Odds 2020