Dave Portnoy Fires Back on Colorado Betting Controversy: "F**k That Guy" Comment Draws Ire of Sports Betting Community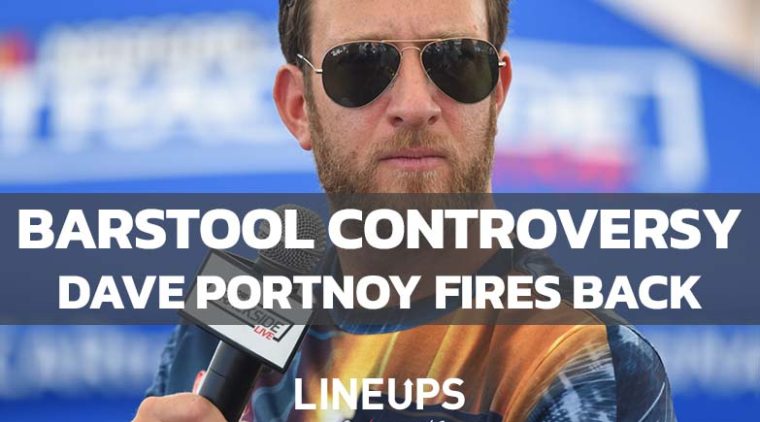 Barstool Sportsbook has been making headlines in recent weeks, and not in a good way. Last month, prominent Colorado sports bettor James Salinas went on record detailing his issues with placing wagers on the NFL Draft through Barstool Sportsbook. Salinas's story caused a frenzied discussion of ethics in the sports betting space and put a lot of pressure on Barstool founder Dave Portnoy to respond.
James Salinas's Story
James Salinas is an avid sports bettor and the co-host of the Pro Football Blitz on VSiN (Vegas Stats & Information Network). On April 23, Salinas was featured in a clip posted on Twitter by VSiN in which he detailed his difficulties placing NFL Draft wagers at Barstool Sportsbook inside Ameristar Black Hawk Casino in Colorado, the largest casino in Colorado.
With the #NFLDraft coming up, @roundingagain gave his experience trying to bet on the draft in Colorado. @lasvegasgolfer | #WatchNow pic.twitter.com/UxashbXumv

— VSiN (@VSiNLive) April 23, 2022
Salinas specified that he asked the representative at the counter what the book's limits were on draft bets, and the rep replied that "we will take whatever you bet." Salinas then attempted to wager $3,000 on Kayvon Thibodeaux to be selected top-five in the draft as well as $1,000 on Thibodeaux to be selected #2 overall. Next, the representative asked for his identification, which they described as a formality.
However, as Salinas detailed in the video, the employees returned from checking his ID and told him they would need to limit the size of his bets to $800 on Thibodeaux to be drafted top-five and $500 on Thibodeaux to be selected with the #2 overall pick.
After agreeing to the new limits, the employee also told him that the lines had changed. Instead of Thibodeaux going top-five at +100, it was now -129. Instead of Thibodeaux going top-two at +350, the odds were now +250. Salinas told the employees to give him his money back, and he left without placing wagers.
Social Media Outrage
Barstool Sportsbook was heavily criticized on social media for two reasons. First, the casino printed Salinas' ticket which typically means that the transaction has been completed. Second, the sportsbook accepted the money but changed the odds before handing Salinas back his ticket. In the often cutthroat world of sports betting, this shady behavior was not well received on social media.
On April 29, ESPN's David Purdum reported that the Colorado Division of Gaming was investigating the incident, and they have yet to make any further comment. Purdum's tweet included the applicable state regulations such as the rule that "if a ticket is issued by an operator and accepted by the customer, the terms of that transaction must be honored and should not be altered."
Dave Portnoy Fires Back
On May 11, Dave Portnoy was asked on the Dave Portnoy Show with Eddie and Co. about the ongoing Colorado Division of Gaming investigation. "F**k that guy. F**k that guy," he responded. "It's the Draft. There's all sorts of inside information. A casino is in it to make money. This wasn't a game that was just a normal line. He was literally just driving around different casinos trying to get as much action on what he thought was, like, inside, or information, on the draft. So they take his license, they see that he's probably a sharp, and they want to limit him."
Funny Dave was the loudest to complain when @RobinhoodApp blocked his wagers. @capjack2000 @spanky @VSiNLive @beatingthebook @JeffreyBenson12 https://t.co/EinY2y6Chj pic.twitter.com/mGSrp9z0Lr

— Nick Jefferys (@NickJefferys) May 11, 2022
Dave Portnoy's reaction was not well received by the sports betting community. Jack Andrews, a popular sharp bettor and writer, called Salinas a "respected bettor" and a "civil servant in Denver." Jeffrey Benson, the operations manager of Circa Sportsbook, said instances like this one with Portnoy are "one reason the bookie/bettor relationship is at an all-time low."
This guy, James Salinas, is not only a respected bettor, but a civil servant in Denver. I believe he is still Director of Recreation for the city.

Seems "bad for business" to attempt to discredit a city official from the largest and most influential city in the state.🤨

— Captain Jack Andrews (@capjack2000) May 11, 2022
Salinas Files Complaint
After learning of Portnoy's comments, Salinas officially filed a complaint with the Colorado Division of Gaming. In an interview with SportsHandle, Salinas specified that he didn't have the "time, energy, or capacity to take all this on" and he hadn't planned on pursuing an official case.
However, Salinas said Portnoy made things personal and was dismayed by his "personal attacks." "He doesn't know me, I don't know him. If I have a problem with somebody, I'm going to bring it up personally in a one-on-one setting. I'm not going to disparage anyone out there publicly, that's not my style."
You can find more information about Colorado's sports betting rules and regulations on this site. https://sbg.colorado.gov/sports-betting-rules-and-regulations The Colorado Division of Gaming has yet to make an official ruling or find fault in the Barstool Sportsbook investigation, and this is an ongoing story to watch.