D.C. Sports Bettors Left in the Dark with GambetDC on Super Bowl Sunday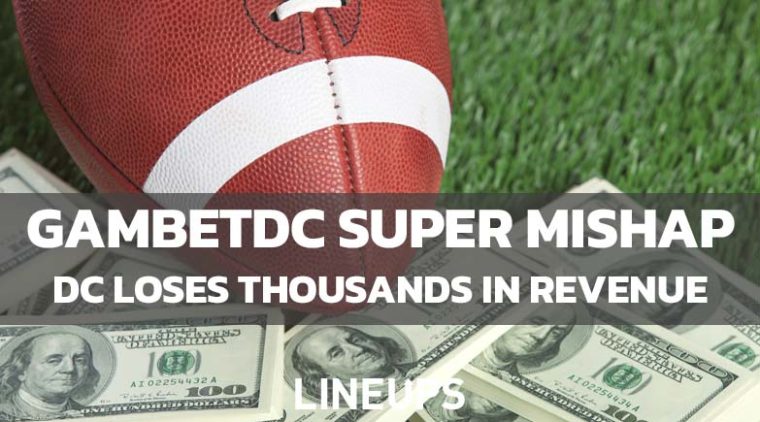 Super Bowl LVI mostly went off without a hitch as the Los Angeles Rams took home the Lombardi Trophy in a 23-20 victory over the Cincinnati Bengals that featured plenty of memorable moments. The Super Bowl was the most-watched television show in five years and was the most-streamed NFL game ever, with an average minute attendance of 11.2 million viewers per NBC Sports. However, in D.C., sports bettors were left in the dark as GambetDC shut down, leaving them with no legal sports betting options.
D.C.'s only citywide sports betting app, @GambetDC, is down for maintenance because of a technical issue… on the day of the Super Bowl. This is what I get: pic.twitter.com/Tmbi78m5Va

— Martin Austermuhle (@maustermuhle) February 13, 2022
GambetDC Misfires, Customers Upset
In Washington D.C., the only sports betting app currently available is the Lottery-operated GambetDC. Most states with legalized sports betting operate an open, competitive market with several licensed operators providing competitive odds and products. However, this monopolization of sports betting has led to a worse product in the D.C. market.
On Super Bowl Sunday, a day devoted to football on which many sports bettors, novices and pros alike, love to place all sorts of prop bets, novelty wagers, and simple spread, Moneyline, and over/under bets. However, GambetDC was suddenly unavailable leading up to and during the big game as users received an error message when they tried to load up the app. Of course, this left many customers outraged.
What Went Wrong?
According to a spokeswoman for the D.C. Lottery, GambetDC "did not obtain approval from Apple for a required update resulting in the temporary removal of the GambetDC mobile app from the Apple iOS platform." GambetDC was launched in 2020 and has seen nothing but issues ever since, as users have complained about poor odds, usability issues, and more.
On Sunday afternoon, GambetDC users received a message that the application was "experiencing a technical issue" and would not be available after 4:15 PM, just over two hours before kickoff of the Super Bowl. The D.C. Lottery reassured bettors that they could still place wagers on the Gambet website, via the Android app, or in person at 39 various retail locations.
GambetDC also said it would be offering users a $10 free in-game bet, but that was little consolation for the missed opportunity to place wagers on pre-game markets such as Super Bowl MVP and player prop selections, as well as props on the national anthem and the ever-popular First Touchdown Scorer prop.
Poor Platform Leading to Underperforming Revenue
D.C. governance will not be thrilled by the results of GambetDC as the poor platform has hindered the ability to generate meaningful tax revenue. Original forecasts projected that GambetDC would generate tens of millions in revenue for the District. However, through the first eight months of fiscal 2021, it only generated $230,000. For comparison, the Caesars by William Hill Sportsbook at Capital One Arena in D.C. generated $1.8 million in tax revenue in all of 2021, despite being an isolated retail location.
D.C. Councilmember Elissa Silverman tweeted her dissatisfaction on Sunday evening, saying, "when 5 [D.C. Council] members including myself voted against this contract, we knew it was bad, but even I didn't foresee it being this abysmal," as she referred to the 2019 vote on the essential monopolization of sports betting for Intralot, the company that operates the GambetDC app.
When 5 @councilofdc members including myself voted against this contract, we knew it was bad but even I didn't foresee it being this abysmal… https://t.co/Y9Obwd3uDh

— Elissa Silverman (@tweetelissa) February 13, 2022
What's Next?
D.C. Mayor Muriel E. Bowser has stated she is working on seeking answers for why the GambetDC outage took place and is working with the city's chief financial officer who oversees the contract. Bowser conceded that the city's sports betting solution should work, especially "on the biggest sports day of the year." We should know more about how much revenue was lost by D.C. due to the outage later this week, and it could be a staggering number.
The current contract with Intralot doesn't preclude D.C. from establishing partnerships with more sports betting operators, and that may be the eventual concession as D.C. cedes some control over proceeds. For the time being, BetMGM and FanDuel are planning on opening new sportsbooks at D.C. professional sports stadiums while many operators are working with lobbyists on opening the market to future additional licenses.