Cowboys Vs. Eagles (10/16/22) Sunday Night Football Same Game Parlay Strategy + SGP Picks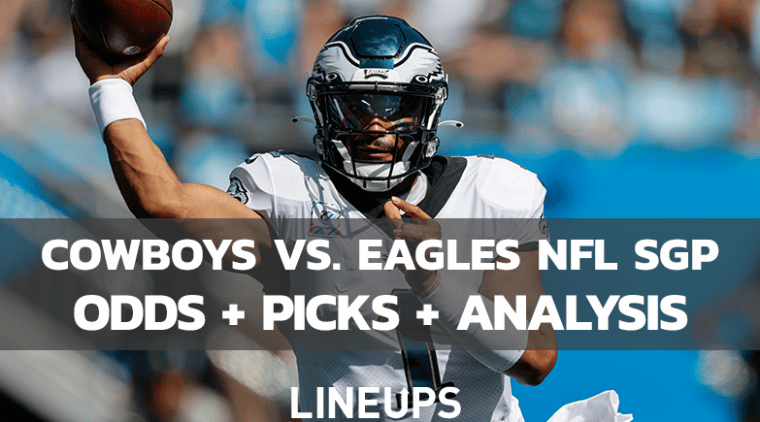 The Sunday Night Football game this week features two divisional rivals pitted against one another for control of the NFC East. The Eagles are currently undefeated and have soared up the Super Bowl odds board while the Cowboys have weathered the storm of their injuries, most notably to Dak Prescott, and find themselves at 4-1.
I detailed in our player props article how I believe this game is much better suited for live betting than making pregame wagers, but I do believe we can find some value in building a Same Game Parlay (SGP) with correlation. In this article, I'll build a SGP for this game that you can plug in on different sportsbooks. Let's get to work.
*Odds from FanDuel Sportsbook
Cowboys Vs. Eagles Same Game Parlay Sunday Night Football
The spread for the Eagles-Cowboys game is extremely sharp, and I have a difficult time selling myself on it one way or another. However, I'm confident that the Eagles will find a way to win this game at home on the back of Jalen Hurts and their defense, so we'll start our SGP with an alternate spread for them at -2.5 – you can get that at -250 odds on FanDuel.
Next, I'm adding Miles Sanders over 66.5 rushing yards to our SGP. Sanders is averaging 82.8 rushing yards per game this year, and this is a great matchup for him. The Cowboys rank 21st in YPC allowed and 18th in run defense DVOA. They also rank dead last in explosive rush rate allowed, so Sanders might not need more than a handful of carries to hit the over on that prop.
On the Cowboys' side, I like CeeDee Lamb to go over 61.5 receiving yards in this game. The Eagles are the best passing defense he's faced this year, but this line properly accounts for that reality. Before the absurdly positive game script last week, Lamb had averaged 86.3 receiving yards per game over the prior three weeks, and he's seeing a massive 37.1% target share from Cooper Rush this season.
Finally, I'm adding Jalen Hurts to score a touchdown to this SGP. The Cowboys have allowed the fewest rushing touchdowns in the NFL this season, but they also haven't faced a mobile quarterback like Hurts. Already with six rushing touchdowns this year, there's no reason for Hurts to be priced above even odds to score.
Put it all together, and we have a simple four-leg SGP that looks very enticing:
Philadelphia Eagles -2.5 (-250)
Miles Sanders Over 66.5 Rushing Yards (-114)
CeeDee Lamb Over 61.5 Receiving Yards (-114)
Jalen Hurts Anytime Touchdown (+115)
Full SGP Odds: +730 ($10 wins $73.08)
However, there's a real value play that I didn't include in the SGP above. Boston Scott only has one touchdown all season, but the Eagles have loved using him around the goal line throughout his career. Scott is making his return this week after missing the last two games, and it would be a classic fantasy football moment if Miles Sanders rips off a big run and Scott finishes it with the one-yard touchdown.
Scott had 20 red-zone carries last year, which was tied with Sanders, and he's sitting at +650 odds to score on FanDuel. I'd be tempted at 4-1 odds to sprinkle on him to score, and I love that value. I'm including an alternate "Super SGP" below with his touchdown prop included instead of Hurts, and you can split your bet between the two if you want.
Philadelphia Eagles -2.5 (-250)
Miles Sanders Over 66.5 Rushing Yards (-114)
CeeDee Lamb Over 61.5 Receiving Yards (-114)
Boston Scott Anytime Touchdown (+650)
Full SGP Odds: +2598 ($10 wins $259.81)