Conference Championship Round Best Bets: Is it Joe Burrow's Year?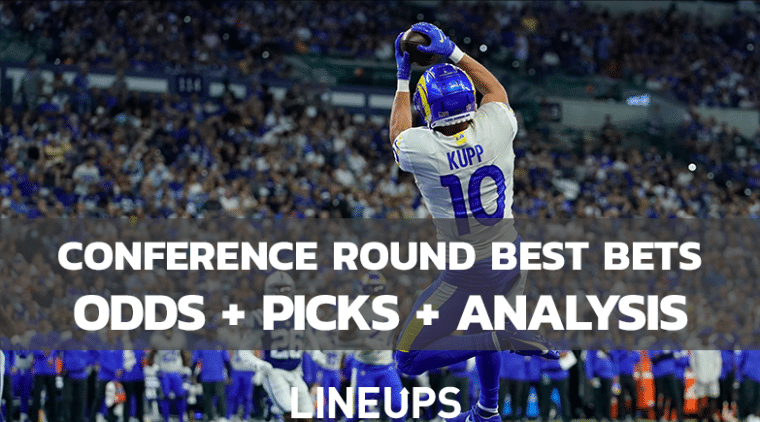 The NFL playoffs are underway, and you can find the most up-to-date odds, lines, and predictions for the Conference Championship Round here. With just one win standing in the way of the Super Bowl for each team this weekend, there's a lot stake for everyone with some skin in the game. Here are the best bets for each game of the Conference Championship Round.
Conference Championship Round Best Bets
San Francisco 49ers vs Los Angeles Rams (-3.5)
The Rams are the play this weekend though I'd wait to see if you can get this number at 3. No guarantee it'll get there but the books won't take it to -4 because of how much professional money will come in on the Niners if they do.
Admittedly, the Rams are the wrong side in this matchup historically. Kyke Shanahan has won his last 6 matchups against Sean McVay dating back to October of 2019, and playoff teams facing an opponent they've already beaten twice in the regular season are a combined 14-7 against that same team in the postseason. There's a mythology around this notion that you can't beat the same team three times in a season, and, if you love the Niners, that's a great proof point.
I'm on the Rams, however, for a few reasons. In each of the last three games, the Niners offense has gone dormant for halves at a time. Against the Packers, this meant their special teams unit had to score a touchdown for them to win. Against Dallas, this meant the Cowboys had a chance to comeback in a game that should've been over after the third quarter. Against the Rams in week 18, this meant they needed a herculean effort in the second half to send the game to overtime. This Rams offense has been dominant in the playoffs and the Niners can't afford to shut down for halves and quarters at a time — especially with this game being played on turf in LA.
Moreover, a big part of the Niners success over the Rams for the past 2.5 years can be attributed to the fact that they've been able to run the ball at will. Since Kyle Shanahan took over as coach, the Niners have never failed to rush for over 100 yards against the Rams. The Niners highest rated offensive lineman in Trent Williams, however, will be playing with a sprained ankle and Deebo Samuel appeared banged up leaving Saturday's game. This is meaningful as we saw how much of an impact the Tristan Wirfs injury had on the Bucs ability to slow down this Rams defensive line last week. With the addition of Von Miller to this Rams D-Line, the Niners are going to need every ounce of help to get the run game going.
Cam Akers has added a wrinkle to this Rams offense the Niners haven't seen this season and Odell Beckham Jr continues to be a great complementary piece to Cooper Kupp on the perimeter. Safety Taylor Rapp and left tackle Andrew Whitworth will be nice pieces to have back though they likely won't be much of a difference maker. If the Rams don't turn the ball over 4 times last Sunday they likely end up blowing out the Bucs and this line is probably closer to 4-4.5. You're getting the Rams at a discount here though I'd still wait until you can get it at 3, if possible.
The Niners are also playing their fourth straight must-win game on the road. Only 4 teams have ever won 3 straight road playoff games. Ultimately, the Rams are the healthier roster, playing at home with a better offense going against a team that is too reliant on the sensational to win.
My Prediction: Los Angeles Rams win and cover 24-20, under hits (u46)
Cincinnati Bengals vs Kansas City Chiefs (-7)
The Bengals did beat the Chiefs at home in week 17 but I wouldn't put too much stock into this being indicative of Sunday's result for a few reasons. For one, the Chiefs only scored 3 points in the entire second half of that game. If they so much as put up a second field goal in the fourth quarter the Bengals may not even be playing this Sunday. Secondly, Cincinnati's poor offensive line puts serious pressure on Joe Burrow and this young receiving core to play a near-perfect game. Yes, they were able to win in spite of it last weekend, but it required their defense to force three turnovers to make up the difference. It's very likely the Bengals are going to have to put up over 30 points to win, and this task becomes increasingly hard to achieve behind an offensive line that is closer to that of a team with a top 10 draft pick than not. Good luck duplicating their week 17 performance on the road at Arrowhead.
Kansas City's offense has been unstoppable in two games this postseason — both times against a higher-rated defense than Cincinnati. Even when they've struggled for quarters at a time, they find a way to turn it on when it counts with Tyreek Hill and Travis Kelce. The weather on Sunday is supposed to be sunny with minimal wind, lending itself to the type of game this offense wants to play.
With Honey Badger remaining in concussion protocols, I like the over in this one. Cincinnati's defense has been good this postseason, but the Larry Ogunjobi injury has to pay for itself at some point and I'm not sure it matters either way — Mahomes and company are going to put up points. Kansas City's defense is solid but far from elite, especially without Honey Badger. Ja'Marr Chase is a star and Tee Higgins is a formidable downfield threat, and one of these guys is going to get some momentum. This Kansas City defense has, however, been fairly stingy in the red zone and I like that to be the difference on the spread.
My Prediction: Kansas City wins and covers 35-26, over hits (o54.5)