Colorado Surpasses $6 Billion All-Time Sports Betting Handle Despite February Decline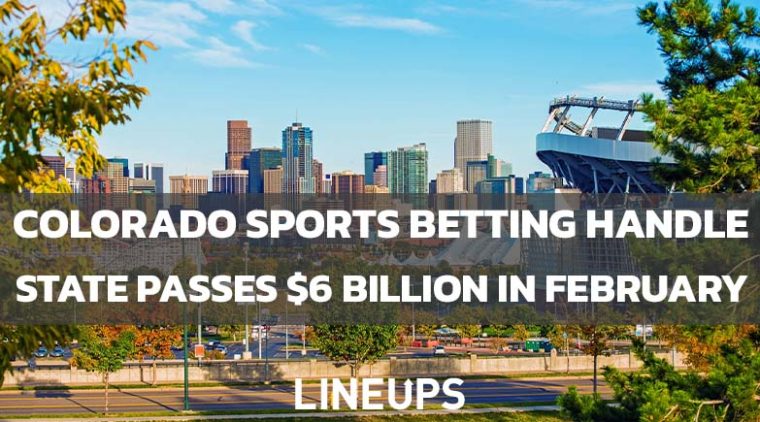 Colorado's sports betting numbers for February have arrived, and the state experienced a decline from January's record-breaking numbers, as was the case in many states. In February, the Colorado Division of Gaming recently reported that the state registered $440.5 million in total handle across retail and online sportsbooks, a 23.2% decrease from January's record-breaking $574 million handle.
Colorado Hits $6 Billion since Launch
Colorado sports betting launched on May 1, 2020, after being initially approved by voters in November 2019. February's results pushed Colorado over the $6 billion mark for total dollars wagered since launch, joining Illinois, Indiana, Nevada, New Jersey, and Pennsylvania as the only states with all-time sports betting handle of more than $6 billion.
In February, Colorado collected $314,731 in taxes, representing a massive decrease of 78.26% from $1.45 million. February was also the state's lowest tax revenue generated since February 2021. Still, Colorado has generated $16.4 million in tax revenue since its launch in May 2020.
Year-over-Year Growth in Colorado
While Colorado posted its lowest handle since September 2021 in February, its numbers were still much better than before. In February 2021, Colorado sportsbooks handled $266.5 million in total wagers, putting February 2022 at a 65.3% year-over-year increase. Revenue increased by 87.7%, from $10.4 million in February 2021 to $19.6 million in February 2022.
NBA Leads the Way
In February 2022, professional basketball (NBA) was the most popular sport with a total handle of $155.6 million compared to $95 million in the year prior; basketball was the most popular sport in 2021. Parlays were second in the total handle at $78.5 million, and NCAA basketball came in third at $68.2 million in total wagers.
March could see that order flip considerably with the NCAA Men's Basketball Tournament always seeing heavy betting action. Still, we expect professional basketball to maintain a substantial market share, especially as we head towards the beginning of the postseason.
Football was the fourth-most popular sport in terms of handle for Colorado sportsbooks despite there only being one game in February. The Super Bowl generated $41 million in total Super Bowl wagers, up 31% from $31.2 million in February 2021, as the Los Angeles Rams defeated the Cincinnati Bengals. However, sportsbooks paid out $33.4 million on $31.3 million in total wagers, representing a loss of about $2 million.
Sportsbooks Lose Money in February
While gross revenue came in at $19.6 million, an increase of 87.7% year-over-year, sportsbooks still weren't profitable for February. Sportsbooks dished out heavy promotional credits with total deductions of over $20 million for the second straight month to fuel Super Bowl betting. Sportsbooks handed out $43.7 million in total promotions over the first two months of 2022 compared to $146.7 million for all of 2021. Sportsbooks ran into similar issues in other states, and while they continued to dole out the promotional value in March, I expect them to have been more profitable this past month.
Mobile Still Dominating Retail Books
Colorado has three retail sportsbooks, but they are located in three remote mountain towns in the state where there isn't as much traffic as in major population centers. Therefore, mobile continues to hold an even greater share of the market as in other states. Mobile wagers accounted for $434.9 million in February, or 98.7% of the total bets placed. Mobile sports betting accounts for 91.3% of the market in New Jersey and 93.5% in Pennsylvania.