Colorado July Sports Betting Revenue Leaps Over June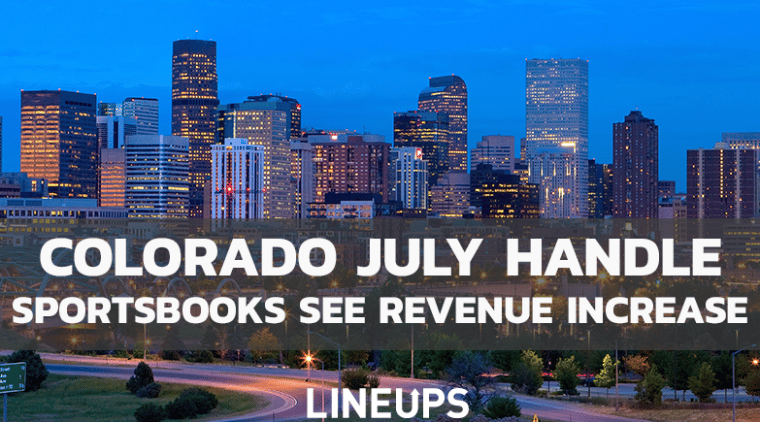 The Colorado Department of Gaming recently released their July sports betting revenue report, which showed a huge jump in gross gaming revenue from June's sports betting revenue reports. 
Colorado's gross gaming revenue from sports betting in the month of July was over $20 million, up from June's $6.78 million. Ironically, the overall handle was down 17.5% from June to July however the win rate for operators jumped from 2.16% to 8.05%.
Baseball Wins, Golf Loses
Online sports betting accounted for over 99% of the $258.4 million handle for the month and baseball was unsurprisingly the most bet-on sport throughout that time with over $110 million, or roughly 42.8% of the handle, wagered on it. This is up from June's baseball share which showed it accounting for 34% of the month's total handle. Even though the Colorado Rockies are mathematically eliminated from the divisional race, fans are still clearly optimistic. The $110 million handle produced gross gaming revenue from baseball to be around $7.3 million for the month which is the all-time high for the sport in Colorado, surpassing the previous record of $5.2 million.
Tennis was a surprising second place in total handle by sport as the sport finished with an all-time high monthly handle of $24.4 million. Bettors on tennis limited the house to just $1.6 million. That's still ahead of the house's $700,000 loss on the $7.95 million golf handle for the month of July. Sportsbooks paid out bettors $8.7 million in winnings from golf wagers. 
More Numbers…
After paying out its players around $237.6 million, the state was left with $20.8 million in gross revenue. After deducting promotional credits which equated to roughly $6.6 million, the state applied its 10% tax rate to the remaining $14.2 million in net sports betting proceeds. State tax revenue for the month of July totaled just over $1 million. The tax revenue from July brought the year's total tax revenue from sports betting to $7.3 million.
Since launching in May of 2020, Colorado has seen ample success in their sports betting market. Through July 2022, it ranked seventh among all states in all-time sports betting handle (post PAPSA) with its total handle since inception nearing the $8 billion mark. The state's gross gaming revenue has topped $485 million all-time and tax revenue since its inception has reached $22 million. 
Colorado sports betting numbers were just released for July. The total handle was $258.4 million, with $1.1 million collected in state taxes.

And table tennis betting is back. Coloradans bet $4 million for the month. 🏓 pic.twitter.com/zqX96GTGjd

— Ian St. Clair (@IanStClair) September 1, 2022
Broncos Country, Let's Ride
Though July showed an influx of baseball bets, that's about to subside as the NFL season kicks off in just a few days. This will virtually take over the betting market, especially in Colorado. The Denver Broncos traded for Russell Wilson in the offseason in one of the biggest trades in NFL history and sealed the deal this week by signing him to a $245 million ($165 million guaranteed) contract that will keep him in Denver for at least another five years. 
Wilson is expected to bring a winning season to Denver for the first time in awhile, and give the AFC West a run while doing so. But first, he will have to face his old team back where he started on Seattle's turf for Monday Night Football at Lumen Field. Both teams finished last season at 7-10 but there are much larger discrepancies at quarterback now. That being said, the Seahawks have a weird tendency to remain competitive in games that matter, and this is one of those games. The Broncos are a 6-point spread and -245 moneyline favorite in this game and I'd expect Broncos fans to hammer that.