Cincinnati Bengals vs. Tennessee Titans Player Props (1/22/22)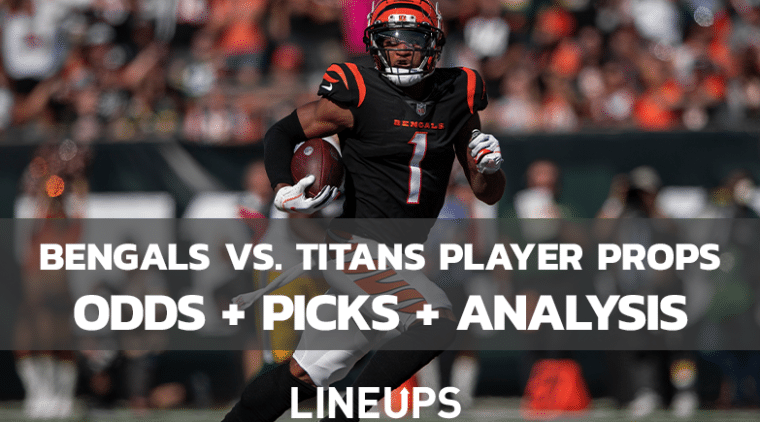 This weekend presents us with four exciting matchups, making for great television. However, don't overlook this Bengals vs. Titans matchup, as I believe both teams can make things very interesting. With Derrick Henry returning to face a high-flying Bengals' offense led by Joe Burrow and Ja'Marr Chase, there should be plenty of value in player props. You can use the player prop search tool below to find the best odds from various sportsbooks in your market.
Cincinnati Bengals Vs. Tennessee Titans Player Prop Search Tool
Ja'Marr Chase Over 76.5 Receiving Yards
In recent weeks, the Bengals' offensive explosion has mainly been thanks to a mind-blowing stretch of play from Ja'Marr Chase. Of course, the 266-yard game stands out, but Chase has over 115 yards in three of his last four games. This week, Chase sees a very winnable matchup against either Janoris Jenkins or Kristian Fulton, neither profile as an elite cornerback by any stretch. The Titans have allowed 245.2 passing yards per game, the eighth-most in the NFL, and Chase should feast in this game. He's covered his receiving yardage prop in the past few weeks, and I'm happy to bet on him to do it again in this plus matchup.
A.J. Brown Longest Reception Over 23.5 Yards
With Derrick Henry returning to the lineup this week, we have to adjust our expectations for the TItans' passing game. The Titans already have the second-highest rushing percentage at 48.6%, and that number will likely only rise with Henry's return. However, the Bengals will also have to allocate more defensive resources to stop the run, making them more vulnerable to big plays on the back-end. This formula makes the Tennessee offense so dangerous. We've seen Brown make some massive plays in the past, and he's had a reception of 24+ yards in three straight games. The Bengals have allowed the eighth-highest rate of explosive pass plays this season, so look for Brown to break off a long play at some point.
Joe Burrow Over 1.5 Passing Touchdowns
I debated not including this prop due to the significant juice you have to lay on it, but I still think there's value, especially if you parlay it with another watered-down prop. For example, you can parlay this with Ja'Marr Chase 65+ receiving yards to get back to even money. The Bengals have employed much more of a pass-heavy approach in recent weeks, and it's paid dividends with big wins over the Chiefs, Ravens, and Raiders. In those three games, Burrow has totaled ten passing touchdowns (3.3 per game). Burrow had a stretch of games in the middle of the year where the Bengals were blowing out opponents with their run game and defense leading the way, but that won't be the case this week. In a game script that should call for the passing volume he has had recently, look for Burrow to have multiple passing touchdowns early, perhaps in the first half.
Nick Westbrook-Ikhine Under 2.5 Receptions
This is a boring prop to play, but I believe there's value here. In 35 career games with Derrick Henry, Ryan Tannehill averages just over 19 passing completions per game. While Henry may not be at 100% this week, there's no question that the Titans' number one priority, as it always is, will be to establish the run. Westbrook-Ikhine had some solid games this season, but A.J. Brown and Julio Jones are both healthy this week, meaning he's a distant third in the pecking order for targets. If the Titans opt to run more two-tight end looks, Westbrook-Ikhine's snaps may not even surpass 50% in this game, and I'd expect him to have a very quiet game overall.
Cincinnati Bengals Vs. Tennessee Titans Same Game Parlay
*Built on DraftKings Sportsbook
Bengals +7.5
Over 41.5 points
Derrick Henry anytime TD scorer
Joe Burrow over 254.5 passing yards
Joe Burrow 2+ passing touchdowns
Ja'Marr Chase over 74.5 receiving yards
A.J. Brown over 59.5 receiving yards
Total Odds: +750
NFL Odds Corner
Super Bowl 56 Odds
NFL Divisional Odds
NFL MVP Odds
NFL Win Totals
NFL Playoff Odds
NFL OROY Odds
NFL DROY Odds
NFL DPOY Odds
NFL OPOY Odds
NFL CPOY Odds