Cincinnati Bengals Apply For Ohio Betting License, Two Sportsbooks Join In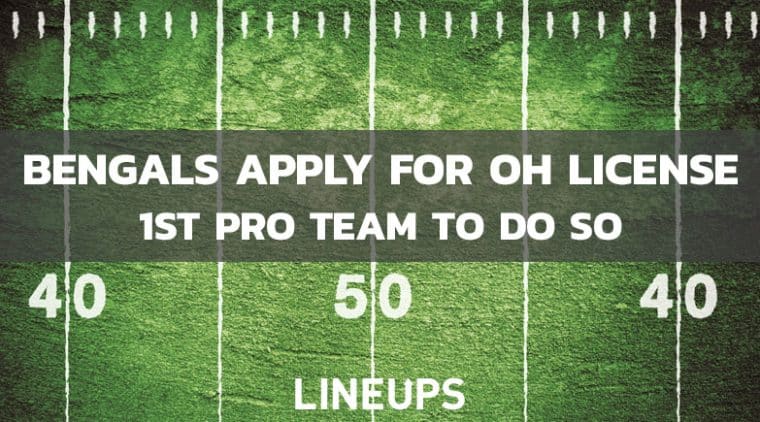 The past year has seen plenty of excellent sports betting launches. Arizona, New York, Louisiana, and Ontario all rolled out their online sports betting offerings to great success, with big names like Caesars Sportsbook and DraftKings Sportsbook expanding into these new markets. While other areas that don't currently permit legal sports betting are working on their own launches, the state of Ohio has a target date of January 1st, 2023 for mobile sports betting. With Ohio sports fans eagerly anticipating this rollout, different organizations are focusing on acquiring sports betting licenses to be fully prepared for the New Year's Day launch. Read on to learn about the most recent Ohio sportsbook applications as well as a quick look at the projected Ohio sports betting market.
Cincinnati Bengals Apply For Ohio Sports Betting License
The Cincinnati Bengals are fresh off a narrow Super Bowl loss to the Los Angeles Rams, and fans of the team are excited to place legal bets on their favorite team. In anticipation of the rollout of Ohio sports betting, the Cincinnati Bengals have filed an application for a sports wagering license with the Ohio Casino Control Commission (OCCC). The Type A license would have the team act as a mobile sports betting proprietor in the state. According to Casino.org, this makes the Bengals the very first professional sports team to apply for a sports betting license in the Buckeye State. In addition to the Type A license, the Bengals have the ability to register for a Type B license, which would focus on retail sports betting at a brick-and-mortar sportsbook. As the pro sports franchise is already a confirmed business in the area, it's possible that a Type B license wouldn't be needed, meaning the Bengals could establish a retail sportsbook next year.
FanDuel & Fanatics Follow Suit
The Cincinnati Bengals weren't alone in applying for a recent sports wagering license. FanDuel Sportsbook and Fanatics have also filed applications with the OCCC. The two sports-focused companies applied to be both management service providers and mobile management service providers in Ohio. With those two joining, there are now six different applicants for mobile management service provider licenses. The other companies applying include some of the biggest names in sports wagering, such as BetMGM Sportsbook, DraftKings Sportsbook, Barstool Sportsbook, and PointsBet Sportsbook.
What To Expect From the Ohio Sports Betting Market
With the Cincinnati Bengals, FanDuel, and Fanatics all applying for sports betting licenses, the wheels are fully in motion for the January 1st, 2023 Ohio sports wagering launch. The state is expected to welcome the biggest sports betting operators into the state, meaning sports bettors in the area will have a number of different choices for a new online sportsbook. The Ohio betting market is expected to be significant, with a projected $90 million in revenue from the state's 10% sports betting tax rate. It doesn't hurt that the state is home to a population of nearly 12 million people, including plenty of dedicated fans of the Cincinnati Bengals, Cleveland Browns, Ohio State Buckeyes, Cleveland Guardians, and more successful franchises. Make sure to keep an eye on LINEUPS.com for future updates on the projected Ohio online sportsbooks and pre-launch details.