Champions League Final Set: Real Madrid Vs. Liverpool Betting Odds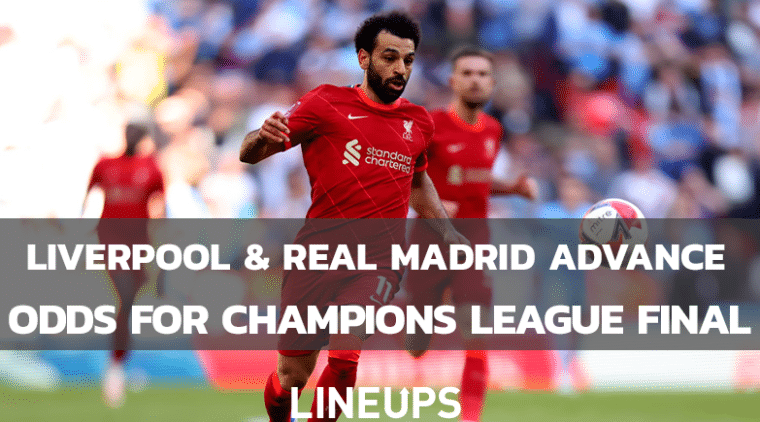 Betting odds for the Champions League Final have been released after Real Madrid stunned Manchester City with a late comeback. Liverpool advanced over Villarreal. Odds have been released for this match, with Liverpool as heavy favorites. They will be looking to get revenge over Real Madrid, who beat Liverpool in 2017-18 Final. Liverpool have now made three of the last five Champions League Finals
Liverpool Vs. Real Madrid Betting Odds Champions League Final
Liverpool -220
Real Madrid +145
(Odds From FanDuel Sportsbook)
Liverpool is currently second in the league, as they look to complete a possible quadruple. They have already won the League Cup and are currently in the FA Cup Final. Manchester City are still ahead of the Reds by two points in the EPL table, but Liverpool has a chance to win the league with a few games remaining.
Real Madrid wrapped up La Liga and took back the crown after Athletico Madrid won it last season. Benzema has had an incredible Champions League run and will look to continue his success against a tough Liverpool backline.
Oddsmakers were expecting Liverpool to be back in the Final as they have been heavy favorites to reach the Cup tie. Manchester City, PSG, Real Madrid, and Bayern Munich were viewed as other favorites. While Madrid didn't have a ton of buzz in comparison to PSG and City, multiple comebacks have led them there.
Rematch Of 2017-18 Champions League Final
These two teams have become very familiar with each other, facing in the quarterfinals two years ago, while facing each other in the 2017-18 Champions League Final. This was tough for Mo Salah, who was injured in that game and it changed the game. He has already made his decision on who he wants to play, and it is revenge.
It was a 3-1 victory for Madrid in that tournament, behind three second-half goals by Benzema and Gareth Bale. Sadio Mane was the lone scorer for Liverpool.
Mo Salah chooses between Real Madrid and Man City as Liverpool star eyes revenge in final #LFC #UCL https://t.co/txcFzypXZe

— talkSPORT (@talkSPORT) May 4, 2022
2022 Champions League Final Information
Date: 5/28/22
Time: 3:00 PM ET
Location: Stade de France