Carnival Corporation to Offer BetMGM Sports Betting Aboard Cruise Lines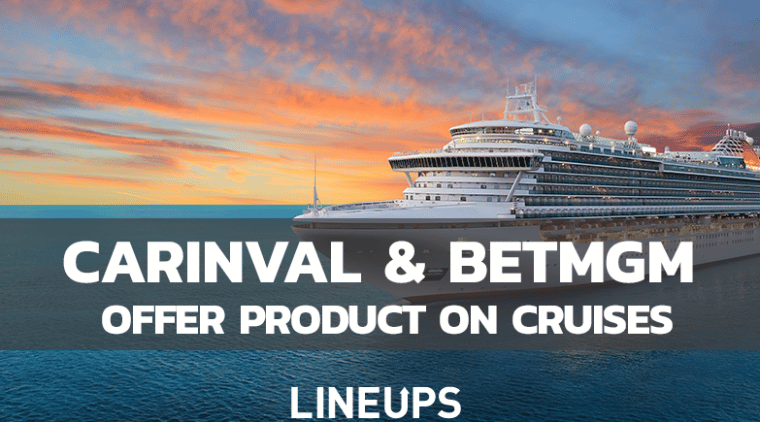 Details of The Collaboration
BetMGM has announced a partnership with one of the world's largest leisure travel companies, Carnival Corporation, to offer retail and mobile sports betting, as well as other iGaming options aboard their cruise ships. These offerings will be available on more than 50 ships currently ported in the U.S. from the Carnival Cruise Line, the Holland America Line, and the Princess Cruise Line. 
"We're very proud to be able to deliver the excitement and engagement of sports betting and iGaming to our guests through our partnership with BetMGM," said Carnival Corporation's Senior Vice President of Global Casino Operations, Marty Goldman. "Our two leading global hospitality organizations will provide a wide array of immersive digital content as a complement to our exceptional shipboard casinos."
The deal will come to life in phases over the coming months. Carnival Corp will feature BetMGM digital and cash sports betting options as well as digital real-money gaming products for passengers aboard these U.S. cruise lines in international waters. Other promotional and marketing efforts will be a part of the collaboration but the details are not known. 
BetMGM also promises to maintain its responsible gaming practices throughout this expansion and the ones that come after. They primarily deploy a platform called GameSense, which is integrated into both desktop and mobile BetMGM platforms to provide its users with accessible responsible gaming tools. 
About Carnival Corporation
Carnival Corporation operates all over the world as one of the largest travel companies running today; through North America, Europe, Asia, and Australia, it operates nine world-class cruise lines. These include Carnival Cruise Line, Princess Cruises, Holland America Line, Seabourn, P&O Cruises (Australia), Costa Cruises, AIDA Cruises, P&O Cruises (UK) and Cunard.
This collaboration actually marks the expansion of sports betting and gambling offerings on Carnival Corporation's cruise lines. In February of last year, Princess Cruises unveiled Ocean Sportsbook available aboard its MedallionClass ships to offer passengers access to real-time sports betting options on domestic and international sporting events. With the exception of betting on Miami Heat where Carnival is headquartered, passengers can be on a slew of professional and collegiate sports. 
Ocean Sportsbook is an extension of Ocean Casino, an online gambling platform that allows passengers to play casino games from all over the ocean. BetMGM's offerings will eventually replace Ocean Sportsbook according to Goldman. Hopefully by the time that this partnership rolls out, Carnival Corporation will be in a better position financially. As of June 16, their stock was down 59% year to date and 11% on the day. However this is likely in large part due to the pandemic, and airlines and cruise lines are expected to make a comeback this year. 
BetMGM Extending Influence
This marks one of BetMGM's several partnerships that they've made over the years with countless sports and entertainment companies. This year alone the company has entered into agreements with the likes of the Houston Astros, the NHL, the Arizona Cardinals, the Washington Nationals, and many more. 
"We've found an ideal partner in Carnival Corporation and look forward to providing our sports betting and iGaming products to its millions of passengers. This is another great opportunity for us to further expand BetMGM's footprint," said BetMGM CEO Adam Greenblatt.