Calvin Ridley Suspended for the 2022 Season for Gambling on NFL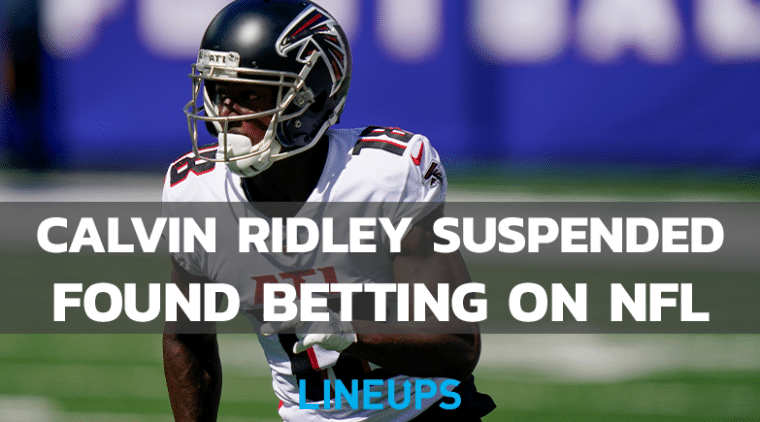 On Monday morning, the NFL world was hit with a bombshell news story when the league suspended Atlanta Falcons' wide receiver Calvin Ridley for the entirety of the 2022 season. Ridley was caught gambling on games after stepping away from his team to focus on his mental health issues. The NFL, along with all other professional sports leagues, has a strong stance against players gambling on the outcomes of games to preserve integrity. This is the highest-profile incident we've seen in the NFL, but it isn't the first time a professional athlete has been caught wagering on games.
Timeline of the Incident
On November 1, 2021, Calvin Ridley stepped away from the Falcons to focus on his mental health. At the time, Ridley thanked his "teammates, the entire Atlanta Falcons organization, our great fans, my friends, and my family for all of their support at this time." Ridley was placed on the NFL's non-football injury list. During the five days following that announcement, Ridley evidently placed wagers on games.
Per Mike Garofolo, a Fox Sports 1 NFL Insider, Ridely was caught placing parlay bets via his cell phone. Mobile sports betting is not currently live in Georgia, where Ridley plays, but his home state of Florida briefly had launched its Hard Rock Sportsbook in early November before later being shut down.
Ridley later sent a Tweet providing some context, saying he only wagered $1,500 and doesn't have a "gambling problem." Adam Schefter later reported that Ridley had placed multi-legged NFL parlay bets including the Falcons to win with three, five, and eight legs.
I bet 1500 total I don't have a gambling problem

— CALVIN RIDLEY (@CalvinRidley1) March 7, 2022
Genius Sports Uncovers the Case
The NFL works with Genius Sports, a data and technology sports betting company, to monitor the sports betting actions through its partner sportsbooks. Genius Sports flagged Ridley's account and made the NFL aware of what was taking place. At the time that the NFL announced its gambling partners, it stated that it would be able to uphold the integrity of the league by working with its partners to corroborate any incidents.
The press release announcing Genius Sports Group as the NFL's exclusive distributor of sports betting data stated that "Genius will support the NFL's efforts through comprehensive integrity services to monitor betting across all NFL games (preseason, regular season, and postseason) and tentpole games."
Roger Goodell Takes a Hard Stance
On Monday morning, NFL Commissioner Roger Goodell issued the suspension to Ridley and sent the player a letter expressing the hard line the league was taking. Goodell told Ridley, "there is nothing more fundamental to the NFL's success – and to the reputation of everyone associated with our league – than upholding the integrity of the game."
Goodell also described gambling on NFL games as "among the most significant violations of league policy warranting the most substantial sanction." He noted that Ridley's "actions put the integrity of the game at risk, threatened to damage public confidence in professional football, and potentially undermined the reputations of your fellow players throughout the NFL."
Goodell's letter also commended Ridley for "promptly reporting for an interview, and for admitting [his] actions." The league's investigation didn't uncover any evidence indicating his teammates, coaches, or staff were aware of Ridley's gambling activity. There was no evidence of inside information used by Ridley or a game being compromised.
NFL statement on the year-long suspension of Falcons' WR Calvin Ridley: pic.twitter.com/mQZm5dGgPO

— Adam Schefter (@AdamSchefter) March 7, 2022
Past Incidents in the NFL
There have only been five incidents of player suspensions for gambling activity in NFL history. In 1963, Paul Hornung and Alex Karras were suspended, and in 1983, Art Schlichter was suspended. There wasn't another incident until Josh Shaw in 2019 and Ridley in 2022. Shaw, a cornerback for the Cardinals at the time, was suspended indefinitely.
Shaw never played another game, although as a former fourth-round pick, he wasn't nearly the same high-profile athlete as Ridley, who had 90 receptions for 1,374 yards and nine touchdowns in 2020, his last full season. It's unclear if Ridley will ever be cleared
What Happens Now?
Ridley can appeal his suspension by filing notice within three days per the NFL-NFLPA Collective Bargaining Agreement, but since Goodell's letter indicated he came forward with the truth about the incident, an appeal is unlikely. Ridley will be allowed to petition for reinstatement to the NFL on or after February 15, 2023, meaning he will miss the entirety of the 2022 season.
Per Adam Schefter of ESPN, several teams had reached out to the Falcons regarding a potential trade for Ridley in recent weeks. The Falcons had declined to enter into any talks as they were aware of the issues at hand for their wide receiver. In the Falcons' team statement, they noted that they first became aware of the incident on February 9.
Calvin Ridley's contract of $11.1 million for this season now rolls over to 2023, if he's cleared to return, and the Falcons will open up that amount of salary cap space for the upcoming offseason. With only one receiver under contract from last year's 53-man roster – second-year wideout Frank Darby – the Falcons have a massive need at receiver entering this offseason.
As we learn more about this incident, it will be prudent to wonder who is to blame. The NFLPA's responsibility is to look after the best interests of the league's players, and it's fair to ask if there was an oversight on their part with Ridley. It will also be compelling to find out the nature of the bets placed – is a sportsbook to blame for allowing this to happen? As the sports betting industry continues to grow in scope, it wouldn't be shocking to see more incidents like this one, and Ridley's suspension should serve as a warning to the rest of the NFL's players.
Atlanta Falcons' statement on the NFL investigation of Calvin Ridley: pic.twitter.com/gr3Qc7iqjJ

— Adam Schefter (@AdamSchefter) March 7, 2022
This is a developing story and this page will be updated as more information is released. This page was last updated March 7, 2022, at 4:30 PM EST.