California's Proposition 27 Receives More Support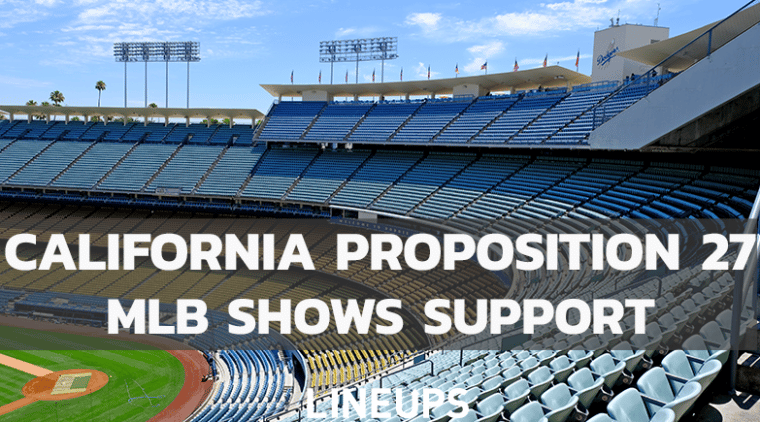 As it gets closer to voting time in November, both advocates and opposers of California's Proposition 27 are coming out publicly about their opinions on the issue. Last week, California education groups voiced their disdain, while this week MLB, BetMGM, Fanatics, Penn National, DraftKings, and FanDuel all showed their support in one way or another. 
MLB Joins California Sports Betting Mix
Late last week, MLB released a statement giving their stance on the widely discussed sports betting initiative, becoming the first professional sports league to stand in support of California's Proposition 27. 
"As legalized sports betting continues to expand across the country, Major League Baseball remains committed to protecting the integrity of its gaming and creating a safe experience for its fans who wish to wager on those games. Proposition 27—the only measure on California's upcoming ballot that would authorize and regulate online sports betting—includes strong integrity provisions designed to help MLB carry out those commitments," the statement read.
New: Major League Baseball announces its support of California's prop27 to legalize online sports betting.

Statement said MLB is committed to protecting integrity of its games and prop 27 "includes strong integrity provisions designed to help MLB carry out those commitments."

— Ashley Zavala (@ZavalaA) August 12, 2022
Proposition 27 would legalize online sports betting of which 85% of its tax revenue would go to funding mental health, homelessness, and gambling addiction in the state of California. The other 15% would go towards non-participating tribes in the state. 
It would also "(1) require sports book operators to notify leagues of suspicious wagering activity, (2) allow leagues to propose restrictions on betting markets that are particularly susceptible to manipulation, and (3) facilitate other forms of integrity-related cooperation between the state, leagues, and operators," read MLB's statement. "MLB believes that Prop 27 has the safeguards to create a safe and responsible online sports betting market in California—a state with millions of MLB fans looking for alternatives to illegal offshore betting sites."
This endorsement is huge for Proposition 27 as MLB holds credibility that could sway voters, especially since they, among other sports leagues, have transitioned from staunchly opposing sports betting to actively supporting it through several partnerships and agreements in their respective leagues. 
Operators' Continued Funding
Five of the seven operators backing Proposition 27 donated a collective $50 million last month to the initiative. According to California's Secretary of State's database, Fanatics and Penn National led by way of donating $12.5 million, each in support of Proposition 27. BetMGM, DraftKings, and FanDuel each donated $8.3 million to the cause last month. 
This comes roughly a year after DraftKings, BetMGM, and FanDuel all donated $16.7 million, respectively to the cause last year and Penn National and Fanatics pitched in their first $12.5 million. All five of these operators have donated $25 million to the coalition, each. BallyBet and Wynn Bet also each donated last year in the amount of $12.5 million equating the total support donations since inception to $150 million. 
Tribal Perspectives 
The $150 million donated by operators narrowly falls to the total donations from opposers of Proposition 27 which total almost $158 million. A dozen of the state's tribes have funded this $157.8 million to promote their opposition to the bill which is led by the San Manuel Band of Mission Indians and Federated Indians of Graton Rancheria. 
But not all tribes have backed the No On 27 initiative as the Proposition 27 coalition found three tribal groups to back their coalition. They found support in the Big Valley Band of Pomo Indians, Middletown Rancheria of Pomo Indians, and the Santa Rosa Rancheria Tachi Yokut Tribe. 
Still, there are 109 tribes in the state of California, and the vast majority of them have yet to speak out on either initiative. However that could all change in the coming months as polarity increases among all parties involved as the November date looms. 
Check our latest article Prop 27 in California: What You Need to Know Ahead of the November Ballot – https://t.co/HtKY3xhast

— California Business Journal (@Calbizj) August 15, 2022