California Sports Betting Initiative Receives 1.6 Million Signatures for November Ballot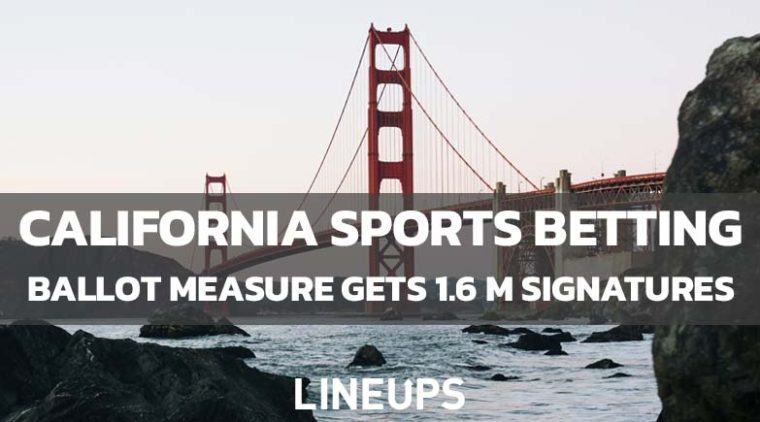 Proponents of a ballot measure to legalize sports betting announced on Tuesday that they had gathered 1.6 million signatures to get the question on the ballot. With the state's tribal casinos already having a question on the ballot, things could get very interesting as the two groups compete for control of what's projected to be the most lucrative sports betting markets in the United States.
National Sportsbooks' Ballot Push
A group of national sports betting operators, including FanDuel and DraftKings, has created the "Californians for Solutions to Homelessness and Mental Health Support." The initiative has been backed by $100 million from national sportsbooks. Their ballot measure was first announced in late August and was approved to circulate petitions last fall.
If the initiative can secure enough signatures and be approved by voters, commercial sportsbooks would be able to operate in the state. 85% of the tax revenue generated would be provided to communities for the homeless population and mental health services.
The other 15% of the tax revenue would be allocated to the Tribal Economic Development Account, which provides economic development and assistance to tribes in the state who don't participate in online sports betting. There are 104 federally recognized tribes in California.
The biggest sportsbook financers of the California online sports betting measure are FanDuel, DraftKings & BetMGM, all of which have contributed more than $16 million to the campaign. Bally's, Barstool (Penn National), WynnBet & Fanatics have all contributed more than $12 million

— Ryan Butler (@ButlerBets) May 3, 2022
Projected Financial Impact
According to the group of national sportsbooks, their initiative would bring in about $500 million per year using the projected 10% tax rate. On its own, California would be the world's fifth-largest economy with a 2021 $3.36 trillion gross domestic product that exceeded countries like the United Kingdom, India, and France.
New York has exploded onto the online sports betting scene in the past few months, with a handle of over $1.5 billion in each of the first three months of 2022. With a population of over 39 million, California could conceivably double that number each month and establish itself as the most lucrative market in the country.
New York has a population of 19 million and has generated $4.86 billion in its first three months of legalized sports betting. Using those numbers and extrapolating to California's population, the Golden State could generate an estimated $38 billion in annual sports betting.

— Jacob Wayne (@wayne_sports_) May 4, 2022
Tribal Opposition to National Sportsbooks
The "Californians for Solutions" plan includes the need for national operators to secure a sports betting license through tribal operators with a license fee of $10 million. However, California's Native American community has pushed back against the effort by commercial sportsbooks.
Cody Martinez, chairman of the Sycuan Band of the Kumeyaay Nation, promised to "run a vigorous campaign against this measure" and expressed his confidence that voters "will see through the deceptive promises being made by these out-of-state gambling corporations."
The Coalition for Safe, Responsible Gaming represents 43 California tribes. It is the driving force behind the Tribal Sports Wagering Act, which is the only other ballot measure approved for November related to sports betting. The Coalition's leaders have pointed to the results in other states that when two ballot measures are included for sports betting, they typically both fail.
Next Steps
According to a poll from David Binder Research (commissioned by the campaign), 59% of surveyed Californians approve of the measure for sports betting, and only 28% are opposed. However, the Coalition for Safe, Responsible Gaming published a survey that found that only 36% of Californians support online gaming.
If the "Californians for Solutions" ballot measure is confirmed to have received enough signatures, it will be included on the state's ballot on November 8. Any potential measures have until June 25 to qualify for the ballot. One important note is that both the retail (tribal) and online sports betting initiatives can be approved if they receive 50% or more "yes" votes in November.
The start of the 2023 NFL season is likely the earliest that online sports betting would potentially launch in California. Even if a measure is approved in November, the state still needs to go through the regulatory process in California's legislative chambers. Operators would also need to do preparatory work, and even after full legalization, it's rare that the gap is less than six months before full launch.
For more information, please visit our California sports betting page, where we have the latest news and information on the state's legalization process.