California Sports Betting War Is Heating Up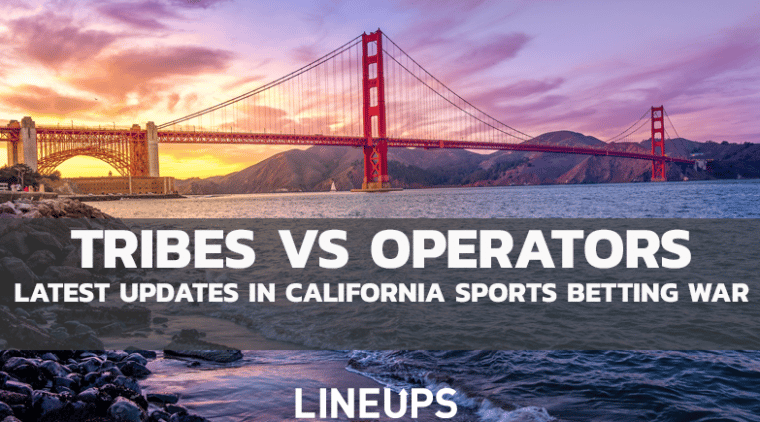 California Tribes' New Advertisement
On June 28, California's tribes released an advertisement voicing their disdain for the online sports betting initiative that was confirmed to be on the November ballot just one day prior. The advertisement specifically targets DraftKings CEO Jason Robins for his response to an interview question at a Goldman Sachs investor conference in May. 
"What states are you still looking at over the next 18 to 24 months?," asked the interviewer. Robins replied, "I think if we're able to pass in November, we could potentially be looking at a 2023 launch, hopefully ahead of NFL [season] for California. Really great bill too. The tax rate, everything is set in a very reasonable way because you can actually write the whole piece of legislation on the ballot, which is nice."
While this may seem like a standard answer, the tribes thought otherwise. They interpreted this as Robbins "bragging to investors" about financial details, when the crux of the online sports betting bill is about homelessness. 
"He said a lot about profits, but not a single word about homelessness," said the advertisement's narrator. "Corporate online sports betting – They didn't write it for the homeless, they wrote it for themselves."
Robins and DraftKings are a part of the coalition that got the online sports betting bill, called California Solutions for Homelessness and Mental Health Act, on California's ballot. The bill pledges that 85% of the tax revenue generated would go towards programs to combat the homelessness crisis in California. The other 15% would go to the tribes. 
Tribal Supporters 
Funding for the advertisement came from the San Manuel Band of Mission Indians, the Rincon Band of Luiseño Indians, and the Pala Casino Spa Resort; they are the central backers of this ideology that adamantly oppose commercial operators. They have helped to fund the three previous commercials that the Protect Tribal Gaming coalition have released as well. 
The tribal coalition for this measure also got the famed civil rights activist Dolores Huerta on their side as an advocate for them. "This (online) measure is a direct attack on Indian self-sufficiency that would also expose youth and the disadvantaged to the perils of online gambling," Huerta said in a statement separate from the advertisement. "We are no strangers to corporations seeing California as nothing more than a piggy bank to extract wealth at the expense of the disadvantaged."
Commercial Gaming Supporters
However, not every tribe opposes online sports betting like these tribes do. So, when the opposing sports betting coalition responded to this with their own advertisement the next day, they did so with the help of two Indian tribes. The ad features Jose "Moke" Simon, chairman of the Middletown Rancheria of Pomo Indians, voicing his support for the bill. "Only one proposition supports California tribes like ours while providing hundreds of millions in yearly funding to finally address homelessness in California. Vote yes on the Solutions Act."
Concurrently, the Big Valley Band of Pomo Indians issued a statement approving the message put forth by Simon and this coalition. "For too long, rural and economically disadvantaged Tribes like ours have struggled to provide for our people," Big Valley Band Chairman Philip Gomez said. "This measure would provide us with economic opportunities to fortify our Tribe's future for generations to come."
What Comes Next?
No real outcome will be determined until both initiatives are put in front of California voters in November. Until then, both parties have pledged to spend around $100 million in their campaigning efforts so tons more advertisements are likely to come and tensions are bound to rise. 
Already, both sides have voiced their confidence that voters will back their measure over their opponents, but only time will tell. However, in 2004, California voters were given two similar gaming initiatives to vote on on the same ballot, and voters failed both bills.