Caliente Interactive Approved for Online-Only Sportsbook License in Illinois, its First US Market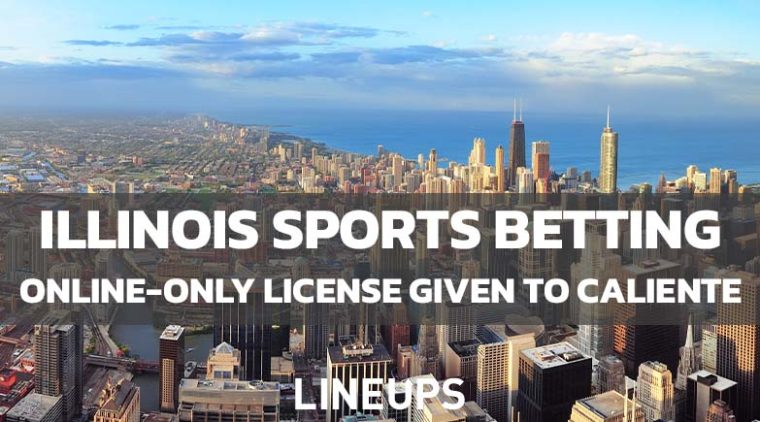 On Thursday morning, we saw a surprising development out of Illinois as Caliente Interactive was approved to be a new sports betting operator in the state. The Illinois Gaming Board (IGB) announced Caliente, a Mexico-based operator, would be launching in its first US market. Caliente's "Caliplay" platform will likely be live within the next few months.
Two Licenses Left Open
The IGB considered up to three online-only licenses, but only Caliente was approved on Thursday. Fubo Sportsbook's application was surprisingly rejected, while one unknown applicant withdrew its bid during the process, per PlayIllinois.com. IGB Administrator Marcus Fruchter confirmed that the other two licenses are still open in the state.
Illinois has seven live operators, including DraftKings, BetMGM, PointsBet, BetRivers, Caesars, and Barstool. Illinois has reported its financial results for January and February this year, with its year-to-date handle across those two months reaching $1.5 billion. The state generated $101.8 million in revenue on a 6.6% hold rate over those two months.
Fubo's Disappointing Rejection
Fubo Sportsbook is a unique platform integrating live streaming and sports betting, and it is currently live in Arizona and Iowa. Fubo hoped to add Illinois as a new market with an approved license, but the company was rejected in the application process. I reached out to Fubo representatives for a statement on the matter, and the following was supplied:
"In December 2021, Fubo Gaming participated in a competitive bidding process in connection with up to three online-only master sports wagering licenses in the State of Illinois. The Illinois Gaming Board determined today that a 'key person' associated with the company was ineligible for licensure and therefore the company was disqualified as a bidder.
The disqualification was based on a portion of a statute unique to the competitive bidding process and the specific license available in connection with the process. Fubo Gaming has been issued operating licenses by gaming regulators in other states, each following extensive background investigations into the company and its principals. The basis for which the company has now been disqualified in Illinois did not preclude its licensure by these other states.
Fubo Gaming respectfully disagrees with the decision of the Illinois Gaming Board and believes the company meets its standards to continue through the competitive selection process. Fubo Gaming is currently evaluating its options following the decision today."
Caliente – Mexico's Leader in Sports Betting
According to Caliente Interactive, the company is a "leading operator of Online Gaming and Sports Betting in Mexico." Caliente also owns off-track betting and bookmaking outlets in Austria, Brazil, Ecuador, Panama, Paraguay, Peru, Uruguay, Venezuela, and the Caribbean. Caliente is part of Group Caliente, founded in 1916 in Tijuana.
On the Caliente LinkedIn page, you can find the following description of the company:
"Caliente Interactive ("Caliplay") is a leader in the regulated Mexican online casino and sports betting market. With a focus on marketing and user experience, Caliplay operates several websites that offer a range of online gaming entertainment services, including sports betting, casino games, slots, live games, and mobile betting. The Caliente brand associated with Caliplay has a rich history that dates back to 1916, and has consistently expanded to several states of Mexico, and in more than a dozen countries in Central and South America. Caliplay is committed to providing industry-leading responsible gaming practices."
Change of Plans in Illinois
Initially, the IGB expected to issue the three online-only licenses in conjunction with removing the in-person sports betting registration requirement. In March 2020, when Illinois launched sports betting, the plan was to have 18 months of only in-person registration.
However, COVID-19 led Governor JB Pritzker to suspend that in-person requirement for seven months. This past fall, the Illinois legislature voted to begin allowing online registration permanently on March 5th, so the approval of Caliente for an online-only license doesn't quite carry the same weight as it initially would have.
For more information on Caliente Interactive and the entire Illinois sports betting market, please visit PlayIllinois.com.