Caesars Sportsbook Teams Up With Indy 500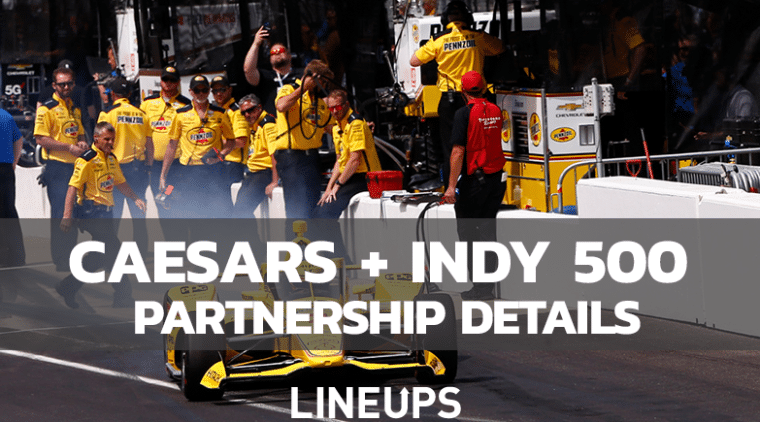 Days ahead of one of sports' most iconic events, the Indianapolis 500, the owners announced a partnership with Caesars Entertainment to accompany this year's race on May 29. The partnership makes Caesars Sportsbook the official betting partner of both the Indy 500 and the Indianapolis Motor Speedway (IMS), where the coveted event is held. They will likely help to sponsor other IMS events in the future. 
Details of The Deal
This partnership gives Caesars leeway to use IMS logos and branding and in return, IMS will provide Caesars with signage at the track along with advertising boards, digital and social media assets, and public address announcements at the event. 
The agreement also calls for a first-of-its-kind Caesars Sportsbook Lounge at IMS that will be located at Pogoda Plaza, providing an elevated view of the course for spectators. The lounge will be open on practice and race days throughout May leading up to the Indy 500 and will provide Caesars app users with complimentary food and drink, live entertainment, racing games, and special giveaways. They are also set to provide several exclusive speedway experiences for Caesars users through its industry-leading rewards program, Caesars Rewards. 
In honor of the 106th Indy 500, Caesars will offer a special promotion for its new customers – those who download the Caesars Sportsbook app and make a minimum $20 deposit will be awarded $106 in free bets and entrance into the new Caesars Sportsbook Lounge at Pagoda Plaza. 
"Partnering with one of racing's most iconic venues and 'The Greatest Spectacle in Racing' provides our customers with unique experiences through Caesars Rewards," said Eric Hession, Co-President of Caesars Digital. "This will be an impactful partnership for us that builds upon our commitment to the state of Indiana alongside the investments into our resorts and the communities they serve."
Indiana Sports Betting Market
Indiana has been taking wagers on sports since 2019 and have since opened 13 online sportsbooks in the Hoosier State, Caesars Sportsbook among them. 
Caesars Entertainment is the lead gaming company in Indiana, providing not only a premier sportsbook but three operating casinos across the state – Harrah's Hoosier Park Horseshoe Hammond, and Horseshoe Indiannapolis. In April alone, these three casinos generated a cool $83.4 million in revenue, 37.6% of the total revenue generated by all of the state's 12 casinos in the month of April. 
As far as Caesars Sportsbook in Indiana goes, they are still behind DraftKings and FanDuel, which accounted for 58% of the state's $360 million handle in April ($208.8 million combined). Caesars Sportsbook boasted a $47.8 million handle in the month of April, across their mobile and retail sportsbooks in the state, ranking third in Indiana. 
Caesars Growing Partnerships
Caesars partnership with the Indy 500 and IMS is just the most recent installment of Caesars growing list of partnerships with sports teams and brands. This actually marks their second partnership with a sports organization in Indiana alone, as they partnered with the NFL's Indianapolis Colts last year. Benefits of that partnership included naming rights, a lounge at Lucas Oil Stadium, app-related games and giveaways, and accommodations. 
The list doesn't stop there; they've made agreements, small and large, with some of sports' most iconic brands and teams – the Chicago White Sox, Michigan State University Athletics, New York Knicks, Cleveland Cavaliers, Buffalo Bills, and more.