Caesars Sportsbook Inks Deal With New York Mets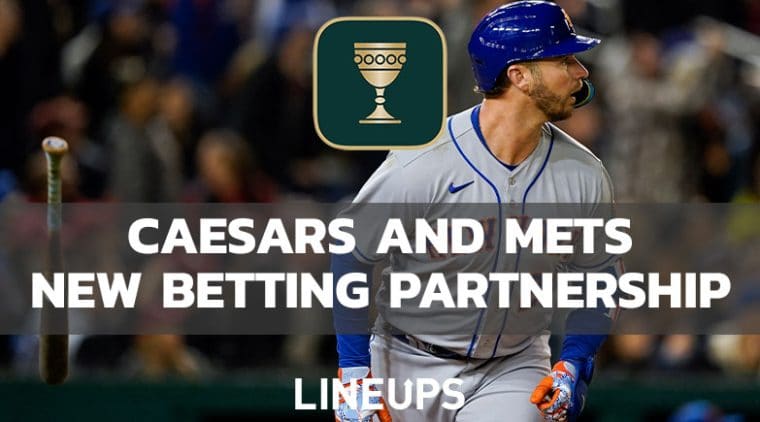 Details of The Agreement
On April 6, Caesars Entertainment and the New York Mets announced a multi-year agreement, naming Caesars Sportsbook the official betting partner of the baseball team. 
The agreement includes plans to build a 13,000 square foot sportsbook lounge at the Mets' home venue, Citi Field. The lounge, called Caesars Sportsbook at the Metro Grille, will be located on the Excelsior Level at Citi Field, and will be completed with a panoramic, unobstructed view from left field as well as extensive dining and patio seating. It will also elevate the sports betting experience for Mets fans, particularly for members of the coveted Caesars Rewards program who will have access to VIP and hospitality experiences. The lounge and its complements are expected to open sometime during the 2022 season. 
The partnership will expose Caesars to the Mets fan base with TV-visible signage, broadcast and digital content across networks, rights to logos and branding, and more and Caesars Entertainment couldn't be more excited about it.
"The Mets' fanbase is one of the most loyal in baseball and this partnership offers us the chance to treat those passionate fans like Caesars. We look forward to opening our space at Citi Field during an exciting time for the franchise," said Co-President of Caesars Digital, Chris Holdren. 

Caesars New York
In early January, Caesars Sportsbook launched its mobile sportsbook in New York alongside eight other operators. Caesars Sportsbook is among the leaders of New York in total handle and total generated revenue, which makes the partnership with the Mets a lucrative opportunity for both parties. In just its first month as an operator in the Empire State, Caesars Sportsbook took in over $700 million in bets from eager New York sports bettors. Through the end of March, its mobile sports betting handle in New York is over $1.2 billion. 
In the New York launch, Caesars was joined by other big players like DraftKings, FanDuel, BetMGM and others in January, but has stayed extremely competitive among all operators. Its launch in New York extended its footprint in the U.S. to 23 states, 17 of which are mobile sportsbooks. However they also have the largest number of retail sportsbooks across the country including premier New York gambling destinations like Turning Stone, Yellow Brick Road, and Point Place Casino.
Currently, Caesars Sportsbook is the only app in New York that awards bettors for every penny that they bet by unlocking experiences associated with Caesars resorts and partnerships. With this partnership in place, Caesars users in New York can place bets on the app today to earn even more experience at Citi Field as a Caesars Rewards member.
Caesars' Other Partnerships
Caesars Entertainment is no stranger to partnerships as they have inked several deals with sports teams similar to this one over the past few years. From colleges like Michigan State and Louisiana State's athletics to NHL teams like the Vegas Golden Knights, to fellow New York team, the Buffalo Bills, Caesars has a successful history of sports team partnerships. 
Now, the Mets join fellow MLB team, the Arizona Diamondbacks, in making Caesars their official sports betting partner.