Caesars Sportsbook Canada Launch + Caesars Ontario Code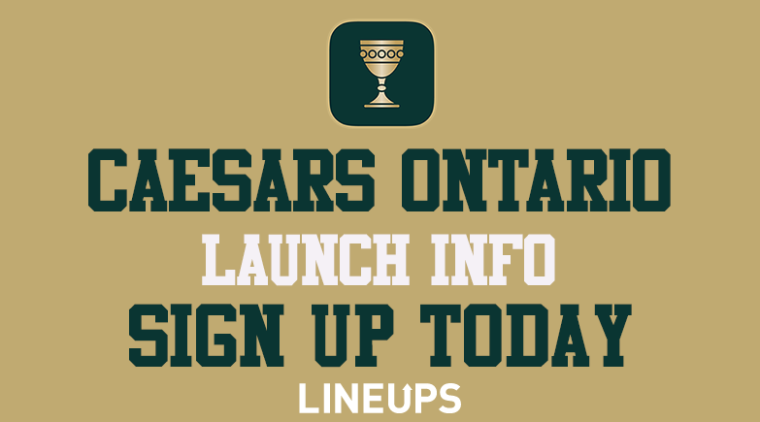 Make sure to visit our exclusive Caesars Sportsbook Ontario page! You'll find info on the platform, sportsbook reviews, and much more. To sign up for Caesars Sportsbook Canada, you can do it anywhere in the Ontario province, as long as you are 19+ years of age. Click any banner or the red button to head over and make sure to use the Caesars Sportsbook Ontario Code "LINEUPSCAN".
Caesars Sportsbook Ontario Has Launched!
It took some time, but sports betting is fully live in the province of Ontario. Residents were definitely anticipating the full rollout of sports wagering, especially fans of local teams such as the Toronto Blue Jays, Toronto Raptors, and Toronto Maple Leafs. Now, a number of different sports betting operators are available in the area, such as Caesars Sportsbook. One of the biggest names in sports wagering, Caesars Sportsbook was one of the very first platforms to launch in Ontario. With the full launch of Ontario sports betting on April 4th, 2022, you can register for Caesars Sportsbook right now. Additionally, you can sign up with an exclusive welcome code from Caesars. Just enter the Caesars Ontario welcome code during the registration process. With MLB Opening Day here and plenty of NHL and NBA action, bettors have plenty to be excited about.
Caesars Casino Ontario Is Fully Available
Or, if you're more into casino gaming than sports wagering, you should take a look at Caesars Online Casino. Along with sports wagering, iGaming was fully launched on April 4th, 2022. Now, anyone in Ontario can play a number of different online casinos, with Caesars Casino Ontario being one of the very first to roll out. When you're playing with Caesars Online Casino, you've got plenty of different gaming options, from slots and table games to live dealer games and more. Additionally, Caesars Casino is currently offering a signup code for new users. When you're registering for Caesars Ontario Casino, you can put in the welcome code . Once you're all signed up, you can hit the online casino floor and start playing.
Best Bet: Toronto Maple Leafs To Win the Stanley Cup (+1200)
Canadians have been waiting quite some time for the Stanley Cup to return to their home country. No Canadian team has won the championship since the 1993 Montreal Canadiens, so fans and bettors are hoping that changes soon. The country's best chance for a new Stanley Cup winner is likely the Toronto Maple Leafs. The team has an undeniable amount of talent, all starting with Auston Matthews. The star Toronto center is the current goals leader in the league, and doesn't seem to be slowing down as the postseason gets going.
And that's hardly the only talent on the roster, with Mitch Marner and John Tavares putting up some big points this season. One issue that's holding the team back, however, is goaltending. Neither Jack Campbell or Petr Mrazek have instilled much confidence thus far. However, if either goalie goes on a run at the right time, this team could be a serious threat to win it all. There's plenty of competition in the Eastern Conference, with the Florida Panthers, Tampa Bay Lightning, Carolina Hurricanes, and Boston Bruins looming in the postseason. However, Toronto has the firepower to compete with all these squads.