Caesars Promo Code "LINEUPSFULL" For Top NFL Week 1 Bonus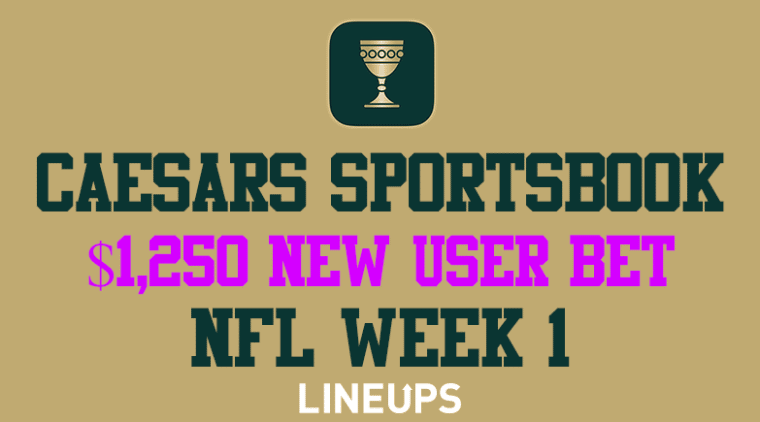 Find more information on Caesars Sportsbook Promo Code page! Get access to our sportsbook review, promos, and more. Get the best new user Caesars Promo Code for NFL Week 1 with "LINEUPSFULL" and get a $1,250 bet on Caesars.
Caesars Sportsbook Promo Code "LINEUPSFULL" For NFL Week 1
New users of Caesars Sportsbook can use code "LINEUPSFULL" when signing up for their new account, to receive a risk-free bet worth up to $1,250. Once you sign up for an account and deposit money into it, you can place a bet on any NFL Week 1 game. If your bet loses, Caesars will refund the full amount of your bet, up to $1,250. To be refunded for your bet, you do not need to bet the maximum $1,250 amount. So, if you wanted to bet just $50 and that bet loses, Caesars will still refund you the $50. 
You will also receive 1,000 tier credits and 1,000 reward credits when you sign up using "LINEUPSFULL." These credits can help to earn you prizes, accommodations, free bets, and money!
Caesars Sportsbook Promos For NFL Week 1
With the NFL season beginning soon, Caesars Sportsbooks promos for NFL will be flying. Often they were one of the top sportsbooks for promos, offering deposit bonuses for existing users as well as parlay insurance. Any insurance promos mean they would offer a free bet back up to a specific amount if your bet loses. The new reward program also means a chance for reward credits to be earned, so be on the lookout for promos there as well. Be sure to check out the promos section during the NFL season on Caesars Sportsbook.
Best Bet NFL Week 1 On Caesars Sportsbook: Chargers -3
The Chargers are hosting the Raiders at Sofi Stadium in Week 1. This is one of the best games on the board in Week 1 as it is rare to have a heated division rivalry game right out of the gate, let alone from the AFC West which all eyes are on this year. The Chargers are entering this game as a narrow favorite over Carr and the Raiders. 
Both of these teams have seen some offseason changes but none are more significant than the Davante Adams acquisition by the Raiders. Meanwhile the Chargers picked up all-pro linebacker Khalil Mack and re-signed Derwin James as the NFL's highest-paid safety. The James-Adams matchup will be one to watch in this game. The Chargers also extended Mike Williams' contract which will be critical for their offense this year. 
History shows that five of the last six matchups between the Chargers and the Raiders have ended within one possession, including their matchup in January of this year where the Raiders edged out the Chargers in overtime. Herbert and his team will definitely have vengeance on their mind for that game in particular as it took them out of the 2021-22 playoffs. This should be a close game given what is at stake and the excitement surrounding Week 1, but the Chargers should cover here with a more talented defense and a more experienced offensive unit.