Caesars Promo Code NY: $1,100 March Madness Bonus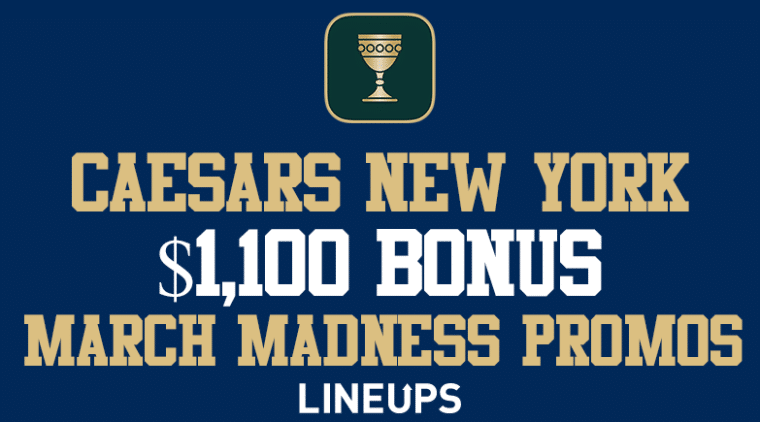 Check out our Caesars Bonus New York page for a chance to obtain up to $1,100 in first bet insurance! In addition to the promo, you'll also find more information about how Caesars operates in New York. To make sure they're the right fit for you, we have everything from sportsbook reviews to legal info and more.
Cash in on $1,100 in First Bet Insurance with Caesars Sportsbook
When you think of sports wagering in the US the prominent brand that comes to mind is Caesars Sportsbook. Between its user-friendly interface and long standing reputation with fans, Caesars has all the bells and whistles you'd want for a fun experience as you start wagering. Beyond just having status and an easy-to-use mobile app, Caesars is also offering new users a friendly promo of up-to $1,100 in first bet insurance via the Caesars Sportsbook Promo Code New York.
To access the Caesars Sportsbook Promo Code NY, head over to the page and click on the red button that says "Claim Bonus Now". Once on the Caesars page, hit the green "Bet Now" button and follow the steps as prompted, using the code "LINEUPSCZR". Then, you'll be able to make your first bet up to $1,100 totally insured.
With March Madness finally upon us, it's hard to judge which teams have upset potential and which ones don't. With first bet insurance, users can take a chance on that crazy underdog with significantly less risk associated with the Caesars Promo Code NY.
Bet $50 Get a $250 UberEats Gift Card
On top of the Caesars Promo Code New York and $1,100 in first bet insurance, the sportsbooks is also partnering with Uber Eats to give new users a chance to win up to $250 in UberEats gift cards. To redeem this offer, head over to and click the UberEats promo as stated above. Once there, follow all the registration steps as prompted and you'll be set for a UberEats gift card up to $250. Users must bet $50 to get the full $250 and the deal is available through April 5th.
Caesars NY Promo Code Best Bet: Colgate +8
From Davidson to South Dakota State, a lot of upsets have been getting love this week. One possible bracket buster that hasn't been talked about at all is Colgate over Wisconsin. The Raiders of Colgate have been on an offensive hot streak to end the season — scoring 75 or more in each of their last 5 games. They are one of the better 3 point shooting teams in the country with a deep rotation. Five guys on the Raiders roster are averaging double figures on the season.
The Badgers, meanwhile, have really struggled down the stretch. Even though Johnny Davis is back and ready to play, it's hard to believe he will be at full strength. If his performance in the Big 10 tournament is any indication of his health right now, Wisconsin may be in trouble. It appears as though sportsbooks fear this one may be an upset also. At +275 on the ML, they are the shortest odds for any 3 vs 14 matchup in this year's tournament. No one is talking about it, but keep an eye on it. Colgate on the spread and, if you're feeling risky, on the moneyline for your Caesars NY Promo Code.