Caesars Opens Largest In-Stadium Sportsbook at Diamondbacks' Chase Field in Phoenix Arizona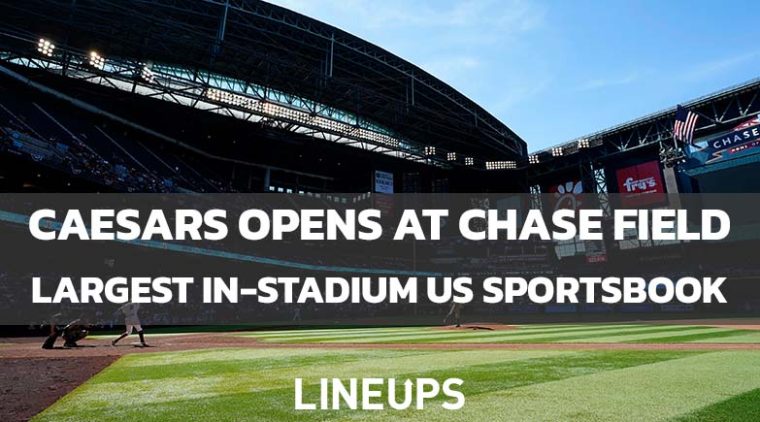 On Tuesday, Caesars Entertainment announced the opening of its new retail sportsbook in partnership with the MLB's Arizona Diamondbacks at Chase Field in Phoenix, Arizona. The two-story, 22,300-square-foot sportsbook will be the largest retail sportsbook in collaboration with a major sports stadium in the United States.
ICYMI: Yesterday @CaesarsSports officially unveiled its permanent sportsbook adjacent to the Arizona Diamondback's Chase Field; The two-story, 22,300-square-foot book is the largest in Arizona as well as largest at any US pro sports venue, per $CZR release (pics via Caesars) pic.twitter.com/XPa2VqBd3E

— Ryan Butler (@ButlerBets) June 22, 2022
Guy Fieri Bringing World-Class Food to the Table
One of the most noteworthy amenities is DTPHX Kitchen + Bar at Caesars Sportsbook, presented by the "Mayor of Flavertown" Guy Fieri. The renowned restauranteur will bring scratch-made food, signature and classic cocktails, and an extensive beer and wine menu to sports fans in his first full-service restaurant in Arizona.
"I've worked with the Caesars team for nearly a decade opening restaurants all over the country together. They are the best of the best," Fieri said. "The idea of bringing this next-level restaurant concept to Arizona, a place where I have showcased more than 30 restaurants through 'Diners, Drive-Ins, and Dives' over the years, was a no-brainer for me. Thank you to the D-backs and Caesars for making it happen."
Top-Notch Amenities On Deck
Caesars announced that this new first-class sportsbook is unlike any opened to date, and the amenities are incredible. The venue features nine betting windows and 13 self-service betting kiosks to fulfill all betting needs. The current total capacity is 425 people at the sportsbook, and plush lounge seating is throughout the space.
In addition to the wall-to-wall flatscreen televisions indoors, there is also an extensive outdoor patio space for viewing games and eating Guy Fieri food. However, bettors might want to wait a couple of months for the weather to cool down before utilizing that space. Keep in mind that the hours for the sportsbook and restaurant differ, and there will be extended hours during football season.
Opening Ceremonies on Tuesday
On Tuesday morning, a group of sports fans placed the first official bets at the new Caesars Sportsbook site. Those in attendance included Diamondbacks President & CEO Derrick Hall, Caesars Sportsbook brand ambassador and former ESPN anchor Kenny Maye, Caesars Sportsbook Head of Sports Ken Fuchs, and Senior Vice President of Operations for Caesars Sportsbook David Grolman.
As part of the opening event on Tuesday, those in attendance were treated to a first bite sampling of menu items from Guy Fieri. Caesars also made a $20,000 donation to the Diamondbacks Foundation as part of the opening ceremony. The foundation supports youth sports through several programs and brain cancer through the Nicole Hazen Fund For Hope.
About Caesars Sportsbook
Caesars is an official sports betting partner of the Arizona Diamondbacks and an authorized gaming operator of Major League Baseball along with the NFL, NBA, and NHL. Caesars also has several partnerships with individual teams across various sports in addition to the Diamondbacks.
The Caesars Sportsbook mobile app will be integrated with in-person wagers placed at the new retail sportsbook through the Caesars Rewards program. Bettors can earn access to "unbeatable experiences" through earning credits from placing bets, including VIP experiences with the Diamondbacks.
Eligible sports fans in Arizona can sign up for Caesars Sportsbook online today and take advantage of a new-user bonus worth $1,500 through a risk-free bet. Check out our official sports betting page for more information on Caesars Arizona.