Caesars NY Promo Code: $1,500 + NBA Jersey Bonus (NEW)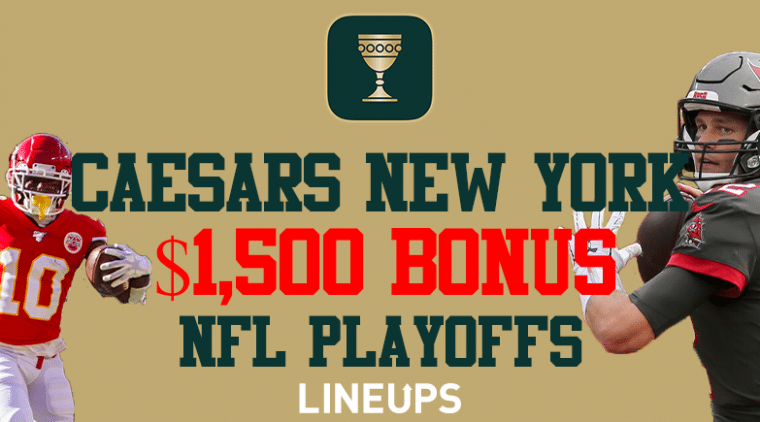 Remember to check out our Caesars Sportsbook New York page! You'll find promos, legal info, reviews, and much more.
Caesars Sportsbook Promo Code NY: $1,500 Deposit Match
When you sign up using the Caesars NY Promo Code, you have the chance to start off with a huge chunk of free betting credits. Right now, if you sign up using the Caesars NY promo Code , you'll get a full deposit match up to $1,500. Keep in mind that you need to deposit a minimum of $50 in order to take advantage of this offer.
With the NFL Divisional Round getting ready to kick off, it's a great time to take advantage of the Caesars Promo Code New York. Saturday sees the Tennessee Titans hosting the Cincinnati Bengals, while the San Francisco 49ers will be on the road to take on the Green Bay Packers. Meanwhile, the Sunday slate has the Tampa Bay Buccaneers at home against the high-flying Los Angeles Rams, with the Kansas City Chiefs facing off against the Buffalo Bills. Make sure to check out my favorite bet for the weekend at the end of this article. Take advantage of the best Caesars New York bonus, today!
Caesars Promo Code New York: Bet $100 on the NBA, Get A Free Jersey
As great as some of the Caesars NFL promos are, the platform's NBA promotions also come with huge benefits. As long as you're placing some bets on NBA games, why not get your favorite player's jersey for free while you're at it? This Caesars New York promo code is offering an awesome promo until the end of the month that gives all bettors the chance at a free jersey. Just opt in on the promotions section of Caesars and bet at least $100 on the NBA before February 7th. You'll get a $150 gift card bonus to use at the NBA Store. Whether your favorite team is the New York Knicks, Golden State Warriors, Brooklyn Nets, or anyone else across the league, that free gift card can get you some great gear to support your squad.
Best Bet Los Angeles Rams vs. Tampa Bay Buccaneers Over 48
I really struggled with the actual point spread on this one, as either team pulling out a W wouldn't shock me. Because of that, I'm thinking the total is the play in this matchup. Seeing these two dynamic offenses face off is going to be extremely entertaining, with both teams coming off blowouts with over 30 points scored. While both teams went under the point total last weekend, I'm chalking that up to the opposition, which featured offenses that clearly weren't ready for primetime.
Tampa Bay QB Tom Brady is going to need to fire on all cylinders this Sunday. The Los Angeles Rams are a top five team against the run, and with Leonard Fournette returning from an injury, Brady will be focusing on TE Rob Gronkowski and WR Mike Evans all Sunday long. Even though some bettors might be wary with Brady's diminished weapons, he looked just fine spreading the ball around to nine different receivers last Sunday. While I'm leaning towards Tampa to cover the spread (after all, who wants to bet against the GOAT?), I think the over is the way to go in this clash of NFC heavyweights.