Caesars Kansas Promo Code "LINEUPSFULL" For $1,250 Launch Bonus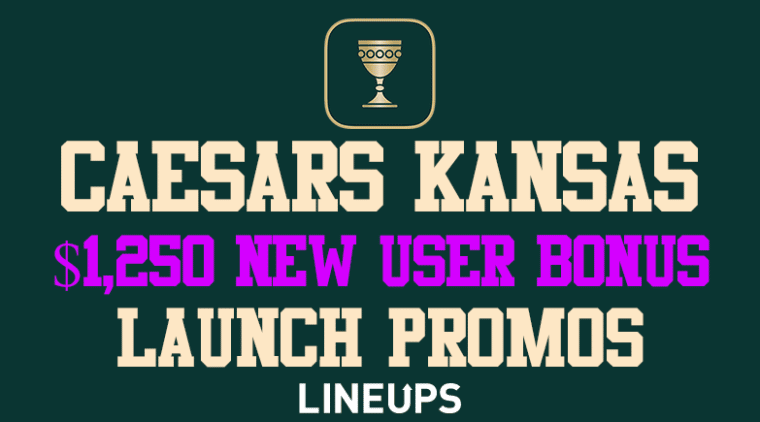 Caesars Kansas is now live! New users can find more information, including a sportsbook review on the Caesars Kansas page. Stay up to date on the platform as well as information on rewards and the new user bonus. Use Caesars Kansas promo code for $1,250 bet at Kansas sign-up.
Caesars Promo Code "LINEUPSFULL"
Caesars Kansas Promo Code "LINEUPSFULL" For $1,250 Bonus
Kansas sports betting has officially launched, and you can get the top new user bonus in the industry with Caesars Kansas promo code "LINEUPSFULL". New users can get a $1,250 bet on Caesars, plus Caesars 1,000 Tier Credits and 1,000 Reward Credits®. To get this Caesars Kansas promo, you need to be 18 years or older and be within Kansas state lines. To qualify for the bonus back, your first wager of $10 or more will be returned back on a losing bet. That means if you wager $100 on your first bet and it loses, Caesars Kansas will issue back a free bet worth $100. The credits are a nice jumpstart to the Caesars rewards system that starts when you sign up with the Caesars Kansas promo code "LINEUPSFULL". 
Caesars Kansas Launch Promos & Info
Caesars Sportsbook is one of the top sportsbooks for its promotions and rewards program. You will find plenty of Caesars Kansas promos for the upcoming NFL season, consisting of possible free bets, parlay insurance, parlay boosts, and more. Parlay insurance promos are when you place a parlay, which could be for a single game parlay or a regular parlay, and you will get a free bet back if it loses up to a specific amount.
Parlay boosts will give you a percentage boost for odds when building a parlay for a specific sports. You will also be getting 1,000 Tier Credits and 1,000 Reward Credits® to start off as a new user and Caesars rewards can lead to hotel stays, free bets, and more. 
Upcoming Caesars Sportsbook Kansas Sports & Betting Markets
Given the September 1st launch in Kansas, it is right before the NFL season starts and in the midst of Week 1 for college football. You will be able to fire up bets for Kansas, Kansas State, and the Chiefs. The Chiefs are expecting tougher competition to another AFC West division win, as the Chargers, Raiders, and Broncos loaded up. They are still favored to win the division and are a top contender for the Super Bowl. You can also find Week 1 odds against the Cardinals on Caesars currently. They are -3.5 point favorites on the road.
The Cardinals are also in spot for the playoffs and seemed primed to make a run. The National League is tough but behind Arenado and Goldschmidt they are viewed as a threat based on World Series odds. Caesars Kansas offers competitive odds and has a mobile app that can compete with other sportsbooks. Be on the lookout for plenty of promotions during the NFL season as Caesars Kansas tends to put out quite a few. Their odds boost section is also worth checking out as they boost odds daily, but be sure to be selective. Heading into Fall, the home page will be busy with sporting options, as even the World Cup will be taking event in November.