Caesars and Omaha Productions Agree to "Strategic Partnership"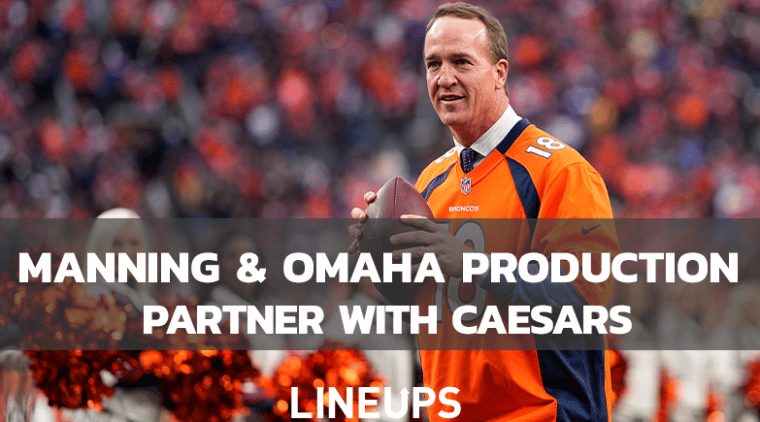 The Omaha Audio Network & More
Caesars Entertainment and Hall of Fame quarterback Peyton Manning are teaming up via Manning's Omaha Productions for a multi-year strategic partnership. Omaha Productions, which got its name from Manning's famous "Omaha" play call, is now most known for its production of ESPN's Emmy Award-winning program, "Monday Night Football With Peyton And Eli." It's also responsible for several golf, football, and UFC broadcasts. 
Together, the two companies will launch a podcast-like audio production network called, The Omaha Audio Network which will feature guests from different talent spaces, a variety of digital series for social media, and live events. 
The partnership will also make Manning and his Omaha Productions Executive Producers for new content set to be launched by Caesars Entertainment, Caesars Sportsbook, and Omaha Production social media. Some of the content series include "Mayne on the Street" with Kenny Mayne, "Celeb Shots" with Rachel DeMita, and "One More Round" with Peyton's brother, Cooper Manning. 
Caesars and Omaha Productions will also create a live event series at select Caesars destinations across the country that's exclusive to Caesars Rewards members, giving them chances to interact with content creators and the Manning brothers. 
"We'll collaborate with Peyton and Omaha to conceptualize, create and produce unique content in a way that only two leaders in the sports and entertainment space can," said Chief Marketing Officer at Caesars Digital, Sharon Otterman. "We look forward to the rollout of the Omaha Audio Network presented by Caesars Sportsbook, putting together unforgettable event experiences and crafting engaging must-see content for our customers."
Peyton Doubling Up With Caesars
Peyton Manning and his family are well-known supporters of the Caesars brand, as this is not their first partnership with the gaming company. 2022 Super Bowl LVI watchers would have seen the iconic Caesars commercial that featured Peyton, Archie, Cooper, and Eli Manning at Caesars Palace in Las Vegas. They made history with the first-ever responsible gaming advertisement to air during an NFL or the Super Bowl. The responsible gaming element will remain a centerpiece of the Caesars brand, the Omaha brand, and this expanded partnership. 
"All of us at Omaha are excited to expand the relationship and have Omaha create compelling original content in partnership with our teammates at Caesars," said Peyton Manning, Omaha Productions Founder. "Caesars has already proven to be a great partner on the projects we have done together."
Peyton Extending Media Influence
Peyton has also been the host of ESPN's "Peyton's Places" since July 2019 where he revisits the league's most iconic moments alongside legendary coaches and players, and "Detail" where he's been breaking down current quarterbacks since 2018. 
It wasn't until the 2021-22 NFL season that Peyton announced his hosting of Monday Night Football with his brother Eli, after allegedly denying a host job for several years prior. Together they provide live analysis, pose big picture scenarios, and ask intriguing interview questions. Since its inception, it's become a fan-favored broadcast with guest appearances from football legends like Aaron Rodgers to music legends like Snoop Dogg.