Caesars and Michigan St. Announce Sports Betting Partnership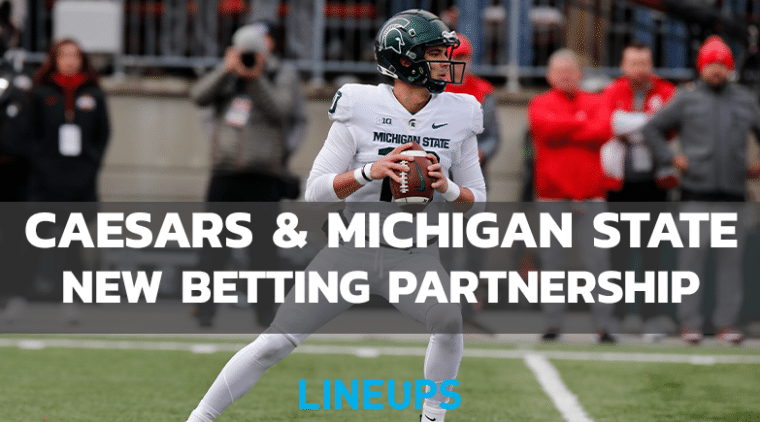 Caesars Sportsbook and Michigan State Official Partner
Caesars Entertainment and Michigan State University (MSU) have entered into a multi-year partnership whereby Caesars Sportsbook will be the exclusive sports betting and iGaming partner of MSU Athletics. Sports marketing company Playfly Sports, facilitated the agreement.
Circumstances of the agreement include a Caesars premium seating and tailgating area at Spartan Stadium, effective in the 2022 football season, as well as signage in Spartan Stadium and at basketball and hockey games. Additional advertising/commercials during broadcasts can be expected. The partnership also includes iGaming and World Series of Poker product offerings and promotions.
​​"Michigan State has a proud tradition of excellence, and partnering with an internationally recognized brand in college athletics is a great opportunity for us," said Eric Hession, Co-President of Caesars Digital. "The Spartan fan base and alumni network is passionate and well-established across the country. We look forward to building upon our connection with them while strengthening the legacy we hold in the state of Michigan and advancing scholarship opportunities through this partnership."
Caesars Promise to Responsible Gambling
Perhaps the most notable condition in this agreement is Caesar's contribution to responsible gambling education for MSU sports fans and students. They will provide annual funding to MSU student-athlete responsible gaming education programs, scholarships, and career development opportunities for MSU students pursuing a career in the sports industry. This same dedication will be given to the Michigan community as a whole; Caesars will be working with the Michigan Association on Problem Gambling to ensure responsible gambling and access to resources that enforce such responsibility. Many of these resources can be found on the Caesars Sportsbook app.
"We are excited to be on the cutting edge of this innovative opportunity while recognizing the importance of Caesars' commitment to responsible sports gaming education both for the student-athletes and the university community as a whole," said Michigan State Athletic Director Allan Haller.
Michigan legalized online sports betting in January 2021, finding it to be a successful market, and since their launch, have over a dozen sportsbooks operating in their state, including Caesars Sportsbook.
College Sports Betting Partnerships
MSU joins a small handful of other schools that have made similar partnerships with sportsbooks, including Louisiana State University, which is partnered with Caesars as well, University of Maryland, University of Denver, the University of Nevada at Las Vegas, and the University of Colorado at Boulder.
Eligible MSU sports fans can download the Caesars app for access to wagering options, betting opportunities, and promotional offers specific to MSU athletics. As part of Caesar's loyalty program, Caesar's Rewards, MSU sports bettors will have access to VIP experiences not otherwise available.