Buffalo Bills vs. Kansas City Chiefs Player Props (1/23/22)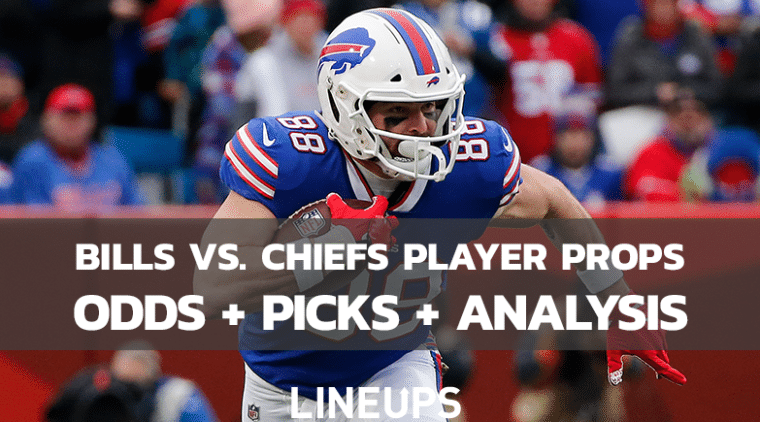 The finale to an epic week of football, the Bills and Chiefs will be fired up for a rubber match between the two AFC superpowers. This was my prediction for the AFC Championship game before the season, and both teams will need to play at their best to make sure they get to the conference championship in the next round. You can check out our matchup previews and betting guides for further analysis on who will win in this game, but in this article, we'll focus on the highest-value prop bets. You can use the player prop search tool below to find the best odds in your market for this Bills vs. Chiefs game.
Buffalo Bills Vs. Kansas City Chiefs Player Prop Search Tool
Patrick Mahomes Over 2.5 Passing Touchdowns
Since when do we get plus money on Patrick Mahomes passing touchdowns? I get it, he went through quite the slump in the middle of this season in which he went over on this line in just one of nine games. However, he has 3+ passing touchdowns in three of his last five games, including five against the Steelers last week despite being under constant pressure from likely Defensive Player of the Year T.J. Watt. The Bills rank first in the NFL in pass defense DVOA, but they are also without their top cornerback, All-Pro Tre'Davious White. With both Clyde Edwards-Helaire and Darrel Williams banged up, I expect the Chiefs to have a heavy passing game plan, and Mahomes should be playing with a bit of a chip on his shoulder after a poor performance against this team earlier this year.
Devin Singletary Anytime TD Scorer
A big part of the Bills' offensive evolution this season has been a greater emphasis on the running game, and that has meant Devin Singletary's role has grown considerably. Singletary has gone over his set rushing yardage line of 60.5 in four of his last five games and his attempts line of 15.5 in four of five, as well. However, my favorite Singletary prop this week is easily him to score a touchdown, as he has scored in five straight games. He's actually scored two touchdowns in his last three games, and getting a +500 value on that seems too good to be true. Singletary may not be the most talented running back in the NFL, but he's very capable and he benefits from being a part of one of the best offenses in football. Bank on his scoring surge to continue.
Travis Kelce Over 5.5 Receptions
In three career games against the Bills with Patrick Mahomes, Kelce is averaging eight receptions per game. In the AFC Championship game last year, Kelce came through with 13 catches. The Bills have been much more vulnerable against tight ends than against wide receivers this year, which suits Kelce just fine. The tight end hasn't been quite as consistent this year, but his big games have been there and the Chiefs will need him at his best this week. You can consider Kelce over 69.5 receiving yards, but he had just 57 yards on six catches against the Bills earlier this year, so I like the receptions prop more.
A quick aside – I planned on including something Jerick McKinnon-related here, but we don't have confirmation on whether or not CEH and Williams are playing. If they're both out, I'll likely add a McKinnon bet to my card for this week – keep an eye out on Twitter.
Josh Allen Over 50.5 Rushing Yards
Running the ball has always been a major part of Allen's repertoire, but it seems that he's become more comfortable taking off and running in recent weeks – he's averaging 59.5 rushing yards per game over his last five games compared to a season-long average of 46.1 yards. His best rushing performance for the first half of the year came against Kansas City with 59 yards, and he had 88 rushing yards against the Chiefs in the AFC Championship last year. Melvin Ingram gives Kansas City a greater pass-rushing presence than they previously had, and Allen could be under pressure to take off and run sooner into his dropbacks. Regardless, expect him to have another productive game on the ground.
Buffalo Bills Vs. Kansas City Chiefs Same Game Parlay
*Built on DraftKings Sportsbook
Chiefs ML
Travis Kelce Anytime TD
Travis Kelce 5+ Receptions
Patrick Mahomes Over 254.5 Passing Yards
Patrick Mahomes 2+ Passing Touchdowns
Devin Singletary Anytime TD
Total Odds: +850
NFL Odds Corner
Super Bowl 56 Odds
NFL Divisional Odds
NFL MVP Odds
NFL Win Totals
NFL Playoff Odds
NFL OROY Odds
NFL DROY Odds
NFL DPOY Odds
NFL OPOY Odds
NFL CPOY Odds