Buffalo Bills vs Los Angeles Rams Player Props (9/8/22)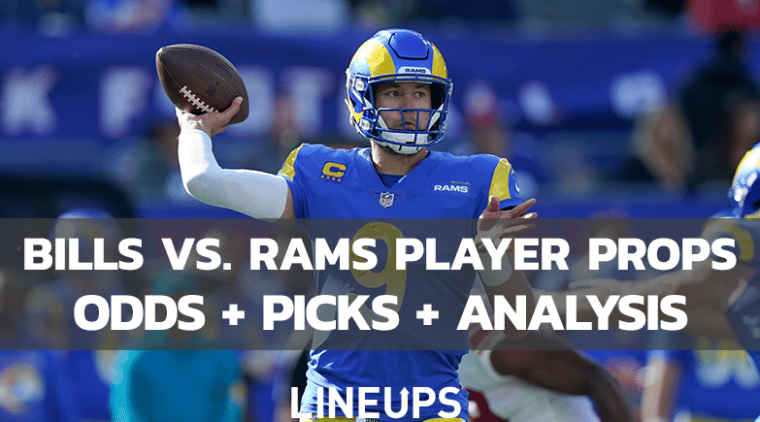 The NFL is finally here! The first game of the season features two Super Bowl contenders in the Bills and Rams, and we couldn't be more excited to watch the game. With superstar talent on both sides of the ball, there will be exciting opportunities for player prop wagers in this game. You can utilize the player prop search tool below to find the best odds for different wagers.
Buffalo Bills vs. Los Angeles Rams Player Prop Search Tool
Search any name for Buffalo Bills Vs. Los Angeles Rams Player Props
Cooper Kupp Over 7.5 Receptions
I'm incredibly excited to get back to betting on Cooper Kupp after he was a cash cow last season. Kupp's incredible season was capped off with a Super Bowl MVP as the Rams leaned on him heavily to deliver the win despite the Bengals knowing they had no other options in that game.
Kupp averaged 8.5 receptions per game last season (including playoffs) and went over 7.5 in 13 of his 21 games overall (62%). The Bills have a great defense, but they will also be without All Pro cornerback Tre'Davious White to start the season. Jordan Poyer is also still recovering from an elbow injury.
It's unclear how much Matthew Stafford's elbow injury will limit him early on this season, but regardless, I expect him to target Kupp heavily in this game. Feel free to take a peek at Kupp's yardage and touchdown props, but the receptions prop is where I see the most value.
Devin Singletary Under 2.5 Receptions
When the Bills attempted to sign J.D. McKissic in the offseason and spent a second-round pick on James Cook, it was a clear admission that they couldn't continue to rely on Devin Singletary in the passing game. Singletary was productive to close last season on the ground, but he graded as the worst receiving back in football per PFF (min. 40 targets).
Last season, Singletary averaged 2.5 catches per game and went over this mark in eight of 19 games (42%). However, I expect the Bills to phase him out of the game plan on third down early on this season, and Cook should be featured more in this game as a dynamic pass-catcher.

Matthew Stafford Under 0.5 Interceptions
The last two props I gave are likely not the most favorable odds at your book, so I'll give you a plus money prop. Matthew Stafford quietly tied for the league lead in interceptions at 17, and he threw a pick in 13 of his 21 games (62%).
However, I expect the Rams to scheme a ton of short passes in this game. Stafford is still dealing with the elbow issue that's been garnering headlines, and the Rams have some question marks along the offensive line as they head into a matchup against a strong defensive line.
Despite the offensive line concerns, the Rams will likely have an improved run game with the return of Cam Akers and Darrell Henderson. Put it all together, and I'm not expecting Stafford to take a ton of downfield shots in this game. I'll happily take the plus money and bet on a clean game from Stafford.
Bobby Wagner over 4.5 Tackles
I love a good defensive prop, and I'm excited to see how Bobby Wagner fits in with the Rams this season. Wagner might be getting older, but he still ranked third in the NFL in tackles last season, and I believe he will fill more of the traditional Mike linebacker role while Ernest Jones is used as a hybrid edge and weak side backer.
Ernest Jones averaged 6.2 tackles per game over the final ten games last year as he took on a larger role in the defense, and Wagner averaged 5.8 tackles per game over the full season, hitting the over on this prop in 11 of 16 games (69%). With the Bills expected to emphasize the run game more this season, I expect Wagner to be a force in this contest.