Betting on Commercials? Jake Paul's Betr App Could Raise Issues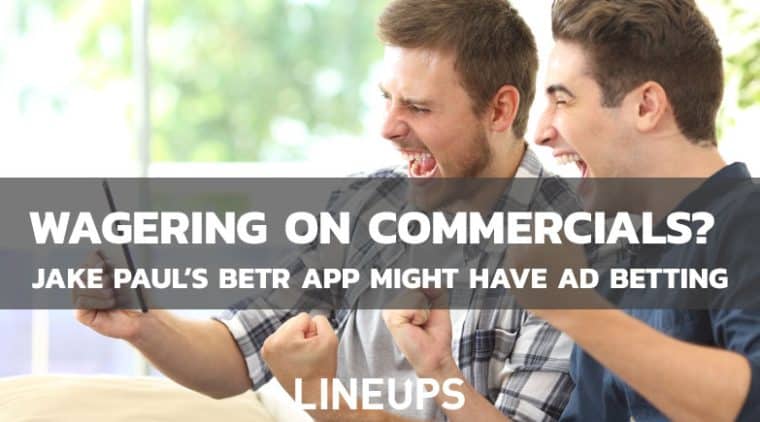 Responsible gaming has grown more in the conversation as the sports betting industry continues to expand into new areas. One issue that is commonly brought up is the massive array of advertising for different sportsbook sites. Additionally, the easy access of simply placing bets from your smartphone rather than going to a retail sportsbook has sparked concerns. Well, these issues will continue to be brought up in the future, especially with the future release of Betr, the newly announced sports betting app and media company from internet celeb Jake Paul and Joe Levy of Simplebet. With a focus on rapid "micro-betting," the sportsbook platform will likely deepen the conversation on responsible gaming in the U.S.
Jake Paul's Betr Might Allow You To Wager On Commercials
Yesterday, Jake Paul's Betr platform was fully revealed with an announcement video and the debut episode of a new exclusive show hosted by Paul. Since then, the Betr Twitter has been very active with giveaway videos and an explainer on micro-betting. However, one of the most interesting videos featured Paul and a number of friends guessing what the topic of the next commercial on television would be, with different individuals question topics like food, entertainment, and automobiles. The video has a text overlay that reads "$20 on what commercial comes next." When the television flashes a Sonic fast food ad, the other members of the group throw cash towards Paul, who had correctly guessed a food commercial.
This video seems to suggest that Betr will host some type of micro-betting related to commercials. So, just like how on certain online sportsbooks you can wager on the next type of score in a game (field goal, touchdown, etc.), you could be able to live wager on the next type of advertisement to appear onscreen. In theory, this certainly sounds interesting, as watching commercials has become an inevitability of watching live sporting events. However, this could lead to numerous issues on the topic of responsibility as well.
Commercial breaks just got #betr pic.twitter.com/MJ4062JSjr

— betr (@betr) August 8, 2022
Will Betr's Micro-Betting Pose A Responsible Gaming Nightmare?
Despite the potential popularity of Betr's micro-betting, if you can wager on commercial breaks and similar outcomes, responsible gaming is certainly going to be a hot topic. The ability to bet on something that's supposed to be "breaktime" during a sporting event is certain to raise some eyebrows. After all, there are sports betting detractors that are already critical of the industry as is, so encouraging users to continue betting through commercial breaks is definitely going to result in some backlash.
It's important to note that the Betr site showcases a "Responsibility" section, which promotes betting in moderation while providing a number of different tips for betting sensibly such as setting a wagering budget and avoiding placing bets under the influence of alcohol. Additionally, the section details the platform's responsible wagering tools such as the ability to set time limits and a self-exclusion option. Despite this, it will be interesting to see how the public views the rapid-betting nature of Betr as responsible sports gambling becomes a hotter topic.
Micro-betting:
Betting on everything and anything in any moment. pic.twitter.com/otfvaePPhD

— betr (@betr) August 9, 2022
More Information Will Come Soon
There is still a lot we don't know about the Betr platform. So far, we know that the Betr app aims to roll out in all 50 U.S. states and will begin as a completely free-to-play platform. And, while a video on the Betr Twitter account says that you'll be able to wager on everything from individual plays and drives to individual players, there is still plenty of info on types of sports and sports leagues we're waiting to hear.