BetRivers Promo Code NY: $250 Deposit Bonus for Super Bowl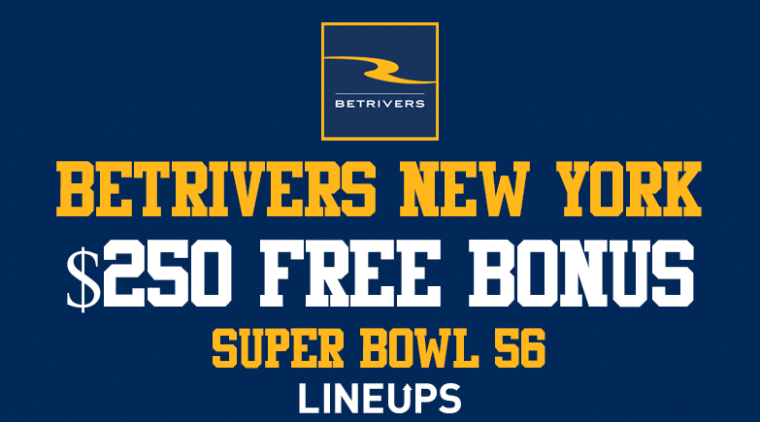 Remember to check out our BetRivers New York review! You'll find reviews, legal info, the BetRivers Promo Code New York, and much more.
BetRivers NY Has Launched!
New York sports betting has only been around about a month, and it's been a huge success thus far. Plenty of different sportsbooks are available right now, with BetRivers New York being easily one of the most popular. BetRivers has numerous features that bettors enjoy, such as plenty of weekly promotions focused on specific sports. Additionally, the BetRivers Bonus New York is a major draw for New York sports bettors, as it starts out new users with a major deposit bonus right off the bat. Read on to learn everything you need to know about signing up with the BetRivers NY Super Bowl Bonus.
Get A $250 Deposit Bonus With the BetRivers Promo Code NY
Thanks to the current BetRivers Sportsbook Promo Code NY, you'll get some major perks signing up for the sportsbook. Right now, when you register using the BetRivers NY Super Bowl Promo Code, you'll get a full deposit match up to $250. Here's everything you need to do to unlock this offer. Just sign up using the BetRivers NY Promo Code . Then, after you put in your information, your first deposit will be matched 100% up to $250. The match will be given to you in the form of free credits.
This BetRivers NY Promo Code really comes at the perfect time in the sports season. The NBA and NHL seasons are going strong, and March Madness will be here before you know it. But let's be honest, the Super Bowl is the big event for bettors. This year's big game features the Cincinnati Bengals and the Los Angeles Rams, with the latter playing in their home stadium. The game has plenty of interesting storylines, such as the battle between two number one overall picks as Bengals QB Joe Burrow takes on Rams QB Matt Stafford. Additionally, Bengals head coach Zac Taylor is a former member of the Rams staff under head coach Sean McVay. With the two teams facing off and a major boost with the BetRivers NY Super Bowl Bonus, let's check out the current Super Bowl odds and a best bet.
BetRivers NY Super Bowl Promo Odds + Best Bet
Like many other platforms, BetRivers currently lists the Los Angeles Rams at -190 to win the big game. Meanwhile, the Bengals are +165, which many bettors will see value with. The point total favors the Rams, with the Bengals +4 on BetRivers at the moment. Additionally, the current point total on the board is 48.5. While these are definitely some great bets, I've got my eyes on some of the prop wagers on BetRivers.
OK, I'll be the first to admit that punting props aren't exactly the most exciting. However, I'm seeing some real value in this one. Rams punter Johnny Hekker can boot the ball pretty far, and he should easily be able to go over on his 51.5 longest punt prop. Keep in mind that in his past six games, he's had one punt of at least 51.5 yards in all but one game. And while the Cincinnati defense isn't known for being elite, the unit should be able to get some stops against the Rams on Sunday. Run with this unique prop bet after you've taken advantage of your BetRivers Sportsbook Promo Code NY.