BetRivers Ontario Sign Up Info: Is There a Welcome Offers?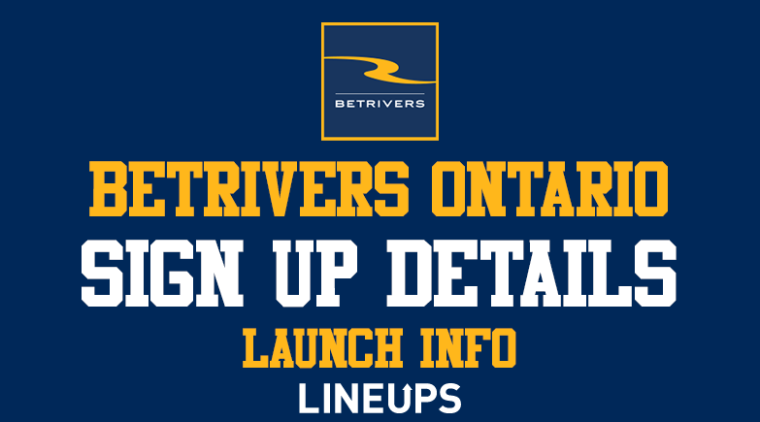 For more information on the latest offers, check out our official BetRivers Ontario page. We have you covered with the latest legal information and a detailed review of the platform to help you get started.
BetRivers Ontario is Here!
On April 4, Ontario launched its online sports betting market, and BetRivers Ontario has arrived! BetRivers has some of the best rewards in the online sports betting market and an easy-to-navigate and seamless user interface. Whether you're looking to place bets on international tennis, the NHL, or college basketball, BetRivers has you covered across the board with a wide range of sports.
Does BetRivers Ontario Have a Welcome Offer?
If you're looking for BetRivers Ontario welcome offer details, you will not be able to find them outside of . This is due to AGCO regulations in Ontario, where no affiliates are permitted to discuss any promotional offers or details, including whether or not an offer is being extended. The only place that is permitted to house that information is the operator landing page, on the site. You can head over there now by clicking any of our banners or
BetRivers Ontario MLB Opening Day Best Bet
Los Angeles Dodgers + New York Mets MLP
Is this chalky? Yes, absolutely. The Dodgers and Mets are among the favorites to win the World Series this season, and they both have very winnable games against the Rockies and Nationals, respectively. However, it's hard to imagine the Dodgers and Mets getting out of the opening day without a win.
The Dodgers had arguably the best offseason of any MLB team as they added Freddie Freeman, one of the best players in the MLB. Max Scherzer walked in free agency, but Andrew Heaney will help round out the pitching rotation. The loss of Corey Seager is also significant, but the Dodgers are still loaded with talent and can present challenges for a middling Rockies bullpen.
The Mets, meanwhile, had an excellent offseason as they added Max Scherzer, their new ace, Starling Marte, Mark Canha, and Eduardo Escobar. With those signings, the Mets added in a big way to their young core of players, and they seem to be one of the headline teams this season. The Nationals, meanwhile, are in the midst of their rebuild and don't figure to be a winning team this season.
It's hard to know what the odds will be on this parlay between two teams who figure to be heavy favorites, but you can use either of their Moneylines in a combination of bets. As we get closer to opening day, check back for a selection of outstanding wagers from our Lineups.com staff.