BetMGM Raises 2022 Revenue Forecast by $300 Million After New York Launch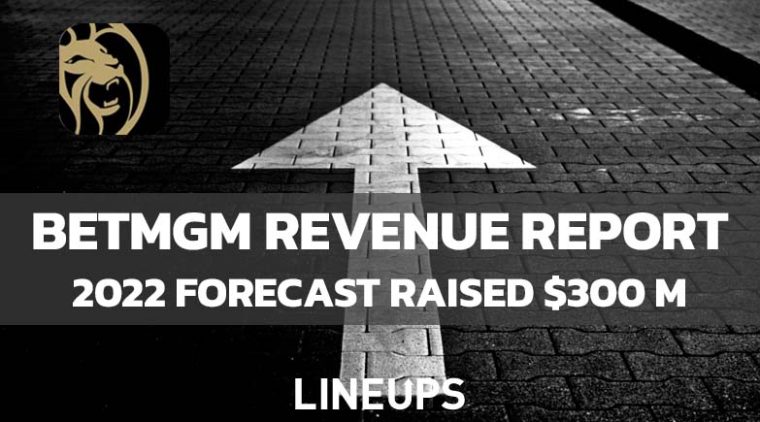 On Wednesday, BetMGM reported some exciting news relating to its short-term and long-term financial forecasts. The sportsbook raised its 2022 revenue forecast by over $300 million from $1 billion to $1.3 billion. BetMGM Sportsbook is now live in 19 jurisdictions, four of which support BetMGM's iGaming product. New York is the latest state to launch with BetMGM products, and more states are expected to be added in 2022.
On the call, BetMGM CEO Adam Greenblatt said, "2022 is a critical year, where the leading national operators will reach critical mass, paving the way for the next phase of the sector's financial evolution. With the support of our shareholders, our technology and data platform, brand and omni-channel strategy, we look to the future with confidence."
More Financial Details
The company has a long-term goal of 20-25% market share of the United States sports betting market, and the share for August to November 2021 fell in line at 24% – that's the second-highest among all platforms in its designated offer markets. Flutter, the corporation that owns FanDuel and Fox Bet, among other gaming corporations, maintains pole position in the US market.
BetMGM's total revenue for 2021 is expected to be about $850 million in 2021, up nearly five times from 2020. However, its core loss is likely between $420 and $440 million. To offset some of those losses, BetMGM is receiving an additional $450 million combined investment from Entain and MGM Resorts, bringing the total investment in BetMGM to about $1.1 billion since 2018.
Working Towards EBITDA Positive
For 2021, BetMGM is expected to report losses between $420 and $440 million. The company's goal is to turn things towards being profitable and EBITA-positive, but their high costs of customer acquisition and ongoing promotions have limited that possibility. However, there is hope that by 2023 the tide could start to change in that respect.
On the conference call on Wednesday, executives expressed confidence that there will be months where BetMGM is EBITDA-positive in 2023, although it may not be for the entire year. New Jersey was EBITDA-positive for 2021, while Michigan was for half of the year. Arizona, Colorado, Pennsylvania, and Tennessee are nearing a contribution-positive status.
New York Market
BetMGM officially launched in New York on Monday, joining four other sportsbooks in the most-populated state to legalize mobile sports betting to date. The four sportsbooks which were live brought in over $150 million in legal wagers over the opening weekend of the market. BetMGM will immediately challenge a significant market share in the state.
Greenblatt said that the company broke all of its records and called Monday the "best first day of any live launch." BetMGM set new records in registration to deposit conversion percentage, new player deposit success rate, and conversion of registrations to real-money players.
What's Next for BetMGM
In the first quarter of 2022, BetMGM has plans to launch in Illinois and Louisiana, bringing it to 21 total jurisdictions in the United States. The corporation has expressed a desire to focus on its one-game parlay product, which typically has more than 30% margins. BetMGM will offer its customers expanded offerings and a cleaner interface later this year.
In addition, BetMGM is still working towards lowering cost per acquisition – it expects to reach a long-term acquisition cost of $250 per customer. Part of that effort will be fostering cross-selling as 40-50% of users are engaged with sports betting and iGaming in the states where both products are available. Cross-selling flows from sports betting into iGaming, and the added revenue from iGaming would help BetMGM maintain a positive EBITA outlook in the future.